The first review:
http://www.techpowerup.com/reviews/NVIDIA/GeForce_GTX_580/27.html
~15% faster than GTX 480 over all score, based on their numbers, methods and game selection. Do I hear cheers from the AMD headquarters?
Rumors and conjecture on an emerging Nvidia GPU: GF110 and its possible home, the GTX 580. Will update as more (dis)information is released or leaked in the next few days/weeks.


Here are some quotes, images and links from various (un)reliable sources.[/B]
GTX 580
guesstimated specs so far:
GPU Core Frequency: 772 MHz
Shader Clock: 1544 MHz
Memory Clock: 4008 MHz
Memory Bandwidth: 192.4 GB/s
Texure Fillrate: 49,4 GTexel/s
384bit bus
1536 MB GDDR5
512 CUDA cores
64 TMUs
TDP ~245W
Speed increase over GTX 480 around 20%
-------------------------------------------------------------------------------------
Oct. 28th
beyond3d.com forum
- Thanks to Tamlin_WSGF !

"GF110 SKUs:
Quote:NVIDIA_DEV.1080.01 = "NVIDIA GeForce GTX 580"
NVIDIA_DEV.1081.01 = "NVIDIA D13U"
NVIDIA_DEV.1082.01 = "NVIDIA D13U "
NVIDIA_DEV.1083.01 = "NVIDIA D13U " "

Thanks to Lord_Exodia for the links and transcript below:
chiphell.com forum link 1
chiphell.com forum link 2

"Some clocks leaked, a very official pic too

core/memory: 772/1102
Vantage X mode:12700+

It is said that gtx580=120% performance and 80% TDP of GTX480".
- Lord_Exodia
Leaked
images from expreview.com via - "[URL="http://we.pcinlife.com/thread-1540808-1-1.html"]Pcinlife
"[/URL]
of the GTX 580, thanks to eddieck for the heads up!

"Due to NDA(Non-disclosure Agreement) reasons,we are unable to reveal the spec of GTX 580.For more information,please keep close watch on our follow-up report."
Oct. 24th
Forum find by samurai1999
..not a 512bit bus part, but a 384bit with 1.5 GB RAM.
Oct. 21st
digitimes.com
Thanks Samurai1999
"..20% faster than its current GeForce GTX 480, according to sources from graphics card makers."
Not too far from the 17% that SemiAccurate reports.
"After GF110, Nvidia is also set to gradually unveil its GF112, GF114 and GF119 in 2011 with market positions similar to its GF104, GF106 and GF108, respectively."
...maybe even a
117
? Thanks Tamlin_WSGF
BREAKING NEWS!
Thanks to Rhialto for the short concise and epically reliable link! ..and to eddieck for the screendump, linked at the beginning of this sentence.

Nvidia: List of desktop video cards, 500/400/300-series
"GeForce 500/400/300 Series:




GeForce GTX 580


GeForce GTX 480
GeForce GTX 470
GeForce GTX 465
GeForce GTX 460
GeForce GTS 450
GeForce GT 340
GeForce GT 330
GeForce GT 320"
So it turns out that Nvidia themselves are currently listing the GTX 580 at their own domain, hence it should most likely, even with the most pessimist set of eyes, be happening! Now if only the rumored specs hold up, and the launch date. Personally most skeptical about the, 512bit bus and the December launch date rumor. And less skeptical about the 128MTUs reading you guys feedback and insights.
Oct. 19th
Charlie of SemiAccurate
"..the GF110 is officially being touted to partners as the GTX580. While there are a lot of pretty outrageous rumors going around, this mystery part looks to be a mildly updated, basically just fixed, GF100."
Which makes the 512bit bus rumor even more unrealistic.
"If Nvidia can squeeze 512 shaders that actually work out of a piece of silicon, and also up the clock by 10%, you are looking at about a 17% increase in speed over a GTX480."
A little on the short side for being relevant, still a very fast card if this holds true.
"If you are a buyer, you will be waiting until 2011. GF110/GTX580 is not expected to hit the shelves until the very end of January, likely early February"
Makes a little more sense. hmmm ..and in February we will hear of a March/April launch?

I hope not.
VR-ZONE

"Unfortunately, even the GF104 - the most efficient GF10x chip - was significantly trailing AMD's Radeon HD 5000 series in performance-per-watt and performance-per-mm2, never mind the HD 6000 generation. We still haven't seen a fully enabled GF104 chip either. Nvidia simply haven't had enough time to repair most of GF100's flaws, as AMD has been setting a breakneck pace in generational upgrades."
As many here have said, they better improve these aspects, if they hope to reach just a few of these rumored specs at 40nm under 300W
"Following the GF110, we can expect more derivatives. Some of the codenames being thrown around are GF112/4/9."
Bring on the derivatives! This pile could potentially spawn an interesting performance product.
Oct. 18th
From frontpage of http://www.nvnews.net/
:
Unofficial "rumored" roadmap: Thanks to Tamlin_WSGF and Samurai1999 for the links. Comment with edit, below.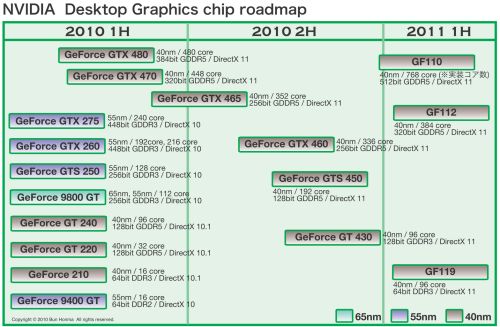 Originates from 4gamer.net In the translation, its tagged the GF110 as a 768 core single chip and GF112 as a 384 SP part, but they also speak of a dual part.
Oct. 15th
Fudzilla
"The rumored card should be equipped with 2GB of GDDR5 memory paired up with a 512-bit memory interface. "
Yes please! Lots of RAM and almost more excitingly, a good improvement to the memory bandwidth.
"The GF110 based GTX 580 should be an improved GF100 GPU with 512 CUDA cores and 128 texture units"
This would be freaking amazing! Just doesn't necessarily sound very realistic that they would more than double the texture units or does it? But hey, wouldn't it be wonderful?
"the GTX 580 will show up in December and should be based on the 40nm GF110 GPU"
I strongly doubt that release date...
Nordic Hardware
"GeForce GTX 480 has 60 texture units but according to the sources NVIDIA has reconsidered things with GF110 focused on a beefier texture department that holds 128 texture units. This is done by changing the ratio in the SM units from 8:1 to 4:1 (CUDA cores relative to TMUs), the latter is a solution it used with the the GT200 GPU."
"The rumors suggest that the card will use a massive 512-bit memory bus connected to GDDR5 memory for staggering bandwidths."
Hexus.net
"The GTX 580's core - dubbed the GF110 - is rumoured to feature four re-jigged Graphics Processing Clusters. Each of these contains four revised Streaming Multiprocessors, all of which are armed with eight texture units - that's up from four on GF100"
=======================00=======================
Time to hope, that some of these rumors have some basis in reality, maybe its not going to be a Cayman landing in my system soon after all. What do you guys think about all this?
Links:
Nordic Hardware

3Dcenter.org
(Thanks to siliconnerd for this one).
Fud
pcgameshardware.de
http://hardforum.com/showpost.php?p=1035831499&postcount=74
(Thanks to samurai1999).
http://hardforum.com/showthread.php?t=1549461
(Lord_Exodias "Fermi refresh" thread, now updated).
hexus.net
(Thanks to Lord_Exodia for this link).
Unofficial Roadmap
(Thanks to Samurai1999)
4gamer.net
(Thanks to Tamlin_WSGF).
SemiAccurate
(Thanks to Tamlin_WSGF).
VR-ZONE
(Thanks to Tamlin_WSGF).
Nvidia: List of desktop video cards, 500/400/300-series
(Major props for this find to Rhialto).
digitimes.com
(Thanks to Samurai1999 once again!)
Leaked images of GTX 580
(Thanks to eddieck!).
Last edited: