Just had to post this after spending over 100 hours playing the game, and around 50 of that being with a few knowledgeable players.
The game is currently on Steam at the sale price of $13.59 and worth every penny. This is the lowest price the game has been at, the other time was the last Steam winter sale.
This is truly a great game for 4 player Co-op. Lots to learn, coordinate with your teammates, and a relatively robust upgrade tree with weapons (attachments, clips, upgrades).
Little background on my recent and past 4 player FPS co-op playing as to lend some credence to the above statement. Deep Rock Galatic (200 hours) Vermintide 1 (400 hours) Vermintide 2 (125 hours), Left for Dead 1-2 (200 hours), Killing Floor 1-2 (200 hours) Warhammer Space Marine (20 hours).
So if you have three other people that like this sort of genre of game I highly recommend picking it up. If you want to check out the game then I recommend joining the semi active (for the game) discord linked below. The few people I have been playing with, we all have been pointing people here to use voice coms and build a community.
https://discord.gg/2cT4uG
I've been so inspired by the game I even have created a character calculator (SS below) and am working on a guide for it (unreleased as it still is in development).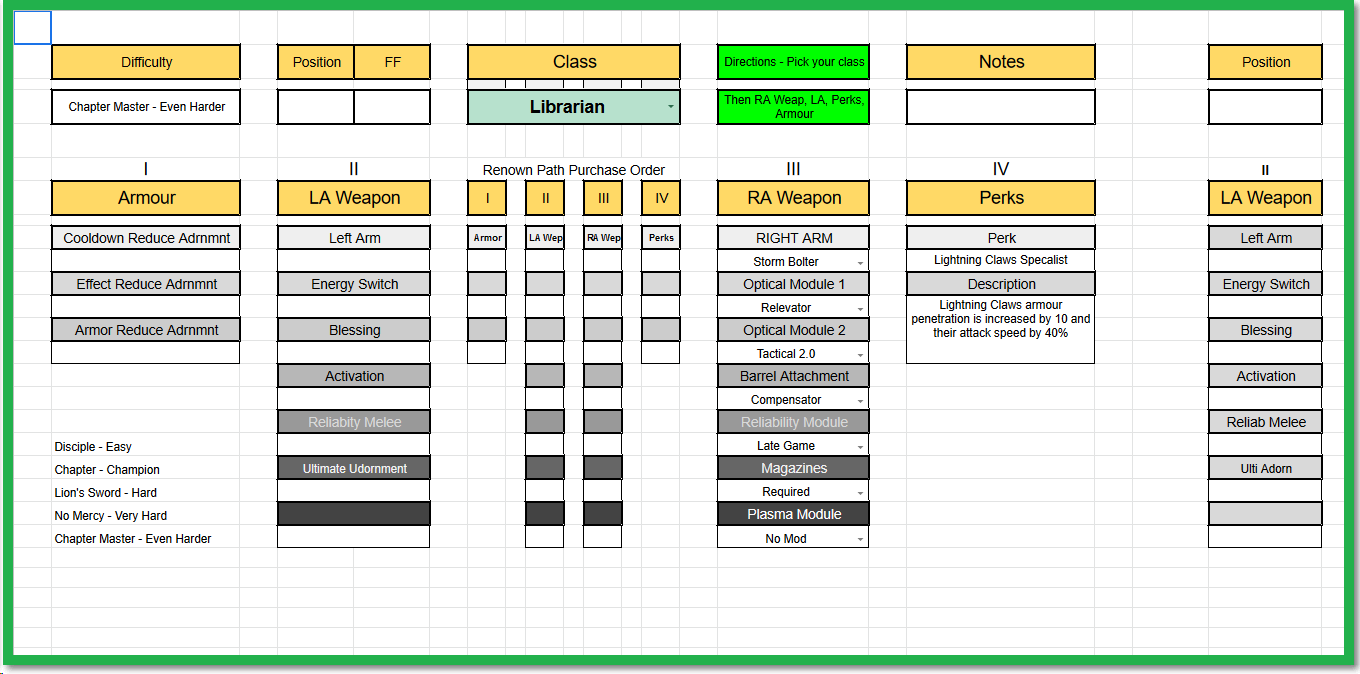 My Steam review below:
Review written at the 90 hour mark.
I had been watching this title since release but heard and saw bad things about it; bugs, performance and no progression system. With the release of Enhanced Edition coupled with a Steam sale I purchased it.
It is a great game with a good amount of depth via leanring the overall systems, weapons, upgraded and of course working with your teammates. I am still learning things about the game from people with far more time invested in than I; this is a good thing (see depth above).
No idea about the single player game this game is all about multiplayer. It is a four player co-op first person shooter, set in the 40k universe where you lumber through tight corridors, doors and small rooms while fighting back to back to fend off aliens. In order to survive you choose classes (out of 6 possible) that can synergize with one another to overcome the Tyranids (aliens).
One thing people seem to not get with this game is that like the pen and paper one that it is based off of, is that marines die to Tyranids easily (1-2 hits). This is not standard in first person shooters and to that fact you want to do everything to increase survivability via 20% armor, 50% acid armor upgrades for your character; these are upgrades you want to do first before any weapon upgrades. You also want to have an Apothecary and possibly a Chaplain in your group to provide heas and team ressurections respectively.
There is very little documentation about this game and new players to the game suffer for it; the difficulty without the knowledge is punishing. I have already started writing a few guides for it to help in this respect. There are bugs but nothing truly crippling, it could use some community help if they ever opened up the code for a team to manage its future development.
It truly is an amazing multiplayer co-op experience, a work of love (thanks Streum) and it shows when you play it as intended; Four player co-op while on voice communication.
LIttle FYI Strenum is a small developer (10-15 people) and deserve every bit of credit for making this game.