Joined

Sep 7, 2008
Messages

100
EricThompson guessed correctly. It's a Supermicro 5018A-AR12L.
Total Storage 137.4 TB
Max single system storage 72.6 TB in 1U
Supermicro 5018A-AR12L (1U)
RAW capacity 72.6 TB (HDD/SSD combined)
Atom C2750 (8x 2.4GHz cores)
32GB ECC RAM
Onboard LSI 2116
12x 6TB Hitachi HDD
5x 120GB Intel 530 SSD (2x boot, 3x cache)
10Gb Myricom CX4 NIC
2012 R2 Storage spaces with 100GB write cache
Supermicro intended for 2x 2.5" drives with a mount that wasn't listed when I ordered this server. I adapted it to hold 5x 2.5" 7mm drives with a few zip ties. I wouldn't ship it like that but it holds fine between the workbench and rack.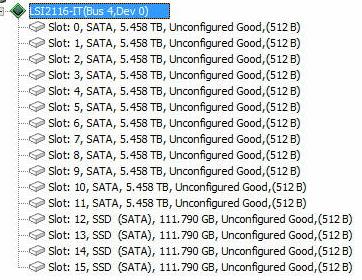 Old pic of the rest of the rack
Case - Supermicro SC846E1-R900B
PSU - 900w redundant
Mobo - Supermicro X7DWN+
CPU - 2X Intel Xeon E5420 @ 3GHz
RAM 56GB
RAID controller - Supermicro AOC-USAS-H4iR
26x 2TB Hitachi
8x 450GB 15k Hitachi
Case - Supermicro SC118G-1400B
PSU - 1400w single
Mobo - Supermicro X8DTG-D
CPU - 2x Intel Xeon E5620 @2.4GHz
RAM 48GB
GPU 1x Nvidia 560ti 2GB
2x 600GB WD Velociraptors
4x 1TB WD Velociraptors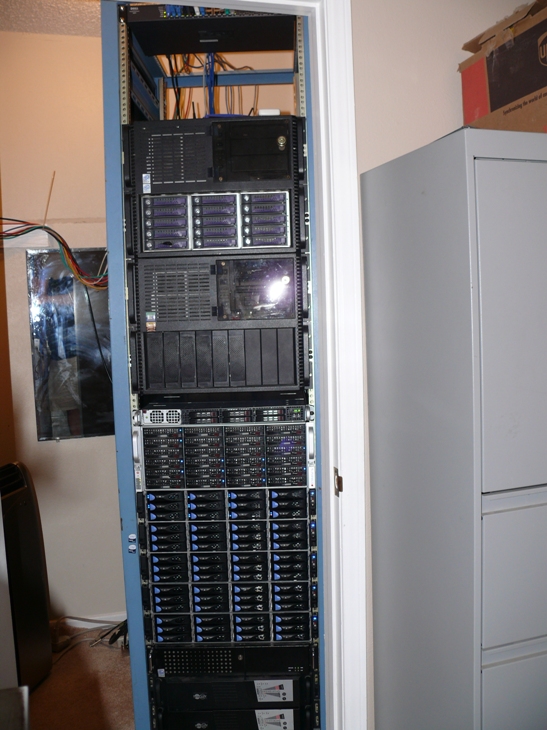 Last edited: