Joined

Apr 15, 2009
Messages

1,130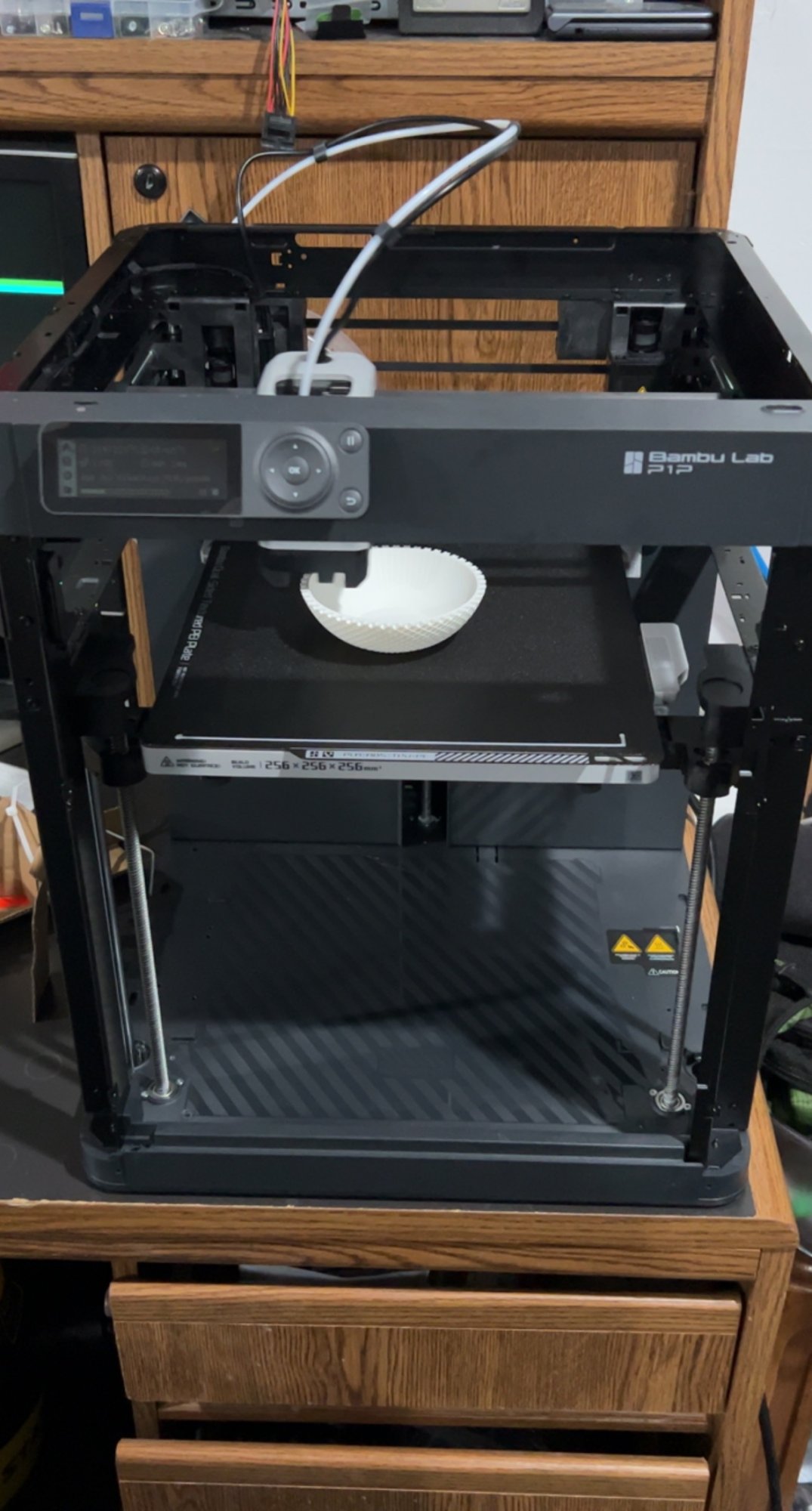 I've been wanting a printer I didn't have to tinker with, that would print good quality OOTB, have enough smart features that I wouldn't have to pull my hair out "calibrating" every time I decided to fire up the printer. I did quite a bit of research on the various mass produced printers out there. Most of them have decent reviews with some small annoyances. QIDI, FlashForge, Dremel Digilab, were all names that kept coming up during the search. I remember seeing someone here mention the Bambu X1 Carbon, at the time it was crowd funding campaign. I just happened to look at their website to notice they had released a lower end model, the P1P for 699.
I won't go over all the specs and such because it's easy to go check it out for yourself.
I watched SO many review videos from people who had gotten review units, and some people that had already purchased production models. I liked what I saw, and decided to pull the trigger.
I ordered it Monday 16JAN.
Received today 20JAN. 4 days!
From everything I saw you could go from boxed to printing in about 15 minutes if you followed along with the guide on their wiki. I can say, it's absolutely true. I'm not a newbie to 3d printers having had a cheap chinese delta, used that to build a 1515 based core-xy, and then purchasing a Ender 3 Max, but the instructions were dead simple to follow and it wasn't long before I was puking plastic.
First impressions unboxing and subsequently using:
Build quality seems standardized.
It's noisier than I expected, but not so bad I can't live with it. I just wouldn't want to sit in the same room with it for a LONG print.
This thing prints FAST.
It has it's own Slicer/control Suite. Seems intuitive, lots of presets for filament types, but only a few brands.
Lots of Cloud based functionality. At this point in time, and browsing the forums and reddit confirms: This is a CON right now. Their cloud service goes down a lot, Currently feels like most reliable way to print is do the SD card shuffle. What is this, 201x?
ABL using a load based sensor and using the actual nozzle to probe the bed.
Nice Textured Powder Coated PEI magnetic build plate.
I'll get some pictures up as I print things with it. There is a AMS (multi material) system that is compatible with the higher end as well as this model. That is high on the priority list once I get a good feel for how this printer works.
Overall, so far I regret nothing. Best OOTB experience I've ever had with a 3d printer. It feels like what having a voron without the soul is.