Joined

Oct 26, 2004
Messages

1,792
GOAL: to eliminate fans, active air movement, and noise all together.
REMEDY: Create a massive radiator that is passive to eliminate fans all together. Based on the innovatek konvekt-o-matic, but instead using finned pipe from a larger application, I can build a radiator easily capable of taking care of over 1000 watts of heat.
REALITY: I can eliminate everything but the PSU, although I am planning on making an acrylic box to house a PSU (Corsair TX850w looks like a contender) submerged in mineral oil, then using a small pump to circulate it through its own 'mineral oil' loop. In the meantime, in the pic below you can see an Enermax Rev85+ 1050w which is an 80+ Silver rated PSU (could be Gold rating from the test results I have seen). It has a fan, but with efficiency ratings in the 88-90% range, that means that under say... 500 watts load, it will only generate about 50-60 watts of actual heat... enough that the fan doesnt really have to do much at all... almost a passive setup already. I really wish more companies would make water-cooled PSU's though, esp in the 800 watt range. With higher 80+ efficiencies, I can imagine some PSU's might only need waterblocks on key components and not even need to be submerged.
WHY: On the usual scale of allergies 0-4, I have a dust-mite allergy that is a 4+++ (what the doctor wrote down). The nurses had to pick their jaws up off the floor, and I was given advice about moving to a different climate among other things. I hope to move to the desert or high mountain regions someday, but in the meantime, I have turned my bedroom into a massive 'clean-room'... only a bed and my desk. The problem is, my Lian-Li PC-V2000 has 'lots of fans'... I even added two 120mm blowholes to the top... which, as of me finding out I have massive allergies to dust this last summer... isnt a good idea. The dust that builds up in a computer is warm and gets good airflow, so its a dust-mite factory, and then the air (containing spores and the mite poop which is what gets to me) blows around the room. So if YOU have dust mite allergies... rather than aggrivate them and make them worse... consider eliminating the little dust blower at your desk. And no... you cant put HEPA filters on your fans... they are too fine and would choke the fans on a normal computer. I also run a HEPA air cleaner among other things like special bed-sheets... and I didnt want to give up a nice computer for a lower grade 'passive cooled' system, so I looked at doing a massive passive external radiator system. The only problem was, Im not that impressed with the capacity of anything currently on the market... not knocking Zalman and Innovatek, but I just dont think they have the cooling power to really handle 140watt CPU's, dual GTX285's, chipsets, and maybe a PSU.
>>>So here goes... first, the 'lungs' of such a system...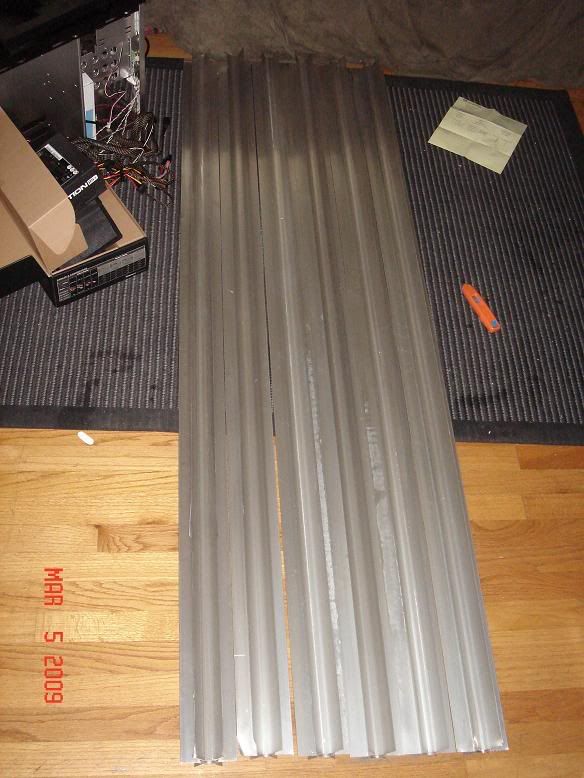 Thats six pieces of 6-foot starfin pipe, 1" ID, each with six 3cm fins... or 36 linear feet of extruded aluminum longitudinal finned pipe. I would like to thank TrueLeaf for hooking me up with all the pipe and fittings:
http://trueleaf.net/heat/hot_water_systems/finned_pipe#starfin
Its not cheap, but how many of these would I need to match?
http://www.highspeedpc.com/Merchant...Y&Store_Code=HSPC&Category_Code=InnovaKonvect
ALOT!
Besides, with 1" ID, I can eliminate pretty much all of the back-pressure that the radiator would have. The pipe itself becomes part of the res tank in a way... as with a 1" ID, this pipe alone will hold about 1.5 gallons of cooling water itself.
This stuff is rated at 295 BTUH @65° air & 180° avg. water temperature... (I assume that 295 figure is per foot and degrees F). This gives me a BTU rating of 10620 BTU per hour... converted to watts... thats 3113 watts/hour of cooling. The thing is, I know this is with the delta of a 65 degree room, and I hope I never hit 180 degrees in the water!! So a more realistic rating would be more like half. I plan on using an eheim 1250 for circulation, rated at just over 300gph. I have other pumps at my disposal (look at my photobucket, and you will see I am also into reef aquariums... so yeah, I got pumps), but I think this will be fine. With 1/2" tygon and fittings, and the blocks, I would guess that 200-250gph of actual circulation is realistic. If I need more pressure-bias, I might pick up one of these:
http://www.petrastechshop.com/iwrd24vdcinp.html
With 200gph, that means that the water in the finned pipes will only circulate about 133x per hour, giving the water about 27 seconds in the 'MASSIVE PASSIVE' radiator... which should be plenty for it. I estimate that the temps in the loop will be determined more by room temps than the CPU.
Other equipment:
Swiftech Apogee GTZ
Swiftech Chipset block, although this might change to a DangerDen
...waiting on Danger Den's GTX285 GPU block
Eheim 1250
6' of 2" diameter clear PVC pipe for a matching 6' tall tank.
Lian-Li PC-A77B w/ window
... Ill post more as the work goes on...