This thread will be about a project much different from standard case mod forum fare. It will make more sense if you read the back story, but if you don't care to do that, just skip this first post - the build process will begin in my replies.
Back Story:
I work for The University of Texas at Austin, in a department that does geologic research. We have a group within our department that does airborne surveying to support this research. This group is one of a very few in academia that actually owns its own aerial survey equipment, including an airborne LIDAR scanner (which is pretty freakin' cool), and our newest acquisition, a custom-made hyperspectral camera rig that includes four cameras that, together, can "see" a wide swath of the electromagnetic spectrum, with a high degree of spectral resolution. In other words, if a standard JPEG file has three bands - red, green and blue - the data produced by this system has several hundred, with red green and blue being among them. Part of my job, in the department's IT group, is to operate, maintain and support the aerial survey equipment, which is as much an information technology (and mechanical) challenge as it is a scientific one.
When it was delivered to us, the original system looked like this: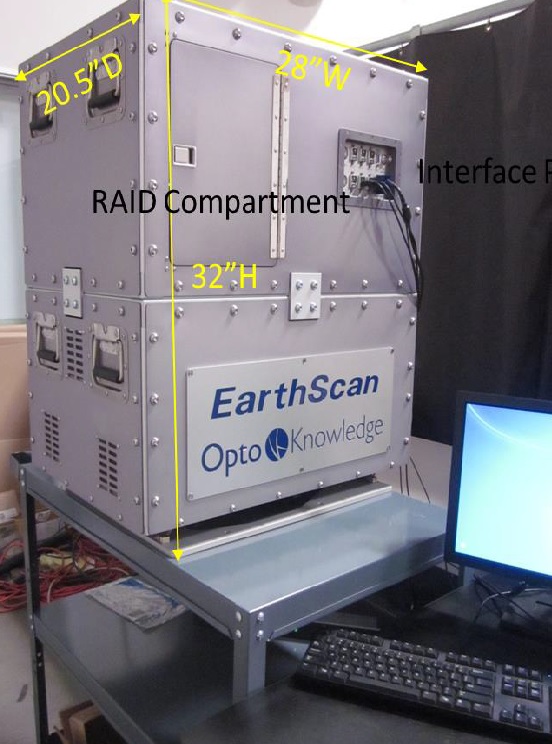 Tragically, in late 2014, the airplane that the aforementioned camera system was installed in crashed, killing the pilot, destroying the airplane, and severely damaging the system. I got really lucky - the plane was on its way to pick me and a coworker up, so we could perform the system's first test flight after we took delivery of it. If it had crashed an hour later, I'd have been riding in it.
Here's the news article about the crash:
http://kxan.com/2014/11/23/dps-working-possible-plane-crash-in-lee-county/
If you look at the photo of the wreckage, the original camera system can be seen; it's the grey box right in the center of the frame. It actually did surprisingly well, given that it suffered a near-vertical impact with the ground at 90+ knots. Nevertheless, it suffered some pretty horrific looking damage; the housing, and many of its internal components, are a total loss.
For various reasons, it is not practical for us to send the system back to its manufacturer for repairs. Instead, it's fallen to our aerial survey team to salvage what remains of this system and construct a new sensor package from any still usable parts. Luckily, only three of the system's four cameras were installed in it at the time of the crash, and none of them were irreparably damaged.