PeerIX
As some of you saw from the previous thread "Network nerds" this will be the new official thread. We will start off with a quick faq followed by some of descriptions of whats going on.
VISIT THE NEW FORUM!!
http://forum.peerixproject.com
What is PeerIX:
PeerIX is the official name for an idea that was put forth to to develop a functional "mini internet" for both practical experience with enterprise technologies as well as to learn them.
What are the requirements?
A network device that supports IPsec, GRE and BGP. Other routing protocols may be considered but will be "corner case" as the core will be eBGP.
What devices work?
We will add to this list as more users being to peer. Currently most Cisco routers will work permitted that you are running an IOS that supports the core technologies above.
http://tools.cisco.com/ITDIT/CFN/jsp/index.jsp
You can use the IOS feature navigator to verify if your IOS/device supports the required features.
Working devices:
-----------------------
Cisco routers
What technologies are you talking about?
The sky is the limit here, but the main core technologies are the IPsec suite, GRE and BGP. Right now we have limited things going on within this network but eventually the hope is to have it grow much larger with more services.
Why are you doing this?
I had this Idea a very long time ago so myself and a few others talked about doing something like this, both to better ourselves technically as well as provide a resource to others to really get their "feet wet" with some of the other technologies.
Who can participate?
ANYONE! If you want to learn the core technologies and the other technologies to come, send an email to
group.peerix@gmail.com
listing your name, AIM name and what device that you want to bring.
What technologies are available?
Internal(within the network) Voice
Internal conference bridging
Practical BGP technologies
What if I don't want to do this, but I'm still curious
Fair enough, but you would be missing out. If you want to see whats going on within the network 4-5 route-view(or looking glass) servers will be publicly available. Come back later for the addresses and credentials.
IRC:
irc.rizon.net
#peerix|project
Network layout:
-----------------------
This is still a work in progress and the diagram will be updated as often as possible. I'm sure different documents will be posted as well.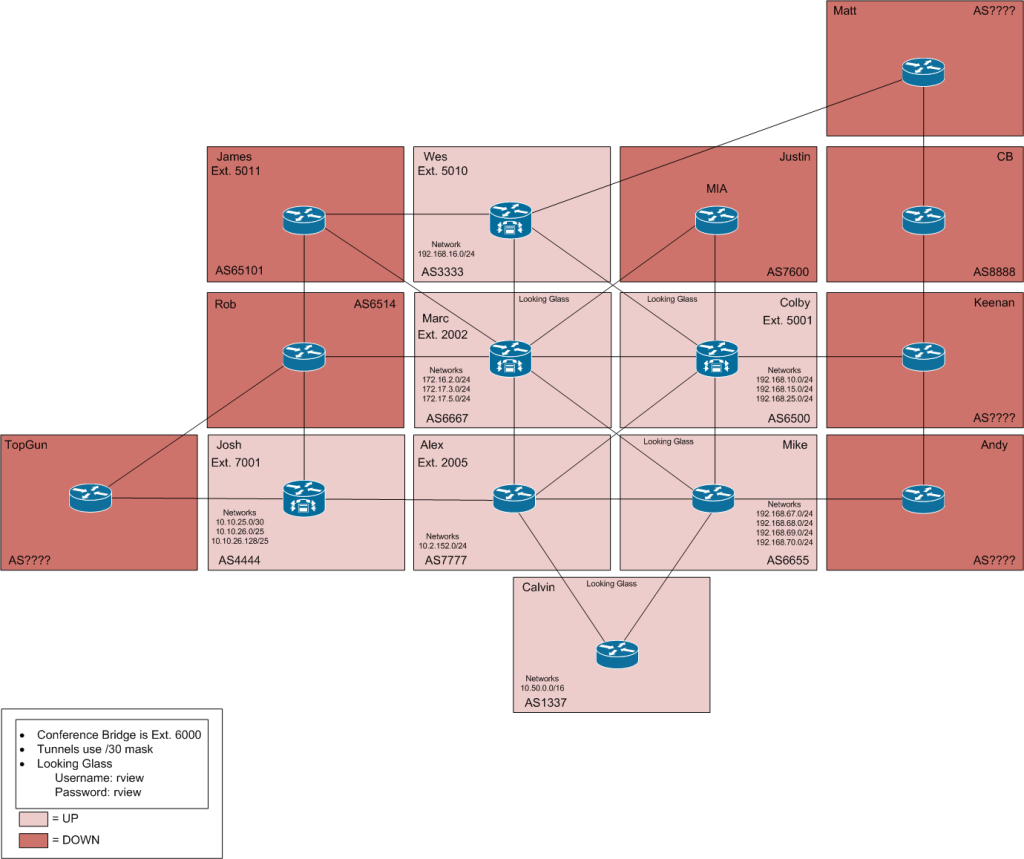 More information will be added as this network grows and questions arise.
Last edited: