Joined

Sep 8, 2012
Messages

943
Update 2018-06-20, Harmony. Why choose between PC or Mac when you can have both.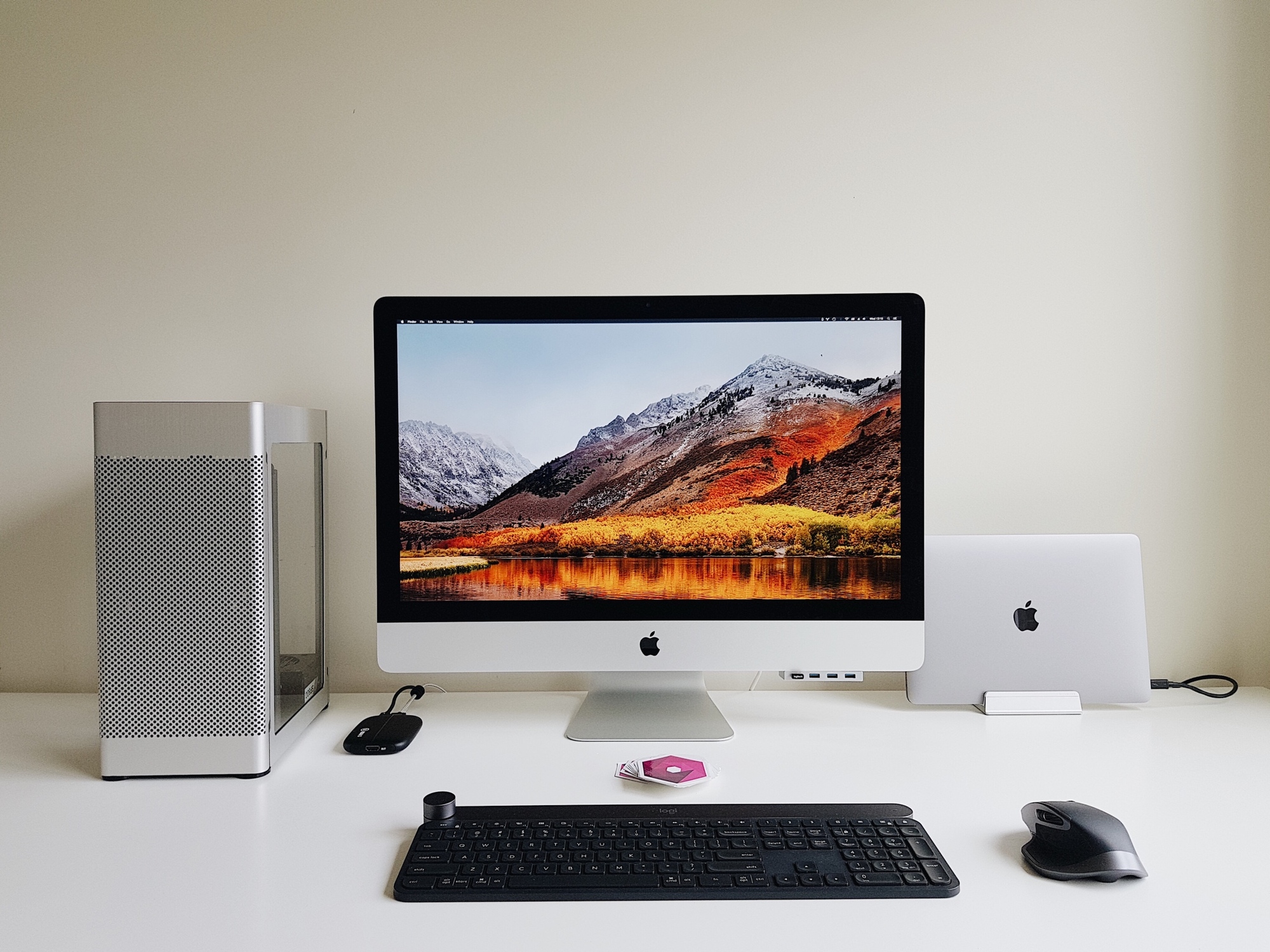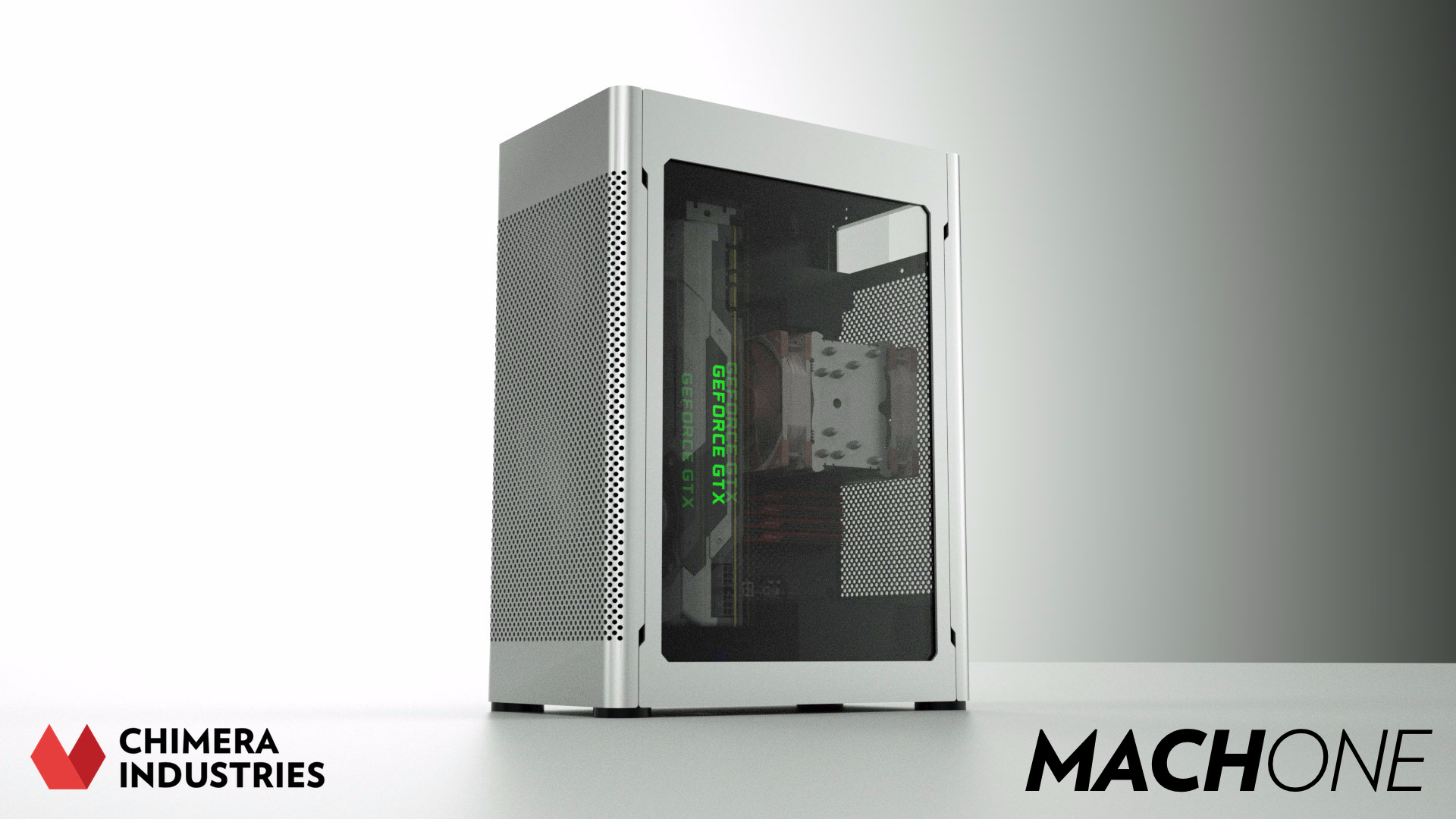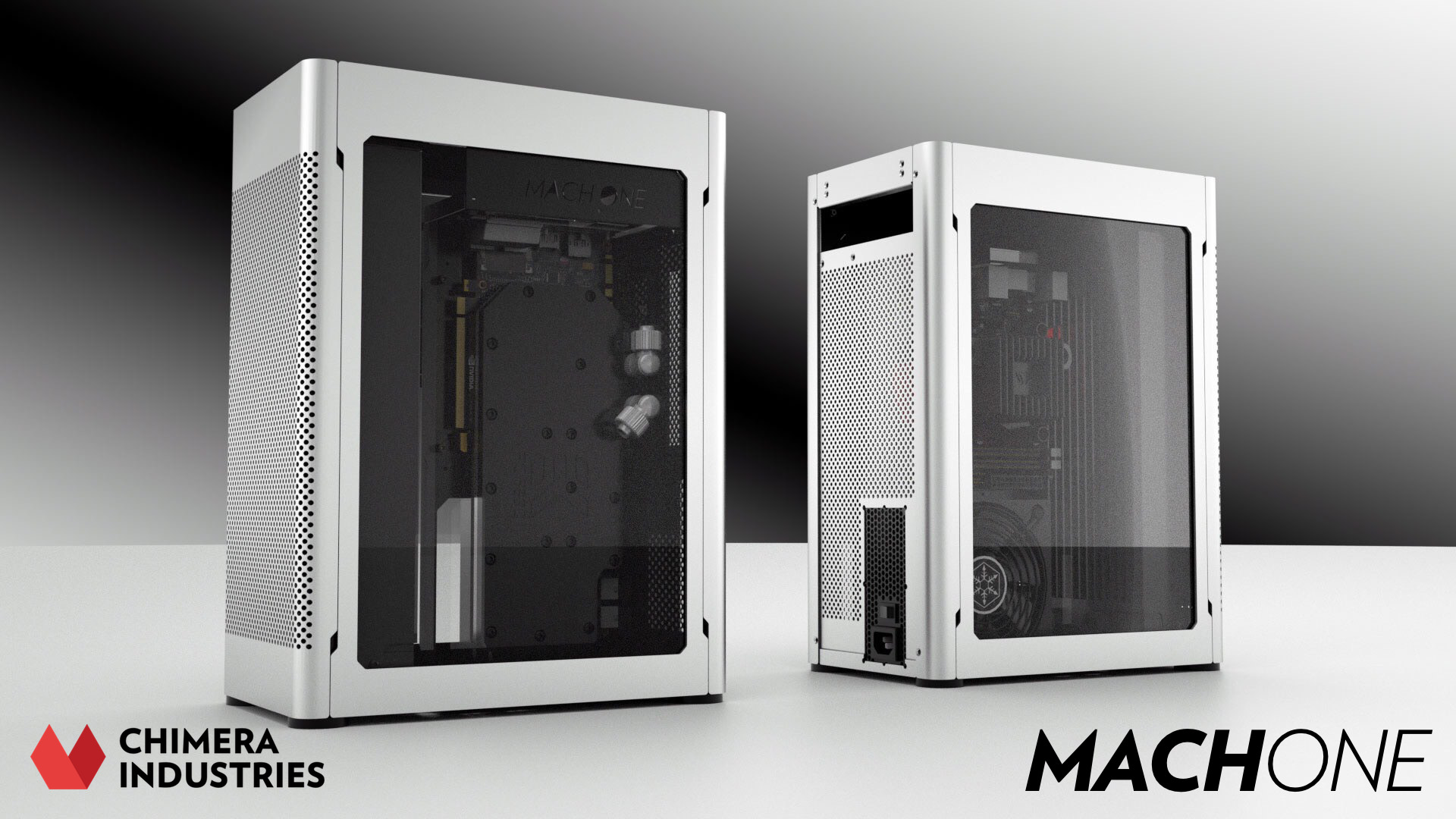 EDIT:
Additional MachOne renderings, including with a bare side panel!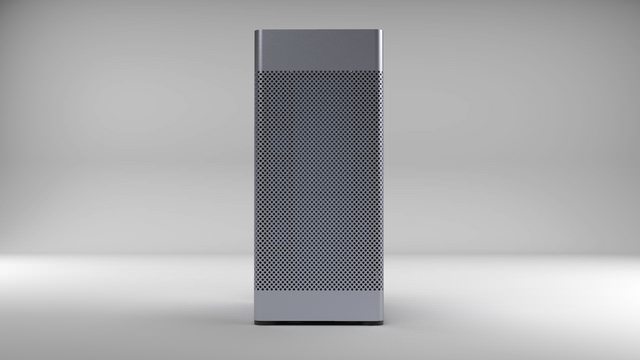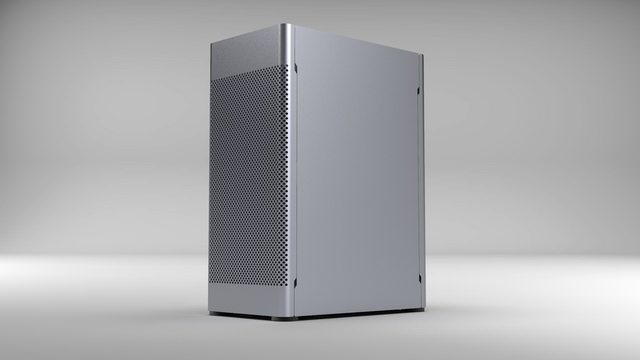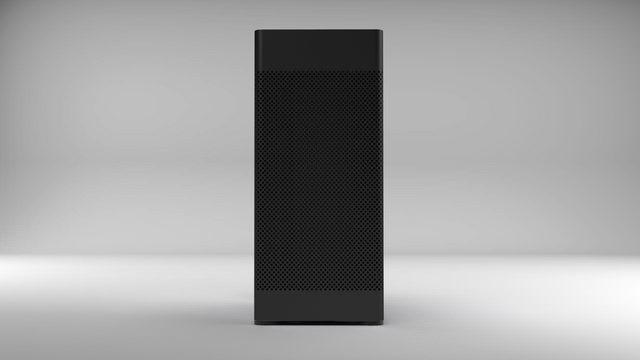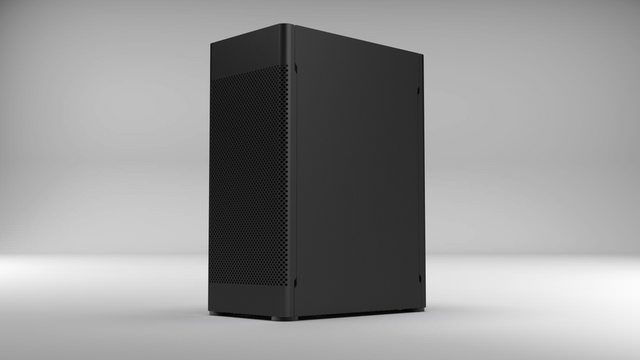 Enclosure Dimensions:
170x286x380mm, 18.5L (170x286x386mm including feet)
Motherboard Support:
Mini-ITX, Micro-ATX
Power Supply:
SFX, SFX-L
Cooling:
two 140mm or 120mm fans, CPU cooler up to 146mm (Noctua U9S recommended)
Photos
Here's the Chimera MachOne in the flesh! Our Computex 2018 build contains an mITX board, i9 CPU & Titan XP GPU, Elgato 4K 60 capture card, and custom loop with a Nemesis 280GTX radiator!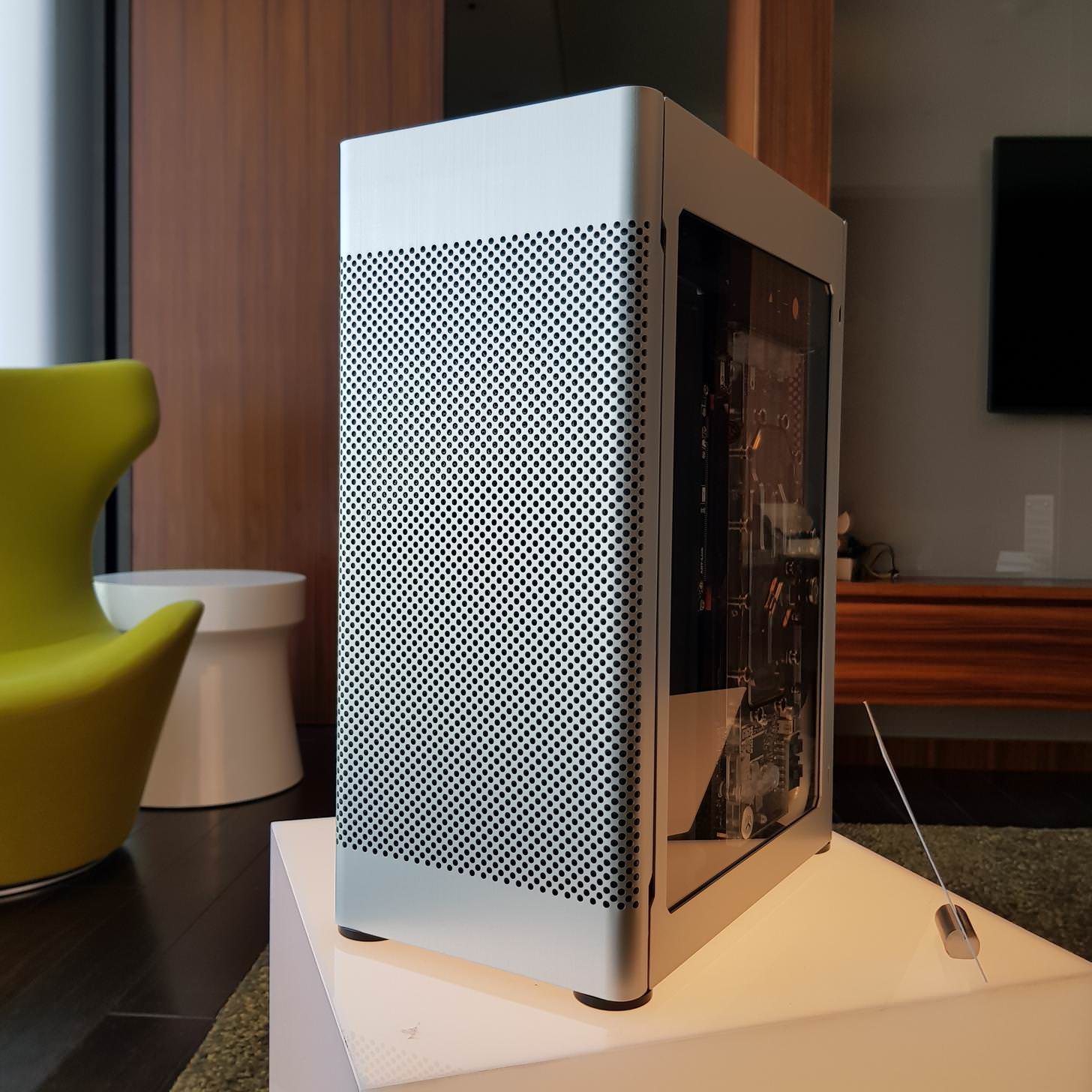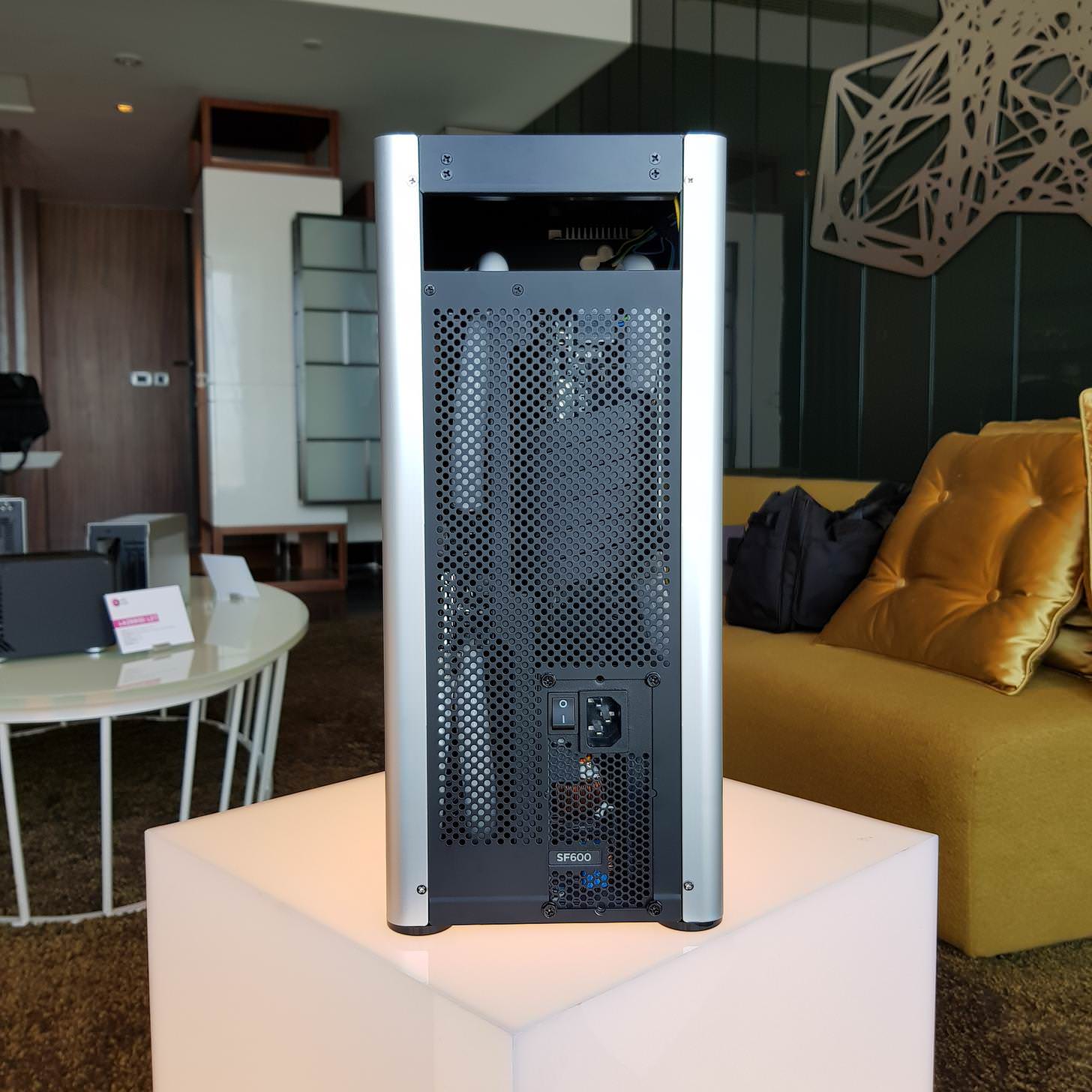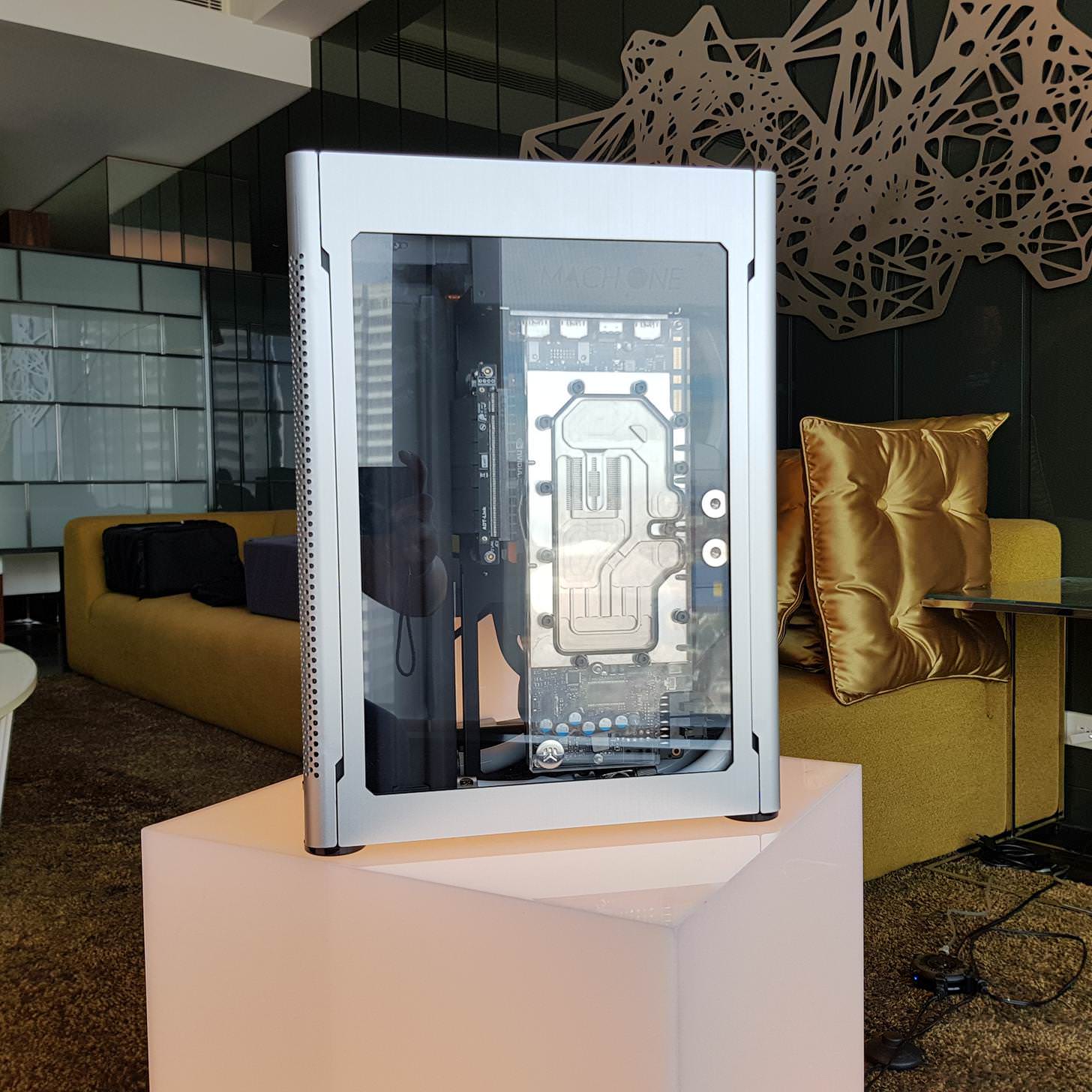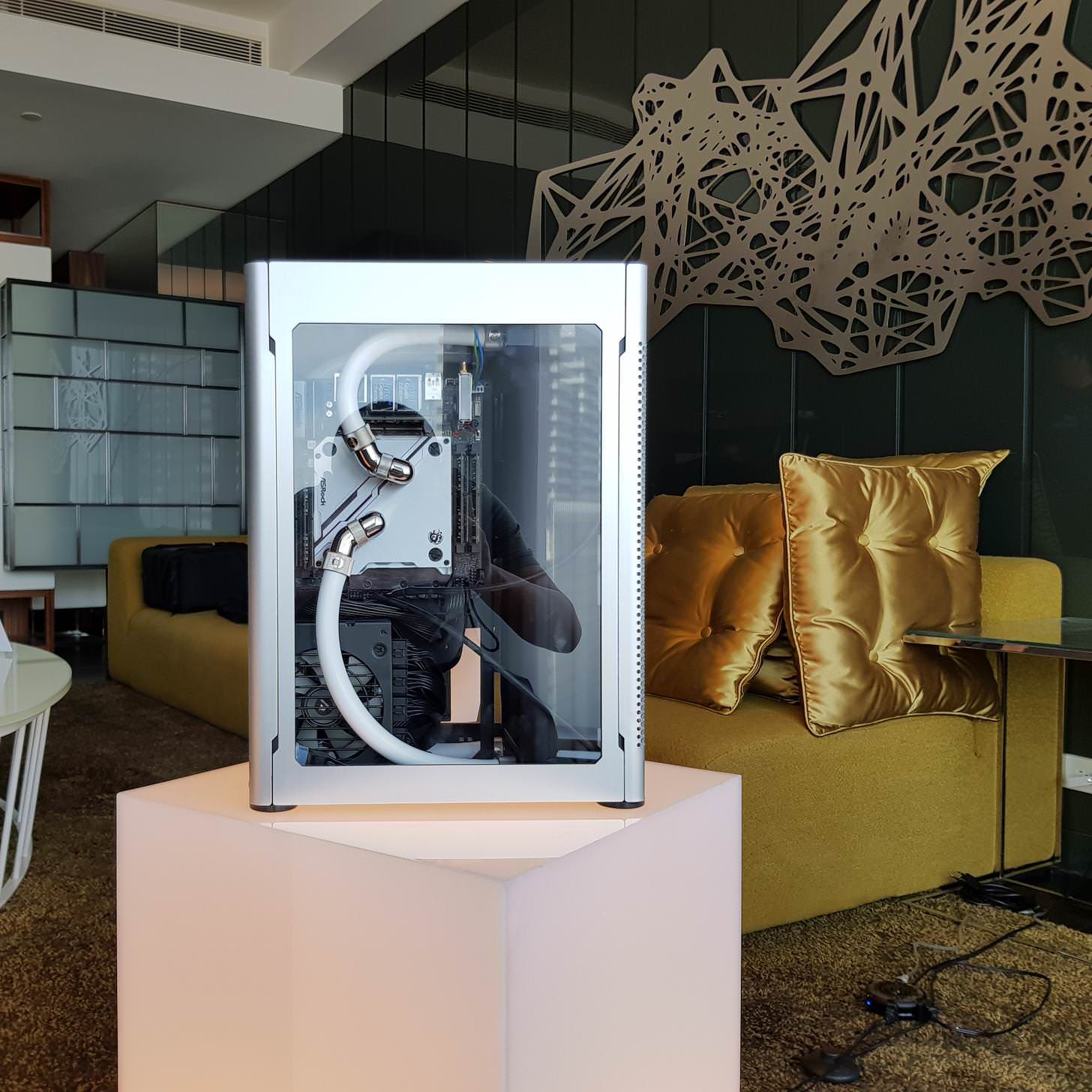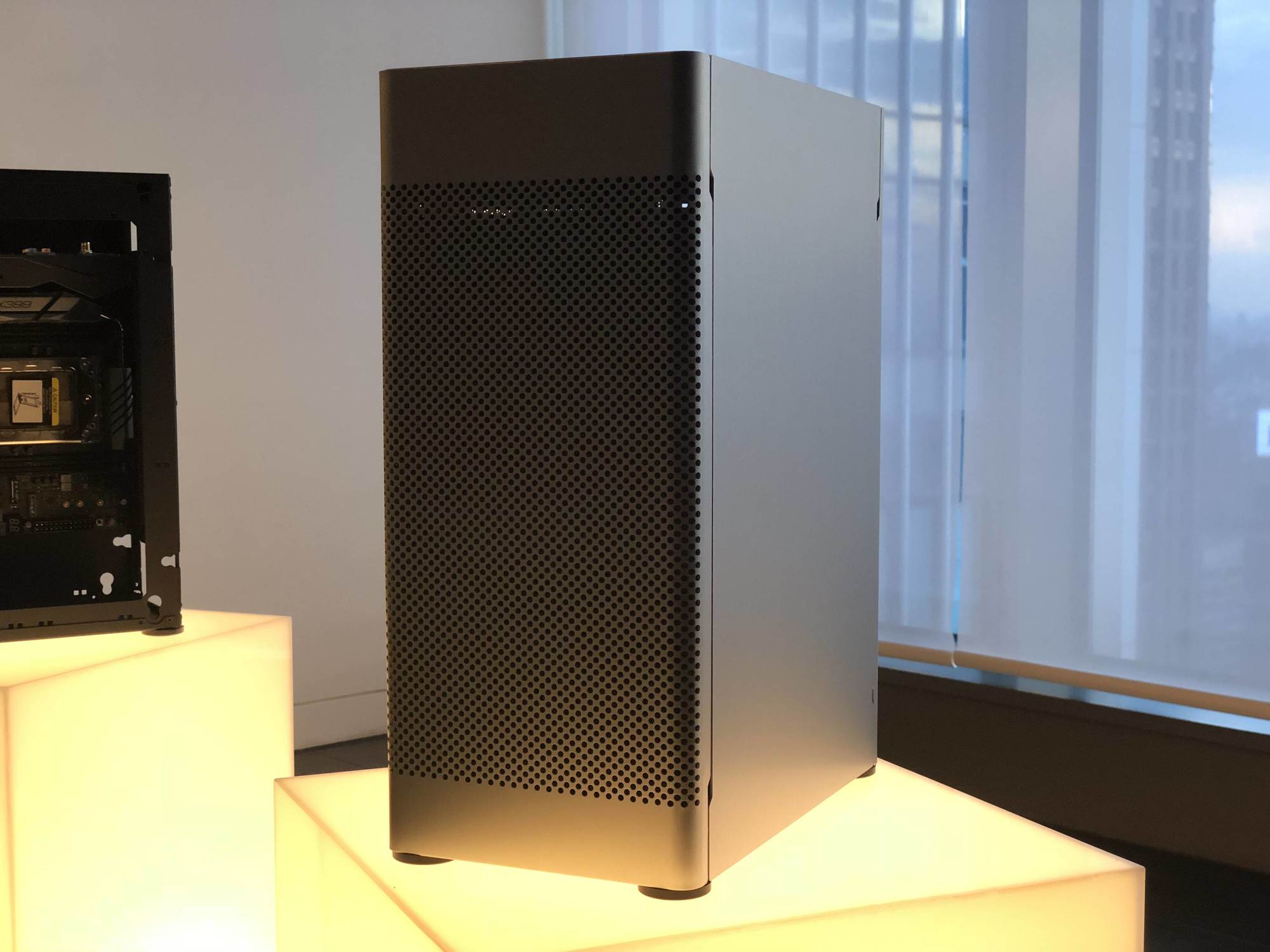 Introducing the Chimera MachOne
What is the MachOne? In a sentence:
a SFF solution for pros who demand the best.
In a few more sentences?
A handsome aluminum tower with a smaller footprint than the NCASE M1, that can support real workstation-class builds in a compact, portable form factor (especially in tandem with the carry-on compliant WALLYE Tactik Duffle, which it is compatible with)
An enclosure with remarkable flexibility, that enables both mITX and mATX builds via three different layout schemes
A robust platform which supports everything from basic builds, to enthusiast-grade components, to exotic custom loops with thick radiators (like the Nemesis 280-GTX or EK-XLC Predator) and dedicated pumps/reservoirs combos (like the EK D5 and EK DDC). All in 18.5L.
The second bullet is an especially important one, as it is the flexibility of the MachOne that makes it so unique. There are three arrangements that the enclosure supports – Gear One, Two and Three – and each one provides a unique set of benefits and compromises, allowing the user to pick the layout that maximizes what's most useful to them:
Gear One ("The Core"): A traditional layout (mITX and mATX) in a vertical orientation, which is easiest to visualize as a "vertical NCASE M1". This arrangement supports air CPU coolers like the NH-U9S, and provides a comfortable amount of space for as many graphics cards and PCI devices as your motherboard supports, with enough room leftover for twin 120mm/140mm intake fans on the front (as well as ample space for power and storage on the bottom)
Gear Two ("The Gamer") : The same as Gear One, except that it uses a PCB riser to fold one's graphics card and/or PCI device to be above and parallel to the motherboard, enabling support for substantially wider/bulkier cards. This also opens up the front of the enclosure for use of a radiator or AIO
Gear Three ("The YouTuber"): A back-to-back arrangement, using risers to fold up to three PCIe cards and devices behind the motherboard, while providing enough room at the front of the enclosure for an impressively thick and wide radiator. Not to mention windowed panels on both sides, to best show off your hardware
SFF Network has just posted their article on the MachOne
, and as you can see, this flexibility allowed us to build a pretty insane demo rig: We've brought with us to Computex an mITX, i9 + Titan Xp workstation,
with an additional PCIe card
(an Elgato 4K 60 capture card), and a Nemesis 280 GTX radiator cooling it all. This sort of hardware was once unfathomable on mITX, or in an enclosure of this size. With the MachOne, it's now just another possibility. This, too, before we get to what mATX support enables, with the recent Threadripper news allowing us to fit 32-core builds into the same svelte profile, no problem.
It's not just hardware support that we're excited about, either: it's the use cases that the MachOne enables. One of the demos we were able to show the SFFN team was how Dan could hook up his MacBook Pro to our demo rig, and use it as an external display, switching between the two computers dynamically as he works. Both computers, as well as peripherals and a portable display or two, can fit inside the WALLYE Tactik Duffle, meaning that professionals and gamers who need truly no-compromise performance now have a holistic solution with which to bring their full workstation set up with them. We really mean it when we say that the MachOne is for those who demand the best!
-
To be sure, we know that everyone will have a lot of questions and even more feedback. So please – bring it on! Although what you'll see in photos is meaningfully representative of the final product, it is a prototype fresh from the factory, and we have already identified some changes we will be making to polish the design and improve the build & use experience. That said, we're really happy with the current spec, and I especially find the aesthetics of what we've made to be wonderful. That front panel in-person is just gorgeous. The MachOne will without doubt be the next enclosure for me!
Finally, do know that we will have information regarding pricing and availability post-Computex, as we finalize the MachOne. We can't provide specific prices yet, but we
can
share that our goal is to offer a range of options and price points that roughly follow the arrangements we've developed for the enclosure. We want the MachOne to be accessible to as many as possible, while still fulfilling the promise of what some of the more complex arrangements require hardware-wise.
If you're around at Computex and would like to get a closer look at the MachOne, feel free to get in touch! Either way, we can't wait to share more, collect feedback, and get the MachOne made
– Joshua
Initial component support specs
Front radiator & fan support:
Gear One ("The Core"):
mATX + 2 dual-slot GPUs: 2 x 140mm fans
mATX + 1 dual-slot GPU: 2 x 120mm fans + 1 240 x 45mm radiator (EK Predator / MLC Phoenix 240)
mITX + 1 dual-slot GPU: 2 x 140mm fans + 1 280 x 45mm radiator (EK Predator / MLC Phoenix 280)
mITX + 1 single-slot GPU: 2 x 140mm fans + 280 x 60mm radiator (EK Predator / MLC Phoenix 280 / Hardware Labs Nemesis 280GTX)
Gear Two ("The Gamer") & Gear Three ("The YouTuber"):
2 x 140mm fans + 280 x 60mm radiator (EK Predator / MLC Phoenix 280 / Hardware Labs Nemesis 280GTX)

CPU cooler height support:
Gear One ("The Core"):
143mm (Noctua U9S @ 125mm)
Gear Two ("The Gamer") & Gear Three ("The YouTuber"):
76 / 96 / 116mm, depending on if you populate 3 / 2 / 1 of the PCI slots (there are three expansion slots available above the motherboard)

GPU support:
Gear One ("The Core"):
Maximum length of 315mm, maximum height of 148mm (when including the 6+2 pin)
Gear Two ("The Gamer") & Gear Three ("The YouTuber"):
Maximum length of 300mm, maximum height of 163mm (when including the 6+2 pin)
Initial layout specs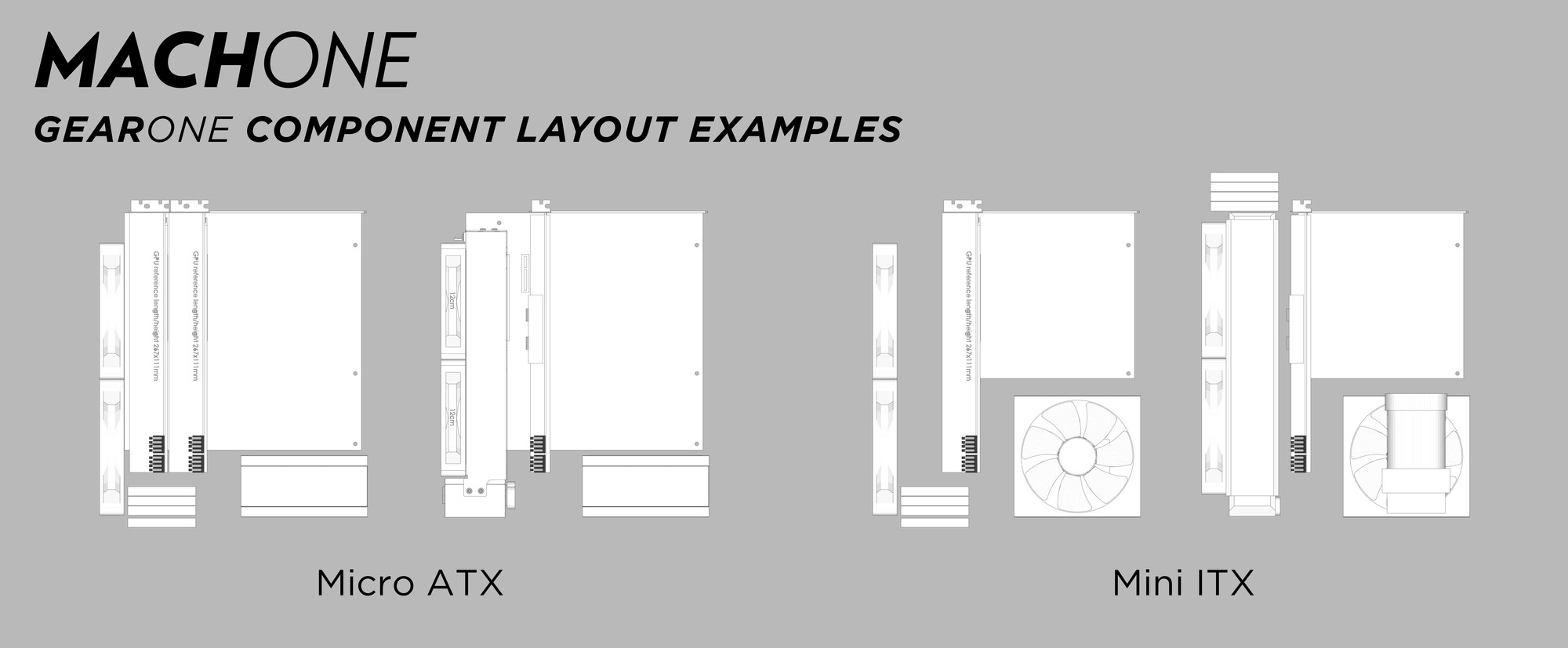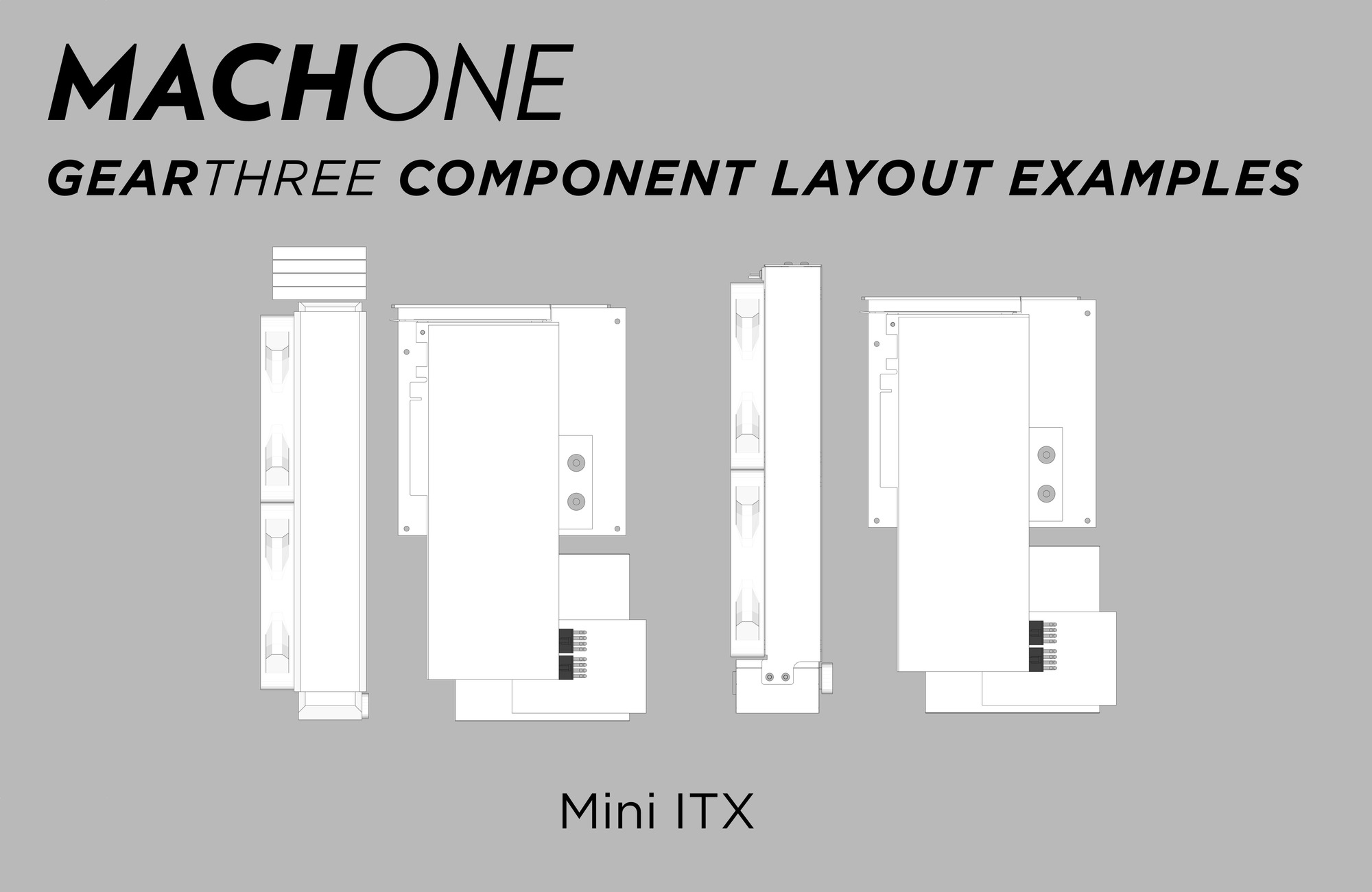 -
Original Teaser Post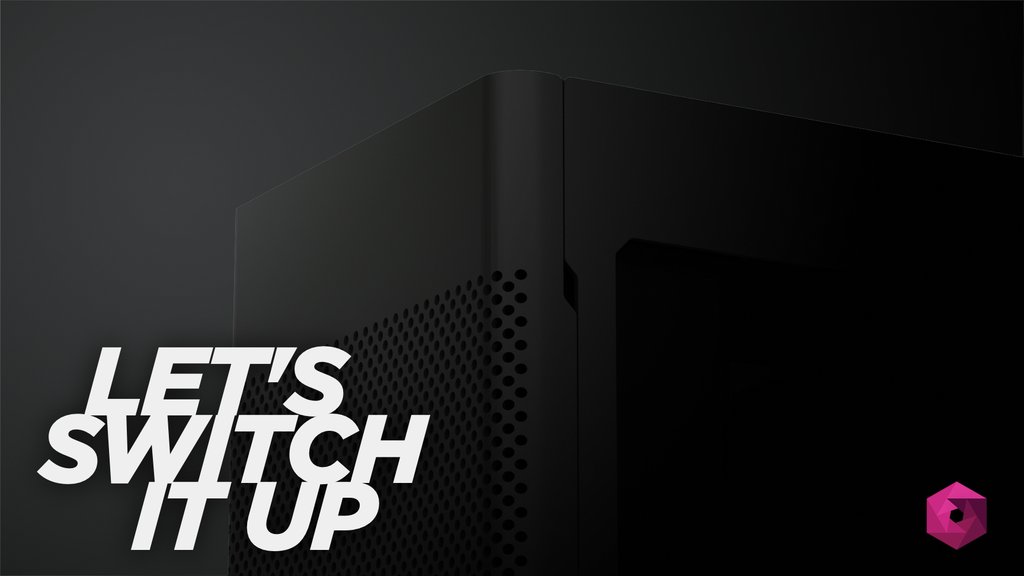 Stay tuned during Computex 2018, as
SFFLAB
and
Chimera Industries
reveal the next project to launch on SFFLAB.
Last edited: