Through my research on G5 case modding, I found that 95% of the cases get their back I/O panel and expansion slots all shredded up to match standard ATX motherboards. I want to keep the exterior of the beautiful G5's case exactly how it is. My solution? Move the motherboard away from the I/O ports and instead route extension cables where they need to go.
Not only that, but I'll be rotating the motherboard 90 degrees CCW. If I'm not hooking the I/O ports right up to the back of the case, then I am taking the liberty of moving things around even more. I believe this puts the CPU in a better position for cooling, plus I feel it uses the space more efficiently. Using another little trick, it also allows me to easily utilize the G5s expansion slots with no case slicing necessary.
To attach the GPU to the motherboard, I'm going to use a flexible PCIe extender: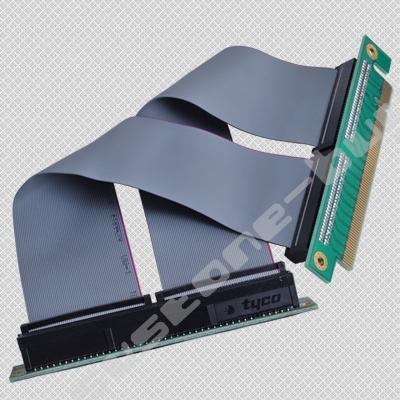 I just ordered 3 of them, but it will be sort of trial and error when they arrive. They are 7'' so hopefully that is enough. I might need to modify it or use multiple in succession, but we will just have to wait and see. I also would love to round the cable, like what people commonly do with IDE cables these days.
For audio, Firewire and USB I'll be routing ports directly to the motherboard's headers. This particular computer will have a PCI wireless card so I probably won't worry about ethernet for now.
Last edited: