Joined

Apr 21, 2018
Messages

1,917
So I have several 1155 ivy bridge chips I'm wanting to delid (two 3770k and three 3770s) so for that many I picked up a rockitcool88 delidding kit.
To get a feel for it I decided to throw !@#$ on the wall and see if it sticks on my old 2600k as a test even thought it's soldered on, here's the process:
Popped the lid off with the tool and luckily the solder separated instead of ripping the cores off, scraped the black glue clean with a bamboo kabob skewer.
Used a windshield razor blade scraper to slowly and lightly shave the solder off the die (it took barely the weight of the tool to bump the pieces off).
The IHS needed break apart blade as it was too small of a space for the larger scraper.
Here's a vid of the removal (in 60fps for you snobs):
Still a bit left thats why its a bit cloudy, but didn't want to risk damage to the chip (assuming I didn't kill it already).
Taped down the chip and IHS square for liquid metal and then applied.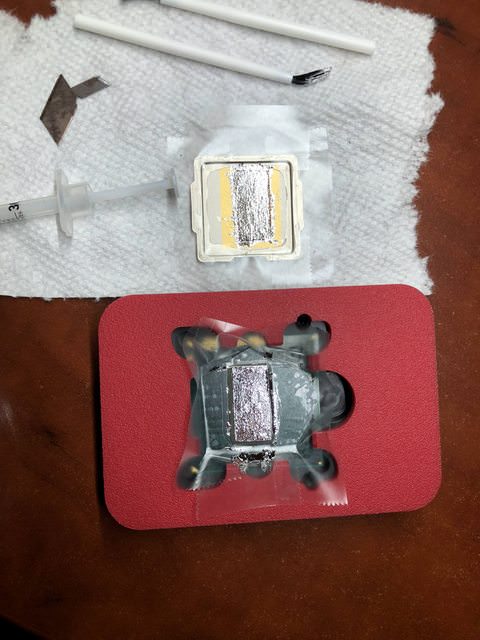 Removed tape, and added permatex gasket maker along the edge of the IHS.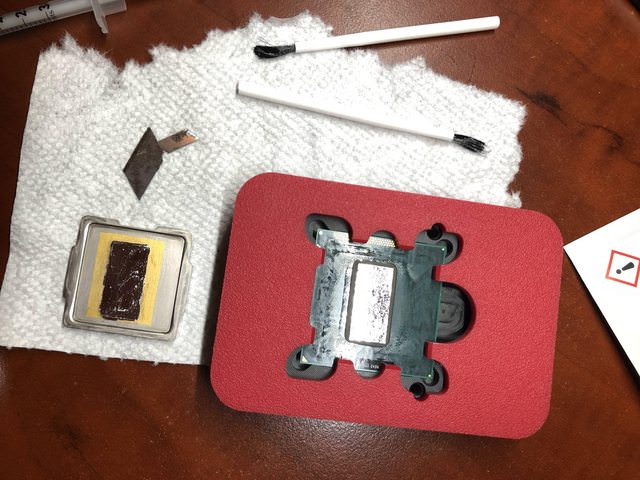 Aligned and clamped, now we wait 24 hrs for the silicone to cure, I'll update once I fire it up and see if it works.