Here's the whole story of what I started trying to do in the thread

Have to build a high end server for school.


I was going overboard on the server hardware itself and not concentrating on the overall project.
I'm looking for input on a simple yet efficient network setup here.
You are all employees of a consulting firm called "ITT NETWORK SOLUTIONS." Your firm's

responsibilities include ON-SITE inspections for the planning phase of laying out a network. This

includes determining what type of network would best suit a particular client (peer-to-peer or

client/server), the use of a LAN, MAN, or WAN, which cabling to use, labor costs to build the network, and the software and hardware to purchase.

Your team has been sent to the site of a new business called Mr. Z's Football Palace. This business is located in Green Bay, Wisconsin. The business sells college and professional football-related

merchandise. The business sells to both retail and wholesale customers, so on any given day you will

find customers who just walk in off the street as well as buyers purchasing merchandise for numerous

stores. Mr. Z plans to be involved in Internet sales so his network will need to have Internet

connectivity, as well as their own website. Mr. Z also wants to have his own corporate e-mail server.

This particular establishment includes not only the store, but also the warehouse (in a separate building behind the store). The store itself is a two-story facility. The lower floor is for sales (Retail) and the second floor is for the employees. The warehouse is all on one floor, but is in its own building less than 100

meters from the store.

Your team is to design a fully switched network and provide the necessary costs involved. Prices can be obtained through Internet sources, company catalogues, or other sources you may have. The

Finished proposal document to be delivered to the instructor at the beginning of class Week 10 will consist of:

 Project Cover Page.

 Table of Contents.

 Descriptions of all necessary hardware and software (refer to attachment B for a sample).

 Consolidated cost spreadsheet (refer to attachment C for a sample).

 Project timeline (refer to attachment D for a sample).

 PowerPoint presentation slides (3 slides per page).

 Bibliography (cite all sources of information in your project proposal).

Be sure to cost-out all productivity software, network operating systems, client operating systems, specific software for the various departments, anti-virus software, uninterruptible power supplies, sufficient number and types of servers, server racks, cabling, connectors, switches, and routers. You should also price in

some training sessions for the employees and the cost of an on-site network administrator (maintenance support) for one year.

Also provide an estimated cost of a T-1 or T-3 line for one year. The design should allow for a 10% growth in the number of employees on the network. Keep this in mind when pricing out switches, ensuring the

proper numbers of ports.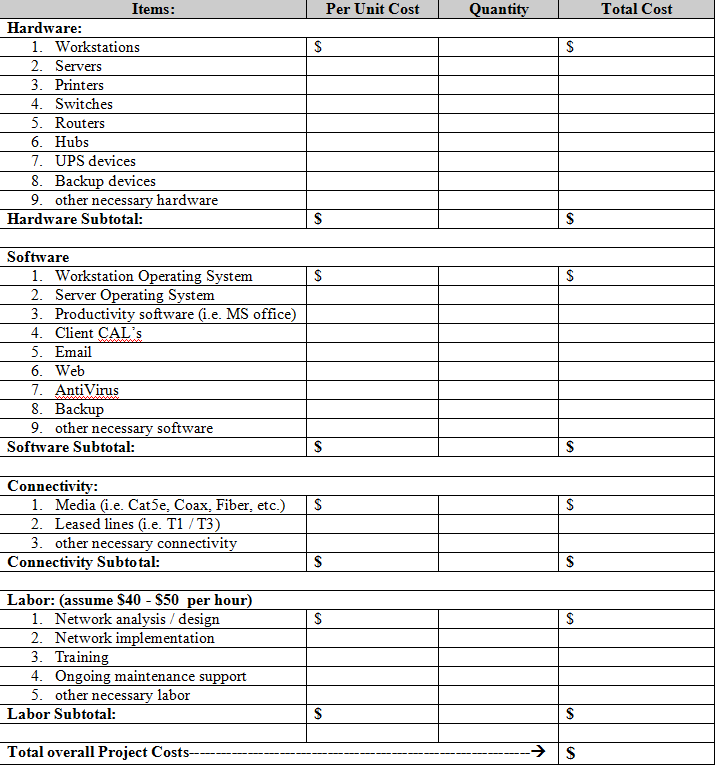 For starters, what servers does this setup call for
(links please)
?

Thanks for your time,
J32P2006