I've been building my own PCs for years--since the days of the original pentiums. The first pre-built system I purchased was an IBM PS/2 Model 30-286, and the last was a 486DX33. In more recent years, I've built many small form factor systems. My first SFF system was a Pentium G3258 in an Antec ISK 300-150 that I used as a home theater PC.
In more recent years, I've built SFF systems to use to perform engineering analyses (finite element) while traveling to visit family--I tried various laptops, but I found they just couldn't cool very well when running an analysis that may run on all cores for an extended period of 8 hours or more.
I've built systems ranging from i7-4770 to Ryzen 7 1800X in cases such as the Cooler Master Elite 110, NCASE M1, CCD MI-6, and Dan Case A4-SFX V2. Although, up until recently, I've always maintained my primary system in at least a mid-tower. I am looking at taking a job in the near future that will allow me to work from home. I'm going to take the opportunity to give myself the office I've always wanted with a standing desk and a somewhat minimalist look.
With that said, I've decided to move my main system from the NZXT S340 Elite into my NCASE M1 V4. This required purchasing a mini-ITX motherboard since my system had a full ATX board. I have complete sets of silver and black panels for the NCASE M1, so I can change the look when the mood strikes.
I still don't have my office set up yet, but I'll post a few pictures of the system. I call it "If You Can't Beat Them, Join Them" since I went with Noctua colored custom cables.
It's not a very impressive system, but here are the specs:
Intel i7-8700K i7-9700K
ASUS STRIX Z370-i motherboard
32 Gb (2x16 Gb) G.Skill Vengeance LPX 3000MHz
EVGA GTX 1080 Ti SC
Samsung 960 EVO M.2 500 Gb NVMe drive for OS and applications
10 Tb HDDs (1x2 Tb, 2x4 Tb)
Noctua NH-U9S (dual fan)
Custom sleeved cables from pslate
NCASE M1 V4
Actually, I really don't have a problem with the Noctua colors. Plus, I think it's a pretty good marketing scheme on their part. If you see a system with brown and tan fans, you immediately know what brand they are.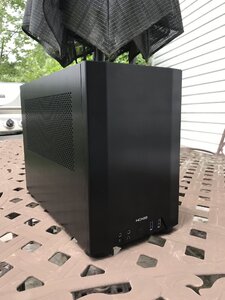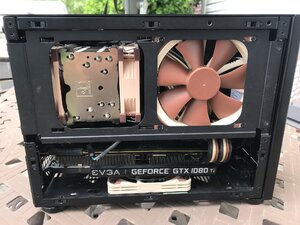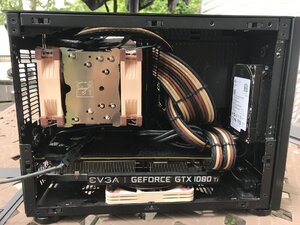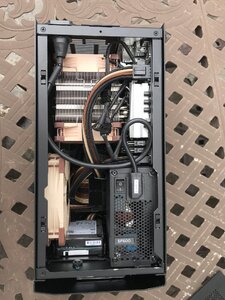 Last edited: