Project Lament II: Hell's Illusion... (what's a dining room?)
Sequels as a rule suck, especially horror movie sequels. The HellRaiser series is one exception and there are sadly far too few others. HellBound is every bit as good as the first, or better in every way, depending on which fan you talk to. I am currently working to create a new HellRaiser themed PC far different than my first... there are those that have put their computers into puzzle boxes, I am going to put a puzzle box into the PC and hopefully entirely conceal the computer in the process. Dining rooms are over rated... so it begins, my HellRaiser sequel mod "Hell's Illusion".

"The illusion scares me mommy..." he whimpered again through trembling lips, "Shut up Billy!", the crack of my backhand solidly connecting with tear soaked and tender flesh, "Just hurry up and finish solving the damned thing."
The above takes care of the obligatory beginning fiction regarding the back story of the mod, I don't know why I feel the need to make the mods tie in with the mythos but I will admit that I do enjoy writing bad fiction. I will continue the story as I go and also illustrate parts of it as well, it will be a good excuse for a creativity release while I stress out over the mod itself.
My mods run in two's so doing a sequel to my first HellRaisermod makes sense for more reasons than one. My MOBY cases were just that, cases... modded to beat hell, but they were store bought. My
Project Lament: HellRaiser Cenobite PC
would be considered a "found object" mod, one where the hardware was installed into an existing housing, though I did mod the mannequin like mad.
Which all leads up to the highest level of modding, where the case is designed from the ground up and built from scratch... that is this mod. I mentioned above that the PC will be entirely concealed from view, that is not entirely true as I will have a switch slickly installed to flip the lights and kill the illusion when needed. I already have the basic design sketches finished and almost all of the hardware involved has already arrived. Now I just need to finalize the design, buy some more Alum-angle, order acrylic and then start modding this bad boy out. I don't know why but I like fitting hardware into spaces smaller than intended, it is kind of like playing Tetris or putting together a puzzle. The picture below was taken a couple of weeks ago and does not show all the hardware going into this mod, so instead of piling everything back up again I will show the parts up close in the next couple of pictures instead.
http://www.casemodgod.com/Illusion01ms.jpg
Below shows the Main board and memory. I am using an EPIA MII 12000, small in size but rich in features, the tiny main board is nothing short of amazing... and it supports LVDS, so as soon as I figure out exactly what is involved I plan to add a laptop screen to this mod. Since the EPIA MII supports up to 1GB of PC2100 DDR memory I bought a 1GB stick of Crucial that will be installed. You can see how small this board actually is when you compare it to size of the stick of RAM and IDE cable next to it.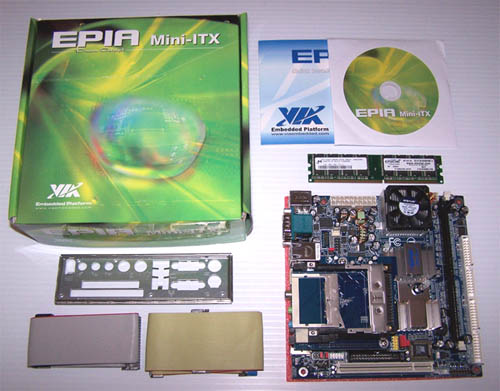 I chose an IN WIN (IW-P240F1-0) TFX12V 240W Power Supply, it measures 1.75-2.0 x 3.2 x 7.1 but I don't know if I will use it for this mod. I just ordered an even smaller PSU, but in doing so will lose 40W as the new one is only 200W... but that should still be plenty. Also shown are a couple of 60mm and 70mm fans, I will likely not be using all four in the mod but they are good to have on hand anyway.
]http://www.casemodgod.com/Illusion04m.jpg
Since a single 250GB Western Digital hard drive did not seem quite outlandish enough for this system, a PC that should come in at around 10"x10", I ordered a second... 1/2 terabyte of storage should do more than nicely. Also shown in the picture below is a Panasonic slim line slot load CDRW/DVD combo drive and the IDE adapter for it, this is the same drive as was used in the first HellRaiser mod.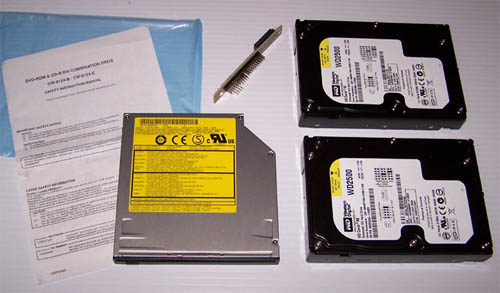 Choosing a TV Tuner card for this mod was one of the hardest parts, the card shown below was not my first choice, that would have been the Leadtek WinFast TV2000XP card I ordered and then found would not work... no big deal, it will go into a different mod. The Tuner I settled on is the KWORLD (VS-TVMP2RF) Creator TV–MCE 200 Deluxe (W/FM), it is a hardware MPEG2 card with a remote and IR receiver. I had to contact KWorld regarding this card as the included manual is quite half assed and less than informative, they were however fairly quick with their response. Since the EPIA board has only one internal audio input I needed to know the configuration of the white audio input/output connectors on the tuner card, running the tuners audio internally will allow me to use all the external audio connectors for the motherboards onboard sound in a true 5.1 surround setup.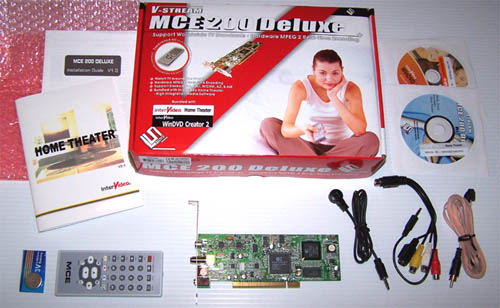 Next up is a CMG trademark mod, the 6" TFT LCD monitor shown below has been a staple of my last two mods and this will be no different... well, maybe a little different. I plan to stealth the monitor into the case so that it is not noticeable when the machine is off. Same deal with the Matrix Orbital MX222 shown, it all ties in with entirely hiding the hardware in this mod. The MX222 has temp probes, fan control and a three LED array for event monitoring... it will all be worked into the mod.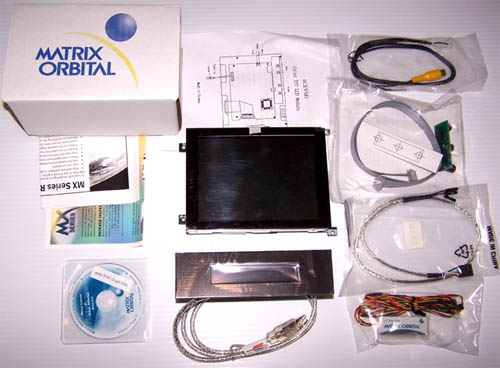 There will be a HellRaiser box inside this mod, along with the hidden hardware it will be the biggest part of the illusion. Below the box(es) in the pic below is a 40 red LED automotive brakelight, it will be worked into the case and serve as the mods lighting. The small SPST momentary switch is the same type that was used in my first HellRaiser mod, as is the handle shown below it. WindowsXP media center edition will be the OS for this system, I bought an OEM copy off NewEgg and though straight XP was cheaper, media center seemed to fit what I have planned better.
http://www.casemodgod.com/Illusion07m.jpg
The hardware is all here, other than the different PSU I ordered and I will take final measurements and order the ACRyan Acrylpanel needed to construct the case soon. Until then enjoy a bit more of this mods back fiction...
ACT 1
Main street was already blocked off, first day of fall and the trees were already starting to turn, the view from the porch of the ferris wheel framed by flame orange and coppery leaves looked almost surreal as the sun set. Fall carnival, a happy time consisting of three days of greasy food, bad sideshow attractions and some of the most rickety rides imaginable... fun. It also meant the carnies were back in force, not a big deal to anyone other than the local merchants getting shoplifted, but it also meant that Ben would be back in town too.

The weather channel forecast a chance of evening rain, by nine o'clock the sky had torn wide open and a severe thunderstorm warning was in full effect with high wind warnings in our area. The leaves were being forced off the trees ready or not by a sideways rain and a few times I thought the trailer would almost be blown over, but by ten o'clock the winds had finally died down and only the rain and occasional crack of thunder remained. "Time for bed Billy", he paused his game and looked up sheepishishly, "Awe mom, do I have to... it's the weekend, there's no school tomorrow and can I PLEASE go to the carnival this year?". His asking always got the same reaction and this time was no different, "We'll see."... "That means no.", he said. "Well how about this, I let you stay up an extra half hour to finish your game, let me think on it tonight and I will let you know in the morning.". I could tell by his look that he was happy for the bed time extension but knew he would not be going to the carnival this year.
I took final measuments today and found that the full size HellRaiser puzzle box that I intended to use was a hair too big for the mod, at 114mm corner to corner it left less than 28mm from each edge, not enough space to work well for the illusion.
Enter HellraiserPuzzleBox.com. first off, for the horror afficianado the site is way cool and secondly, if you want or need an authentic HellRaiser puzzle box they have it.
If you checked out their site you would notice that the 2/3 scale (2") puzzle box is out of stock. I contacted the owner and inquired as to whether they would be getting the 2/3 boxes back in stock and he said no, but he is willing to print out a few sheets of the panels for the 2/3 scale puzzle box so that I can make this mod happen.
The Puzzle Box Shop came through for me and instead of the two sets of box panels I requested Kevin sent three, that will give me an extra chance at building the box correctly and was an unexpected and pleasant surprise. Also pictured below is a 12"x10' roll of cherry red chrome mirror metallized vinyl, it is an adhesvie coated metallized PVC film, above it is a 12"x10' roll of Red Multiple Fresnel Lens Metallic Vinyl which may or may not be used in the mod. Last but not least are a couple of cans of black vinyl dye, it will be an important part of the external illusion.
http://www.casemodgod.com/Illusion08m.jpg
The PSU I had intended to use is shown at the top of the picture below, it is pretty small measuring only 7" long, but the PW-200 PSU is absolutely tiny in comparison. I will be losing 40W by using the PW-200 instead of the IN WIN PSU, but it is a fair trade off and 200W will be plenty for this system.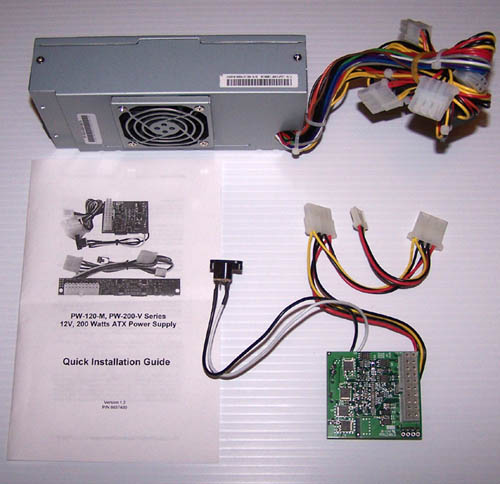 Ok, we have covered all the hardware, materials and tools I plan to use for this mod but so far I have not shown anything regarding the actual design, mainly because I did not want to show exactly what I had planned for this mod too soon and spoil everything... and that was actually a good thing because it allowed me a little extra time to rethink certain aspects of it. It is hard to visualize a 3-D object and convert it to 2-D sketches. Below is an early layout design sketch, the placement of parts has changed a bit since I drew it, but you can see that it measured 250mm (or roughly 10") on each side of the cube... too big for my liking.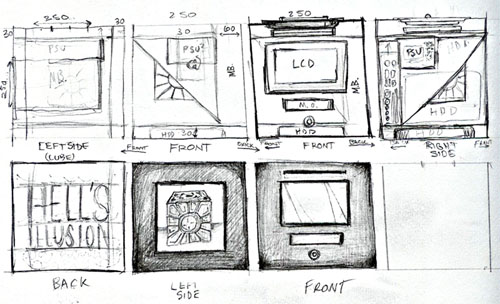 I decided that the biggest design problem was the technique I was using and hand sketching this mod was not going to cut it, having heard good things about the program Sketchup I downloaded their 30 day trial and started watching the tutotials. It only took an hour or so to get up to speed and I set to redesigning the whole thing with making it smaller in mind. Enjoy a bit more of the back fiction before I disclose the final(?) design in all its 3-D Sketchuppy goodness...
There was a knock at the front door, knowing that the weather had shut down the festivities early I had a good idea who it was calling at this late hour, I had an equally good idea why he was calling, same as it always was when fall rolled around. Against my better judgement I unlocked and opened the door, just a crack with the chain still on. Lightning flashed as he stood on the porch clutching a trash bag in one hand, "Hello Jen" he said while staring down at his feet, "Christ Ben, why are you here?". Standing in the rain he looked up at me, wet red hair plastered against his forehead, smiling with a slightly wild look in his eyes. I could tell he was digging deep to find just the right thing to say, but instead of the standard 'I missed you' line of wrong answer crap I was expecting he simply asked "Do you have a toolbox?".

Likely it was my having been caught off guard by his unexpected reply coupled with the small voice from the living room asking "Who's there mom?" that made me unlatch the chain and let him in, "Just an old wet friend Billy, why don't you unhook your game and take it into your room to play so we can sit and talk". I waited for his bedroom door to shut before muttering, "It's late, this better be good Ben". I knew it wouldn't be, the last few times he showed up in town ended in argument, although secretly a part of me hoped this time would be different. He set the trash bag on the dining table and took off his jacket, "I'll go get you a towel" I said and turned to head down the hallway... "And your toolbox", he called back. Walking down the hall I heard the sounds of video game action coming from Billys room and the rustling of plastic from the dining room. I grabbed a towel and pulled the toolbox from the top shelf in the bathroom closet and made my way back to the dining room where Ben stood, carefully removing the contents of the trashbag. "Got a Philips screwdriver in there?", he asked as I handed him the towel. "Yes, but how about you tell me what's going on first".
Sketchup, wow that's good stuff. I have never really used any type of design software before but I know it's not supposed to be this easy. I followed the work along tutorials and less than an hour later I was ready to begin designing my computer. I wound up shaving nearly two inches off each side as a result of using the software, here is my "almost" final 8"x8" design sketchup for the mod.
http://www.casemodgod.com/sidemockwindowlcd1.jpg
Below is the view from the other side, the Sketchup designs merely show component placement, the fun part will be connecting it all together... but I have a plan.
http://www.casemodgod.com/sidemockrearhdd1.jpg
Now measuring around 8"x8" it will house two hard drives, a CDRW/DVD drive, a 6" LCD monitor, Matrix Orbital, two 60mm fans, the Mainboard, a TV tuner plus the lighting and illusion... much better.
Enough with the planning, let the modding begin...
Since this mod is being built from the inside out I have to start with the 1/2 wooden cube because it is the innermost part of this mod. The first thing I did was fix the rough cut that using the hand miter box made on the wooden cube, the table disk sander made short work of it.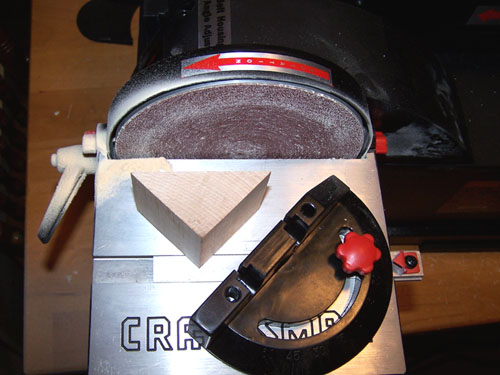 Next up a couple of coats of black enamel spray paint, nothing fancy as it will mostly all be covered up in the next part...
http://www.casemodgod.com/Illusion20m.jpg
It was a really good thing that Kevin from The Puzzle Box Shop sent me three sets of panels because I wasted a bunch by trying to get the cut exact before I figured out that I was cutting the wrong panel in half. Below is the finished 1/2 puzzle box with the corrected panel placement.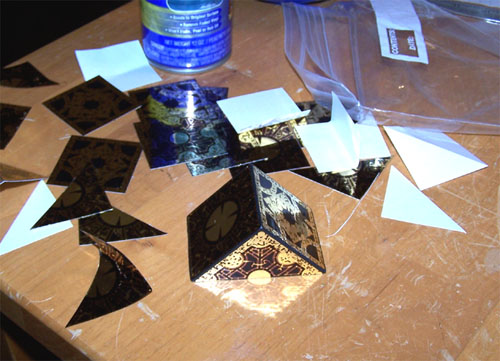 Funny how things work out, I built and delivered a computer today to a very cool guy that just happens to own a laser cutter/engraver... he did me a solid and cut out the panels for the illusion section. Below also shows the 1/2 puzzle box atop the freshly cut 2-way mirror, it really looks like a full cube and is nearly seamless.
http://www.casemodgod.com/Illusion25m.jpg