Joined

Sep 1, 2016
Messages

127
Hi there
So just finished my new build and already in trouble.
6700k 4 GHz
Cryorig C7
Asus Z170i PRO Gaming
32 GB G.Skill Ripjaws V 3000
Asus GTX 1080 Strix A
Samsung EVO 850
Corsair SF450
I have fine temps and no trouble, but then when I fire up a game... (Screenshot from after shutting down game, but see max)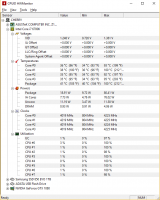 100 C! Now you may call me a prude, but that's just a little too much for me.
Bear in mind this is with absolute stock default settings, no XMP or other fiddeling.
Any idea what is going on? Cooler spins, used pea-sized application of paste, have not forgotten to remove plastic cover. Only thing I can think of is remove and reapply cooler and paste, but the temperatures just seems too excessive for this to be the cause.
Last edited: