This thread will be updated with build information, benchmarks, photos, and videos.
Goal: 60 FPS gaming on 3x 30" portrait displays in Surround with max in-game settings using a sub-zero liquid cooled system consisting of a 990x at 5.0+Ghz, Quad-SLI 3GB GTX580s at 1000+Mhz supported on a Gigabyte X58A-UD9 motherboard.
Screen setup:
Phase Change:
Some of the hardware:
Proposed water cooling block diagram (1 to 3 to 1 loops):
Can you guys see any issues with this loop setup?
For temperature monitoring and external emergency shutdown (hardware):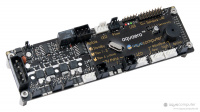 I will have a total of eight temperature probes that are good down to -40 C. Temp probes for the following components: CPU, 4x GPU, NB, SB, Mosfets. Also purchased the ATX power interrupt splice and relay for emergency shutdown as OS software based shutdowns are unreliable at best.
Some more photos of temporary setup:
Temporary ghetto fan setup to keep these cards temperatures from meltdown:
Custom built evaporator liquid tank (under construction):
Evaporator will sit in tank in the stock window air conditioning unit at the front (bottom of picture):
This makes a tidy self contained unit that looks good and is easy to move around. In the winter I can leave the unit inside the house to cool the computer and at the same time heat the home air. This saves my HVAC system some work.
In the summer I put the unit in the window to dump all of the computers heat outside. It also dumps the noise outside too and once again has the benefit of taking stress off of my home HVAC system.
Using an Iwaki RD-30 24v DC pump with a variable voltage regulator. Tygon Norprene tubing of 5/8, 1/2, and 3/8 ID to help control coolant temperature loss and lower condensation temperature:
Coolant will start out as distilled water + watter wetter to lower water surface tension and provide corrosion inhibitor as there will be mixed metals involved (aluminum, copper, nickel). As temperatures decrease during testing, propylene glycol will be added to lower liquid freezing point. I know propylene glycol gets slushy at real cold temperatures and doesn't have the best thermal characteristics. I want to keep a non-fuming and pet friendly non-toxic system. No methanol, ethylene glycol etc.
I'd also like to keep away from those engineered fluids by 3M and Dow that cost $200 a gallon.
My setup will be 6-7 gallons so you could see that would be cost prohibitive! If anyone has any ideas on different coolant or about my setup design at all, I am all ears.
I also have to figure out a way to control the A/C unit thermistor sensor to properly cycle the compressor and much lower temperatures than it was designed for.
Build progress photos:
Last edited: