One of the things about the Asus P8H67-I Deluxe mitx board in which I was very interested but could find precious little information was its Wi-Fi capabilities. Yes, the Asus web pages, manual, and reseller sites were happy to tell me that it supported b/g/n. But that still leaves a person guessing as to what flavor of wireless N it supports. Is it 150 Mbps? 300 Mpbs? 450 Mbps? Is it 2.4 GHz only or is it a dual band card that also supports the 5 GHz channel? Sorry folks, just telling me "N" is not enough information.
So… to cut to the chase here is what I found installed after I received my motherboard: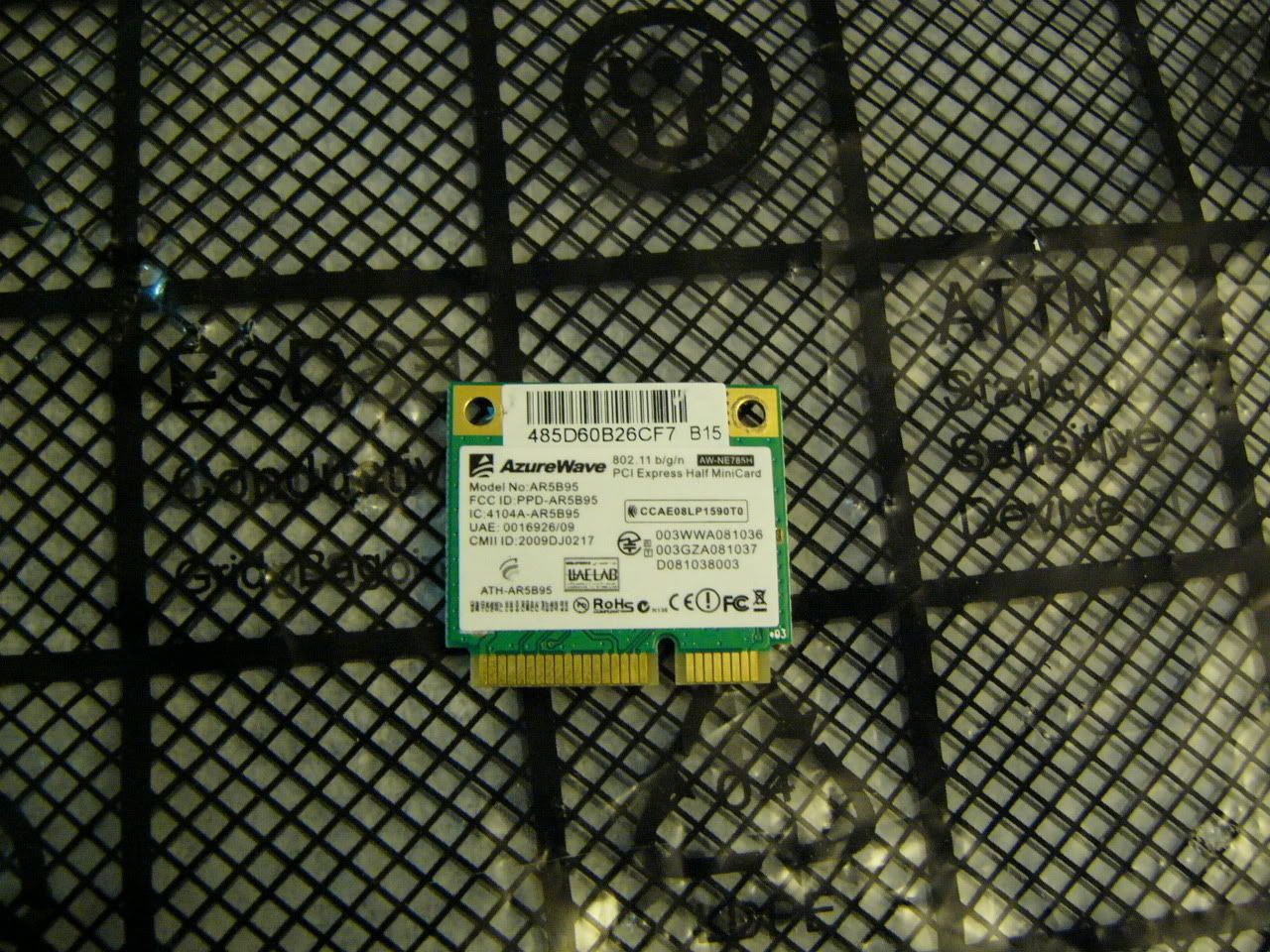 The mini pcie wi-fi card that comes with this Asus motherboard is an Azurewave AR5B95 (can also be found under AW-NE785H). That is a 150 Mbps card that only broadcasts in the 2.4 GHz range. So it is wireless N but about the most basic version a manufacturer can use and still call it wireless N.
So this left me underwhelmed. Admittedly wi-fi with those capabilities will meet the needs of many users, so why was I being so difficult? Well… I live in an apartment complex in a college town. Using inSSIDer (free software) to see available routers that were within range and what channel they were using was eye opening. The 2.4GHz channel in this area is as noisy as a chicken coop. The 5 GHz channel, on the other hand, is empty. Well wouldn't that be nice to have my own private air space? My Netgear WNDR 3700 supports simultaneous 2.4 GHz and 5 GHz. Now I just needed a way of being able to get my new little mitx motherboard to connect on that channel.
Doing a bit of looking around, I identified an Intel Centrino 6200 mini pcie card that I thought looked promising. It supports both the 2.4 GHz and 5 GHz channels, has 2 antenna jacks (identical to the azurewave it is replacing), and can connect at up to 300 Mbps.
http://www.newegg.com/Product/Product.aspx?Item=N82E16833106061
Fairly substantial upgrade for about $20. Yes, Intel also has a model that supports up to 450 Mbps but that one requires 3 antennas. That would not a good fit for my application. I just want to take advantage of the antenna jacks that already exist on the motheboard.
Another complication was that the Asus supplied antennas are 2.4 GHz models. Who knows? Maybe they can work in the 5 GHz range as well, but I also was not fond of the Asus antennas on another count. Asus' antenna choice are little desk units that connect to the antenna ports with a cable (they are little circles with one portion that can be flexed upwards). Maybe some people like those, but I find them highly annoying. Part of why I wanted a mitx case was to get rid of table clutter. These just defeat that thinking for me (ooh extra cables and doodads to get swatted around). I very much wanted antennas that would just attach directly to the antenna ports and supported both wireless N frequencies. It took some searching and some reading about the different connector types, but I identified a good candidate from Air802 LLC:
http://www.air802.com/dual-band-dip...-polarity-sma-rp-sma-plug-male-connector.html
I ordered two of them.
One other concern was that I might be hosing up the Bluetooth capabilities of this pricey little motherboard. There are mini pcie wireless cards that provide both wifi and Bluetooth. In those cases, the wifi only uses one antenna and the Bluetooth uses the second one. Considering that Asus provides Bluetooth on other motherboards using an identical USB 2.0 w/ Bluetooth antenna module on the back panel, I figured I was probably safe (guess the Bluetooth is plumbed into the USB connection?). I'll save any suspense on that, the mini pcie card on this motherboard has nothing to do with it's Bluetooth capabilities. Replacing the Azurewave card with the Intel card
did not
hose up my Bluetooth connection.
So… to wrap it all up, swapping in the Centrino 6200 and replacing the two antennas worked out just fine. My mitx setup is a room away from the router, with a closet full of metal clothes hangers, a washer & drier, and an entertainment center all between them. I connect at around 240 Mbps on the 5 GHz channel. Due to the physics of a higher frequency channel, I won't have as large of a maximum range as if I was on 2.4 GHz, but it works very well for my needs. Due to the close spacing of the antenna ports to the adjacent USB ports, there isn't a lot of flexibility for positioning the antennas (probably one reason Asus went with the cabled antennas), but it works fine. Here's a pic of that just to give people a sense of how it all looks.
Anyway… I hope this info is helpful to some others that might be considering upgrading the wifi capabilities on their mitx board. It took lots of searching and I finally just took some gambles that it would work. It did work and would save others the hassle and uncertainty of whether it can be done.
Last edited: