Joined

Jun 28, 2002
Messages

2,151
I posted to the UBNT forums trying to figure out a config, but haven't gotten much response. I have more confidence in [H].
Here's the original thread:
I am having some issues separating SSIDs via VLAN with Unifi and a Toughswitch. They are connecting to a ZyXel USG40 gateway with two subnets configured on separate interfaces and DHCP on both.
I have configured the Unifi APs with the controller software to have two ssids, one public (vlan3) and one private (vlan2). The APs (testing with 1, will use 3 in production) will be connected to a 5 port toughswitch on ports 3-5. Port 1 on the toughswitch is going to the subnet1 port of the zyxel, and port 2 is going to subnet2 on the zyxel.
I have configured vlans on the toughswitch as shows in the attatched picture. When I plug a configured ap into the switch and it boots, I can connect to either ssid, and get the correct ip. However, after a couple minutes, I am disconnected and the AP starts blinking. I am also not able to configure the ap when it is connected through the toughswitch, which I believe is the cause of the disconnects. I'm guessing this has something to do with tagging the management vlan to the ap, but I haven't done this enough to know for sure. I'm hoping you guys can point me in the right direction.
A little more graphical breakdown:
Zyxel:
Subnet 1 - 192.168.100.x - port 1 - connected to toughswitch port 1
Subnet 2 - 192.168.101.x - port 2 - connected to toughswitch port 2
Toughswitch:
Port 1 - connected to zyxel port 1 - tagged vlan1, untagged vlan2, exclude vlan3
Port 2 - connected to zyxel port 2 - exclude vlan1, exclued vlan2, untagged vlan 3
Port 3,4,5 - connected to unifi aps - untagged vlan1, tagged vlan2&vlan3
Unifi AP:
Connected to ports 3,4,5 on toughswitch (test AP is 192.168.100.30)
SSID1 - Private network - vlan2
SSID2 - Public network - vlan3
Again, the SSID vlans seem to be working correctly, but the ap appears to shut down because it can't communicate on the management vlan. I have even tried making the private vlan the management vlan as shown in the picture, but that didn't help either. Any ideas? Thanks.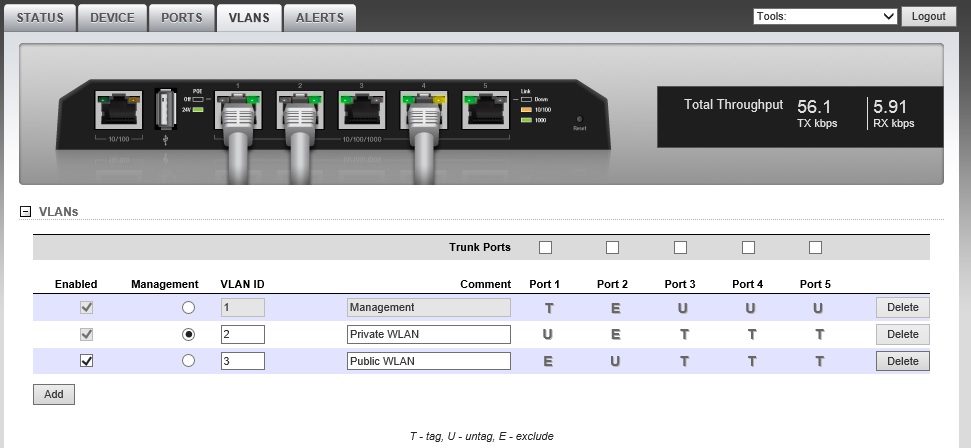 After thinking about it a little more, I changed the native trunk vlan to 2 (private), and made the AP ports trunk ports. I am now able to communicate with the APs via the controller and ping them by IP. The public SSID works correctly, but cannot get a dhcp ip via the private SSID. I'm stumped and a bit out of my realm here. Any suggestions?