So, my system is starting to show its age, and I think its time to upgrade.
My plan is to sell the 13" macbook air and build a new desktop PC since I already have an 11" air for my mac needs.
1) What will you be doing with this PC?
Gaming and nothing else
2) What's your budget? Are tax and shipping included? $
1300 budget, not too concerned about tax / shipping
3) Where do you live? Indianapolis
(Frys is local), Newegg is easier, Amazon is good too
)
4) What exact parts do you need for that budget?
CPU, RAM, Case, PSU, Memory, Hard drive, Video card (complete tower, no peripherals)
5) If reusing any parts, what parts will you be reusing?
Nothing is re-used
6) Will you be overclocking?
Meh, probably not
7) What size monitor do you have and/or plan to have?
Have 24" Samsung 1920x1200 single monitor
8) When do you plan on building/buying the PC?
within the next 2 weeks depending on sale of macbook air 13"
9) What features do you need in a motherboard? RAID? Firewire? Crossfire or SLI support? USB 3.0? SATA 6Gb/s? eSATA? Onboard video? etc.
: Stability, SATA 6Gb/s sounds good, USB 3.0 since most motherboards have it
10) Do you already have a legit and reusable/transferable OS key/license? If yes, what OS? Is it 32bit or 64bit?
Yip, Win 7 Ultimate 64-bit through school
Here is what I am thinking: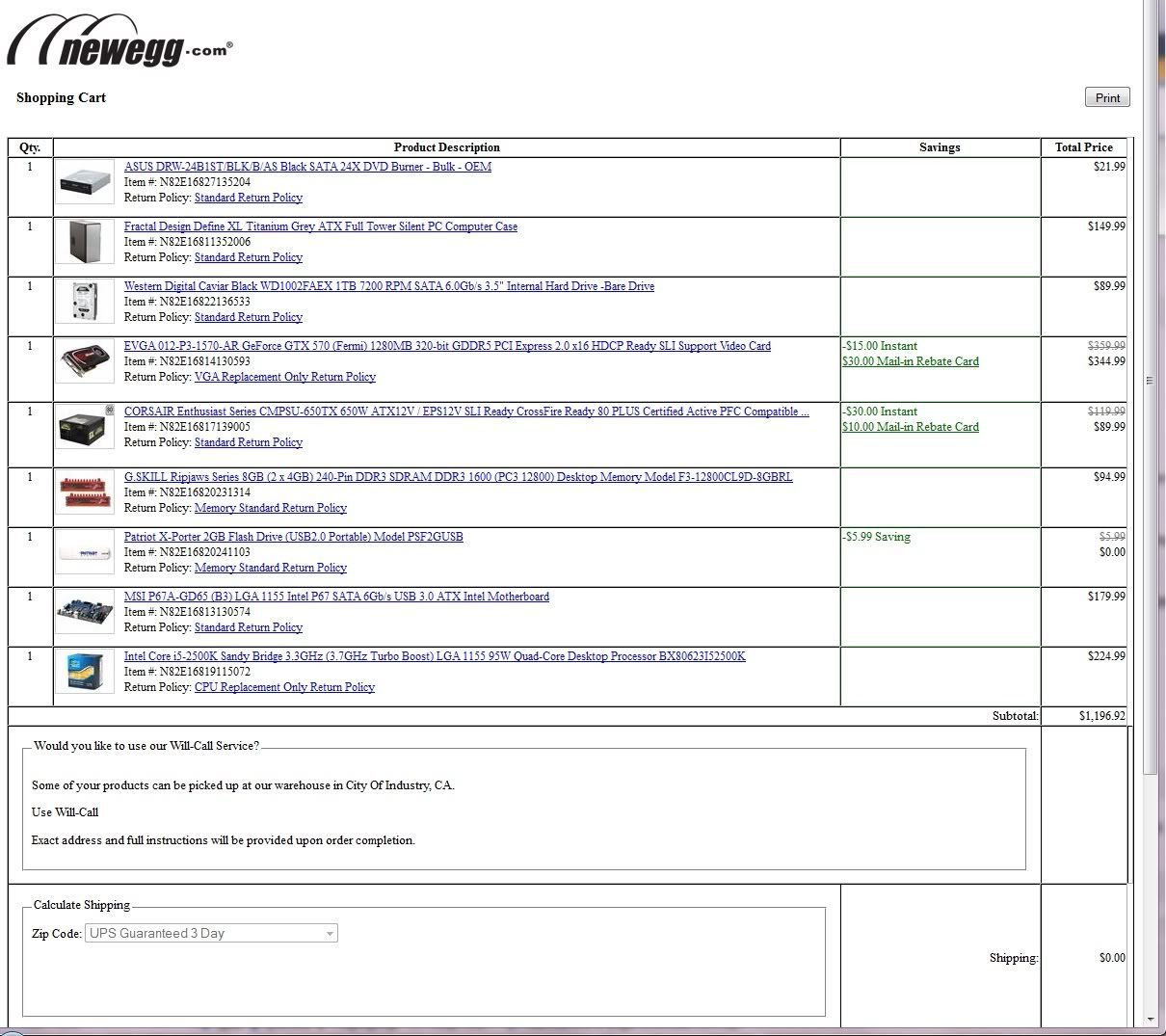 Fractal Designs full tower
WD Black 1Tb
EVGA GTX 560
Corsair Enthusiast 650 watt
G.Skill Rip Jaws 2x4Gb pc3 12800
MSI P67a-GD65 (B3)
Intel i5 2500K
Does this sound like a pretty good setup? Its been a while since I have paid any attention to wintel hardware & gaming. I have been playing a little homefront on my current rig, and it is disappointing due to its age.
Here is the current "gaming" rig for reference
Athlon X2 4200+
2Gb Ram
EVGA 9800GTX+ Superclock
Maxtor 250Gb
Gigabyte Ga-ma770-UD3
Thermaltake 430 watt psu