Updates
This thread was originally for the NCASE "LRPC" concept, first presented in August 2014. After prototype testing, further development on that design was halted in 2015. The original post is preserved at the end of this post.
On March 17th, 2017, a new, smaller concept was presented. Discussion about this new concept starts here.

Current status: As of late 2017, wahaha360 has branched off development on his own version of the case. The various concepts presented by me (Necere) are no longer being worked as of 2018.
A new approach: 7L console-style case with short GPU support

Preliminary specs:
Dimensions: 75 x 340 x 280mm, 7.1L
CPU cooler: up to 47mm
GPU: up to 175mm
PSU: FlexATX
Drives: 2x 2.5"
Fans: 2x 120x15mm (one shares CPU cooler space), dust filtered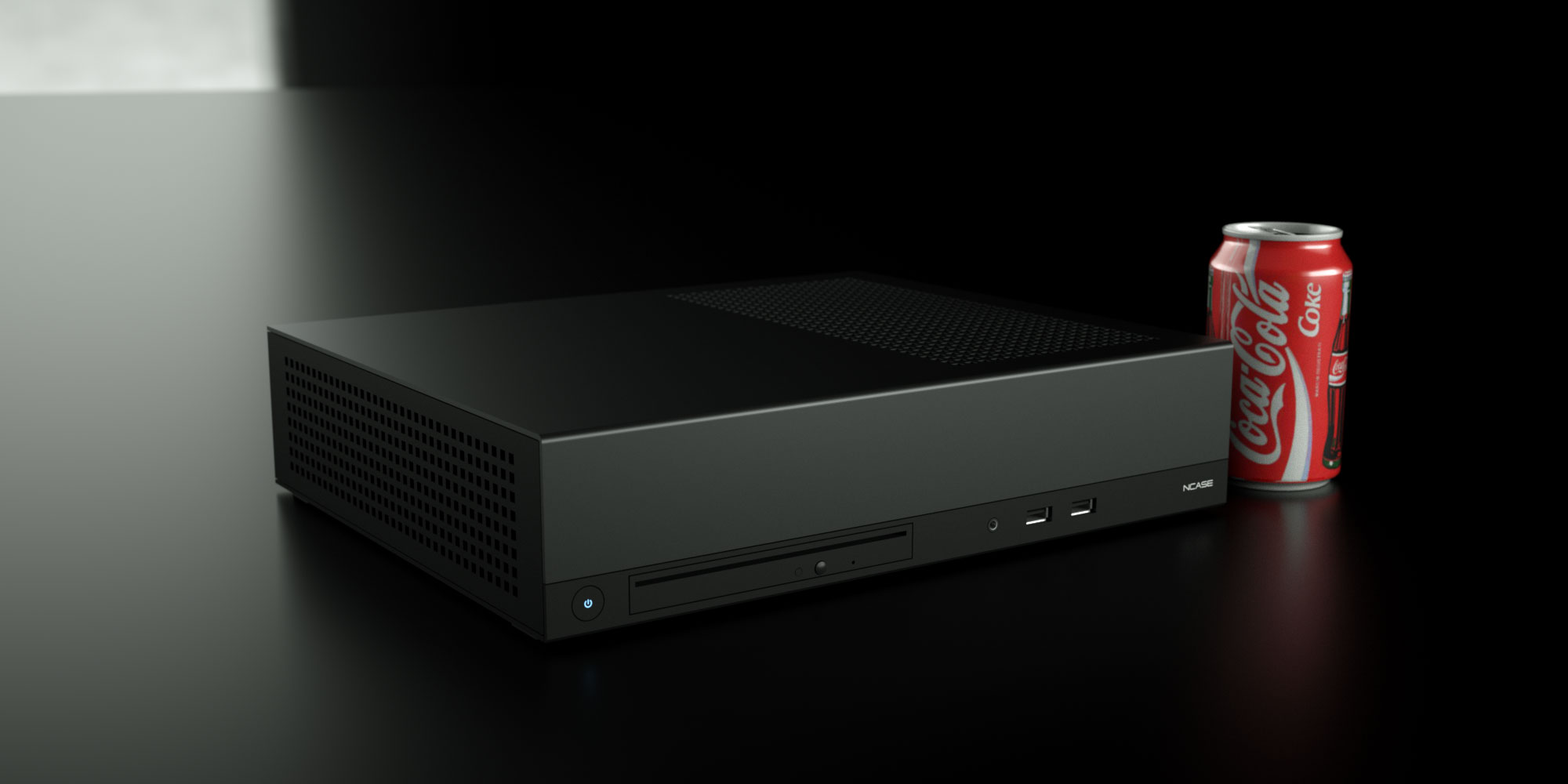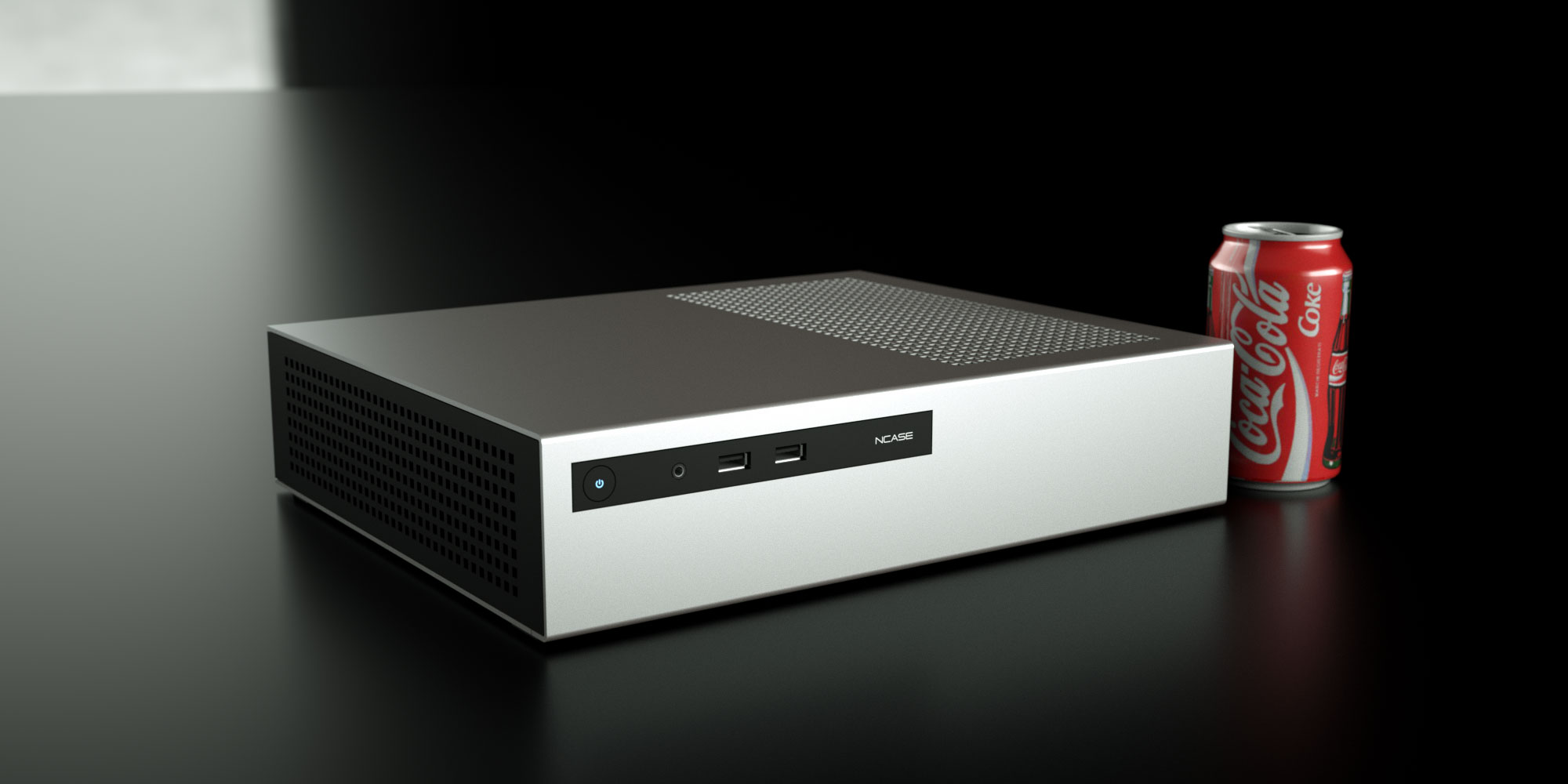 Alternate design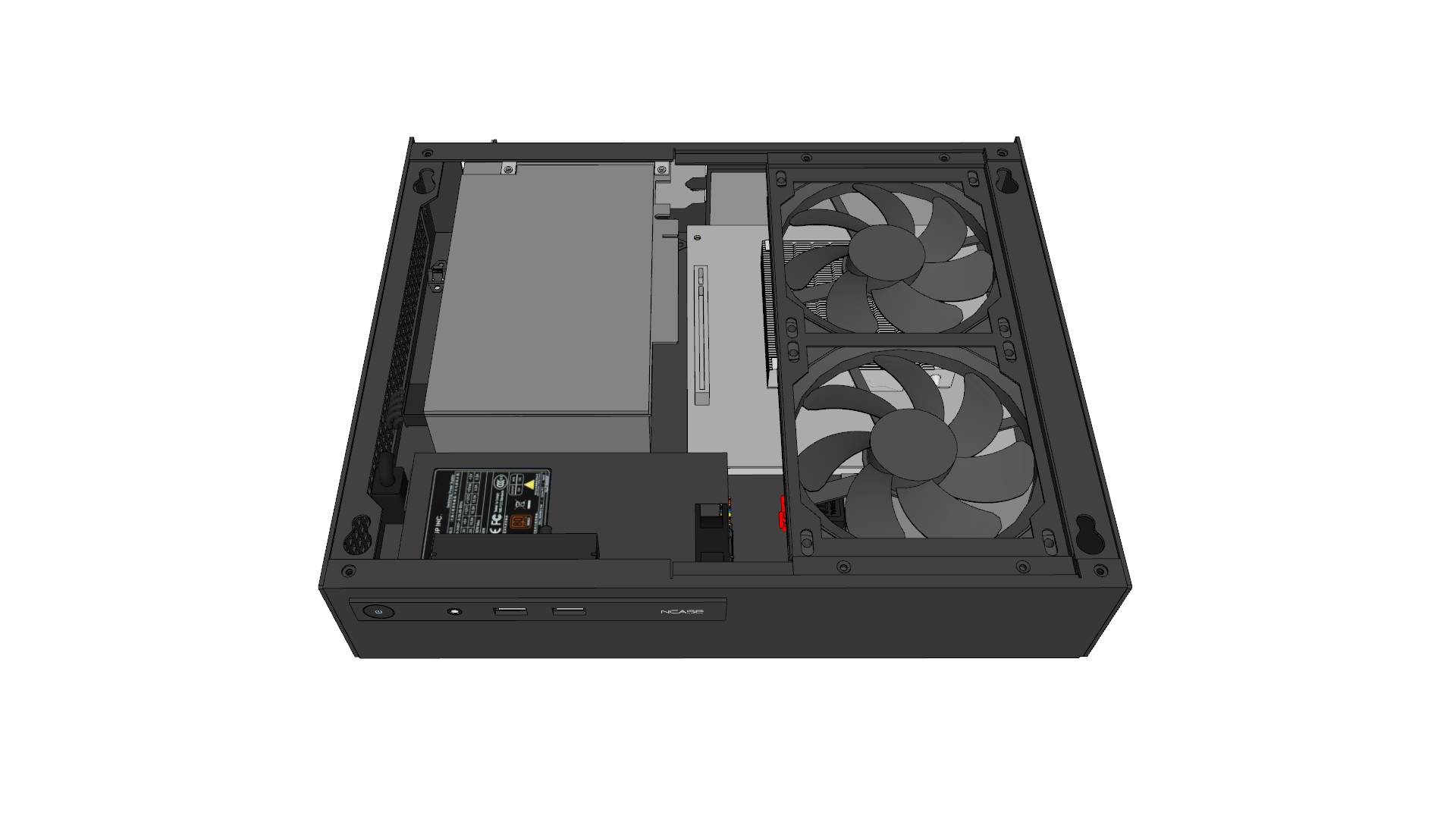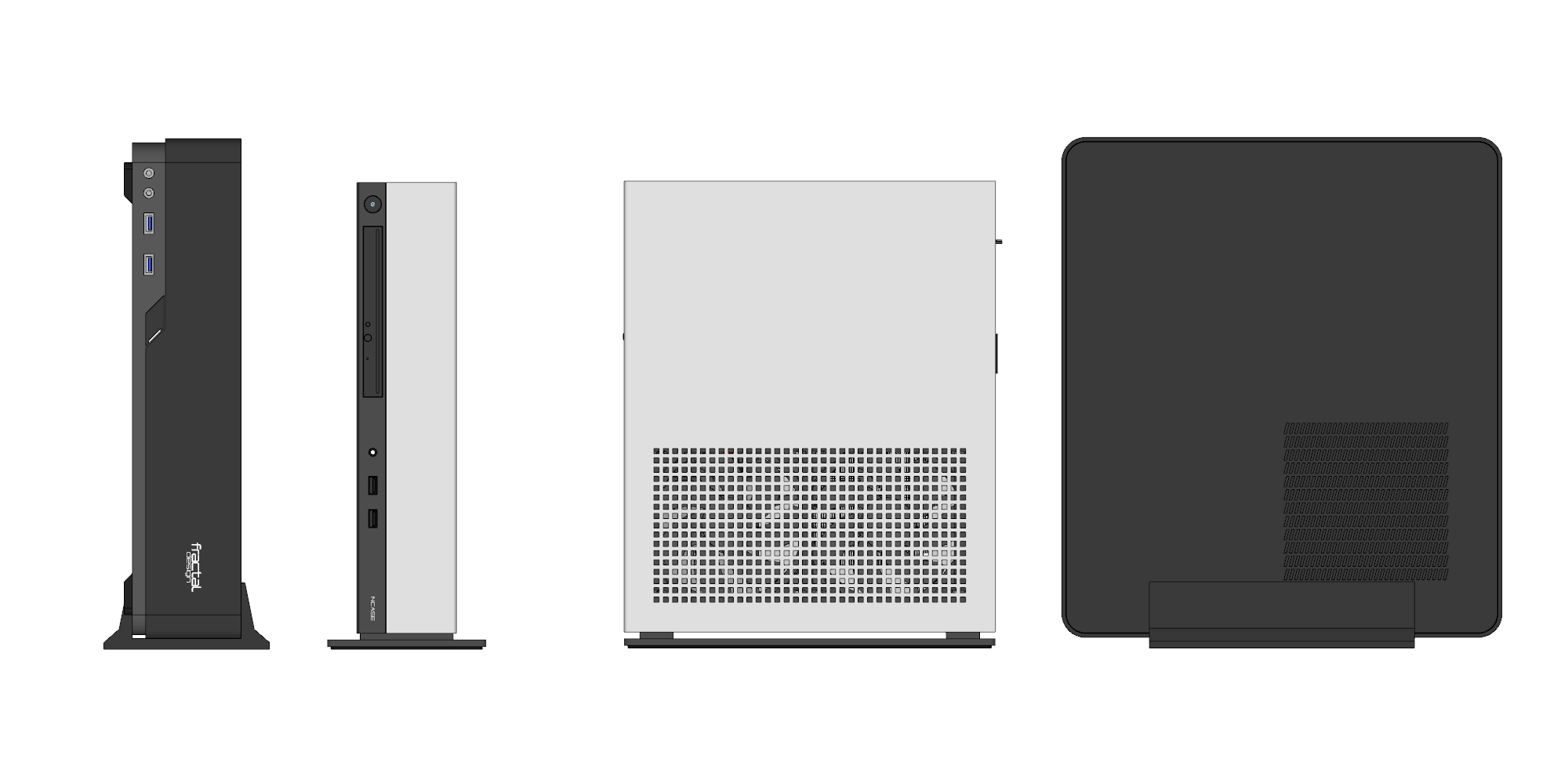 Size comparison to Fractal Design Node 202
Original LRPC project post said:

This is the original "LRPC" concept first shown in August of 2014. Development on this design was halted in 2015. Read why here.

The original post and concept presentation is preserved here for posterity.


*** August 26th, 2014

As I mentioned the other day in the M1 thread, I've been working on a Steam Machine-style case for some time, and it's now at the point where I feel it's ready to be shown publicly.

I did a lot of iterating with this design - much more so than with the M1, and I went through a lot of different layouts. One of the things that became apparent was the need to decide if it was going to support a bunch of different hardware, like the M1, or really trying to keep it compact by focusing only on the essentials. Valve's Steam Machine prototype is in the latter category at 7L in size, but most of the commercial 'slim gaming towers' that it's spawned (Silverstone RVZ01, Digital Storm Bolt II, etc.) have been more than twice as large in order to accommodate 3.5" drives, an optical drive, watercooling, and so forth. Ultimately, I decided I wanted to take the road less traveled, so to speak, and aim for a pared down design that condensed the essential elements of a performance gaming PC into a living room-friendly package that is as small as reasonably possible.

That goal is what drives much of the design. While short "ITX" cards have made large strides in recent days, the greatest performance, not to mention selection and availability, still lies with long GPUs. The power supply had to be SFX; ATX PSUs are far too large, and 1U designs need to be customized to get their noise levels under control (and may still be too loud anyway), and aren't as easily replaceable. Drives other than 2.5"/SSDs are unnecessary for the intended purpose, so they had to go. As a console gaming replacement/living room PC, the expectation is for a certain form factor, hence the slim design utilizing a riser to lay the GPU parallel to the motherboard. Valve's designers went through this same calculus to arrive at their design for the Steam Machine prototype, and as it turns out, its layout is pretty much the only layout possible, with these components, below a certain size. So this design follows Valve's layout pretty closely, as far as the major components go (motherboard, GPU, PSU).

Compared to the Steam Machine prototype, this as-yet unnamed NCASE project (which w360 and I have been referring to as the LRPC - 'living room PC') is a little larger at about 9L, exclusive of the stand/feet. Valve used some proprietary parts to shrink the size down (notably the GPU bracket and angled PCIe power connectors), so some of the increase is due to the need to support standard hardware. I also wanted to be able to support 60mm tall CPU coolers, since there are a couple of decent low-profile options at that size (e.g., Thermalright AXP-100, Scythe Big Shuriken). An option for either vertical or horizontal orientation was another thing I wanted to get in, thus the removable stand and feet.

Like the Steam Machine prototype, there are no case fans. Each component (CPU, GPU, PSU) draws air in through the side vents and exhausts it through the top and bottom. Valve manages this through the use of custom plastic ducting, which is designed specifically for the hardware they include with the case. Since we need to support a broader range of hardware, that's not a viable option. Instead, component intakes are right up against the side vents to ensure they get outside air. Filters are also something I'm looking at for the intakes.

The aesthetics of the case have been particularly challenging with this design. Often times what you want it to look like and what you can do with the space and engineering requirements are completely at odds. I threw out a lot of designs that simply wouldn't work for one reason or another. Something that works visually both horizontally and vertically is also a challenge to do well. Ultimately my inclination to minimalism won out, and while I can't say I'm completely satisfied, at least I don't hate it. In its horizontal orientation, it's nondescript, which is appropriate for a media center IMO. Stood vertically, the curved base adds some visual interest. Some might be bothered by the sideways logo and power light, but I don't personally find it to be problematic. Any of this is subject to change, however.

Preliminary Specifications:

(updated, see below)

Model: unnamed Steam Machine-style case by NCASE (referred to internally as the LRPC)
Dimensions (HxWxD): 330 x 80 x 334mm (case only; stand adds 20mm to height with a footprint of 120x334mm)
Motherboard: Mini-ITX
GPU: Dual-slot, ~12" max
CPU cooler: 60mm max
PSU: SFX
Drives: 2x 2.5"
Front ports: 2x USB

Again, this is a work in progress and pretty much anything about the specs and design can change.

Exterior renders:

Prototype #1 pics from Lian Li

Prototype Specifications

:

Dimensions (H x W x D): 348 x 84 x 333mm, 9.7L (excludes stand or feet)
Motherboard: Mini-ITX
PSU: SFX, SFX-L
Drives: 3x 2.5" mounts, 1x 3.5" mount (usable with short GPUs only)
CPU cooler height: 60mm
GPU length: 305mm+ (TBD)
GPU height: 153mm
Front I/O: 2x USB 3.0, HD audio mic and headphone jacks
Magnetic dust filters on intakes
Full aluminum construction
Included PCIe x16 3.0 shielded flex riser

Pics of prototype #1:
Last edited: