Meet [H]arbringer
Specs
48cores @ 3.48ghz
refclock 240, nb 2160
SM GL w/ OCNG4 (thank you everyone who had a hand in this...)
16x 2gb G.skill cas 6 ddr3 1600 @ 1600
Antec HCP1200w ( a real trooper... looking to get it some help soon... 1432w AC est 1267DC)
2x RX360 rads
1x RS240 rad
8x GT-15s
Laing-d5 swiftech rebranded
4x DT G34 snipers (skripka told me to ask DT... and thus the G34 sniper was born)
32gb samsung ssd
Ubuntu 10.10 (destined to change)

Performance
Fah performance: [Classified: Need to know]


Cinebench 11.5 45.3
I haven't bothered updating hwbot to the new WR yet.
Partly because I already own it.

Sponsors: (Also known as the best folding team ever)
For:
TPC ,OCNG4 , The Kraken, Langouste, d3sak, and all those random scripts...
Tear, musky, dsee firedfly and the rest of the faithful testers of tears handiwork...
Thankyou!
Revision History
0.8= 2.6 ghz serial wc 1333 cas 9 ecc ram 59c load @ 2.6
0.9 = 2.8 cores 50-53c
1.0 = final overclock target 3.1ghz (3ghz achieved)
1.1 = ripjawsX cas 6 ram
1.2 = spd hack to cas 5
1.3 = fan upgrade GT-15s

1.4 =

replace xspc pumps with Laing D5 and RS240 with RX240 or larger radiator vertically in front of case

Combined with 1.9
1.5 =

1500w or greater platinum psu

Canceled
1.9 =Swap to SM GL for OCNG and 3x 12v aux plugs for cpu voltage stability

Future planned revisions
2.0 = IL ES chips aiming for 3.5ghz-4ghz clock

Current parts list:
4x AMD Magny Cours ES chips 2ghz suggested clock.
Supermicro H8QGL-iF+
16 x G.skill ripjawsX ddr3 1600 cas 6
hitachi 500gb sata drive
1x laing D5
2x XSPC RX360
1x XSPC RS240
4x DT G34 Snipers
< 7' primochill tubing with anti kink coil
8x GT-15s
Enzo copper ram sinks (not going to count)
Antec HCP 1200w
Xigmatek Elysium (now heavily modified)
Revision Walk-through, Original build log coming soon....
Rev 0.8
Limited to 2.6ghz because of the serial wc loop could not keep temperatures comfortable for the last cpu in the line.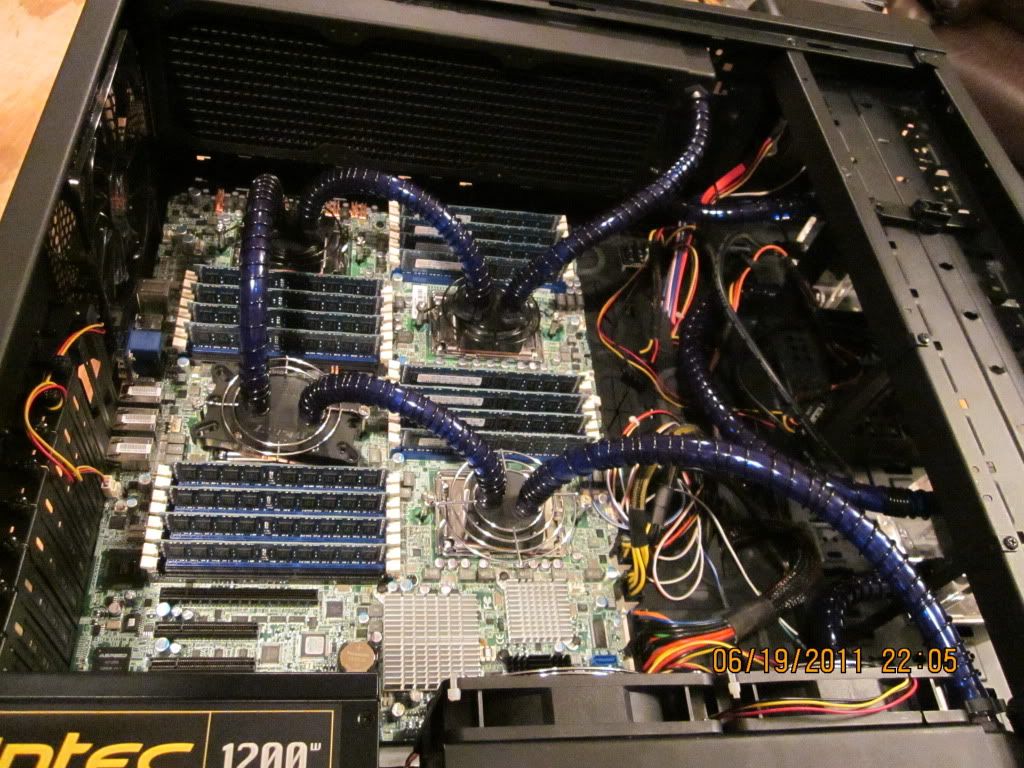 Rev 0.9
wc loop redone to have 2 cpus per radiator, 2.8ghz temps 50-53c
enzo copper ramsinks added to vrms (donated by Rtype)​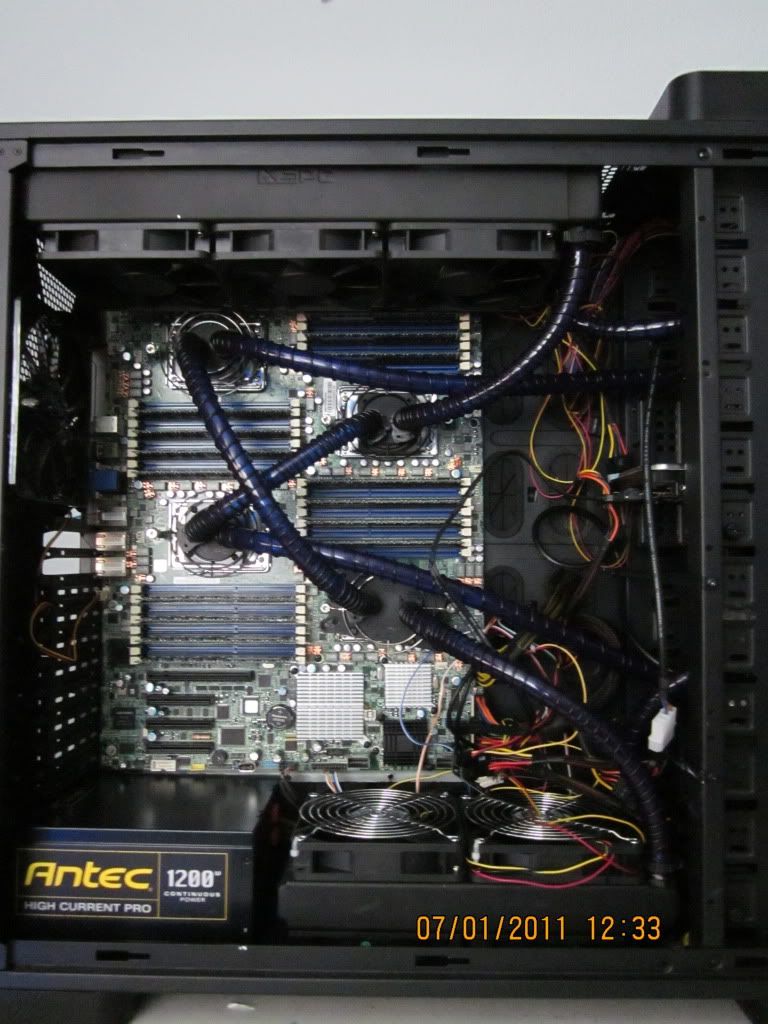 Rev 1.0
Final overclock 3ghz nb 2200 (has been pushed beyond but not stable for folding past 3ghz)
Rev 1.1
RipjawsX ddr3 1600 cas 6 ram (generously donated by Dsee)
Rev 1.2
spd hack to cas 5 1333 (board recognizes as cas6, early Guinea pig of tears d3sak with him guiding me though it)
Rev 1.3
Fan upgrade GT-15s, I had originally planned on doing this in the summer but 1 of the fans on the rs240 started to fail so I went ahead and swapped all the rad fans out. I may or may not order another set in the summer and do push pull. Temps mid 50s for 3ghz load.
Rev 1.5
Postponed/scrapped.
Rev 1.9
Swapped to a SM GL board, gained 3rd 12v Aux plug.
Added an RX360 radiator and 3 more GT-15s.
Swapped to a Laing D5 pump.
Lots of little case mods required for the switches and yes its upside down
...
Swapped ES chips with R-type so that I have 4x 2ghz chips now.
New overclock tbd ... more cooling, more power, better chips. Time to see what she has got.
Last edited: