Joined

Apr 4, 2015
Messages

23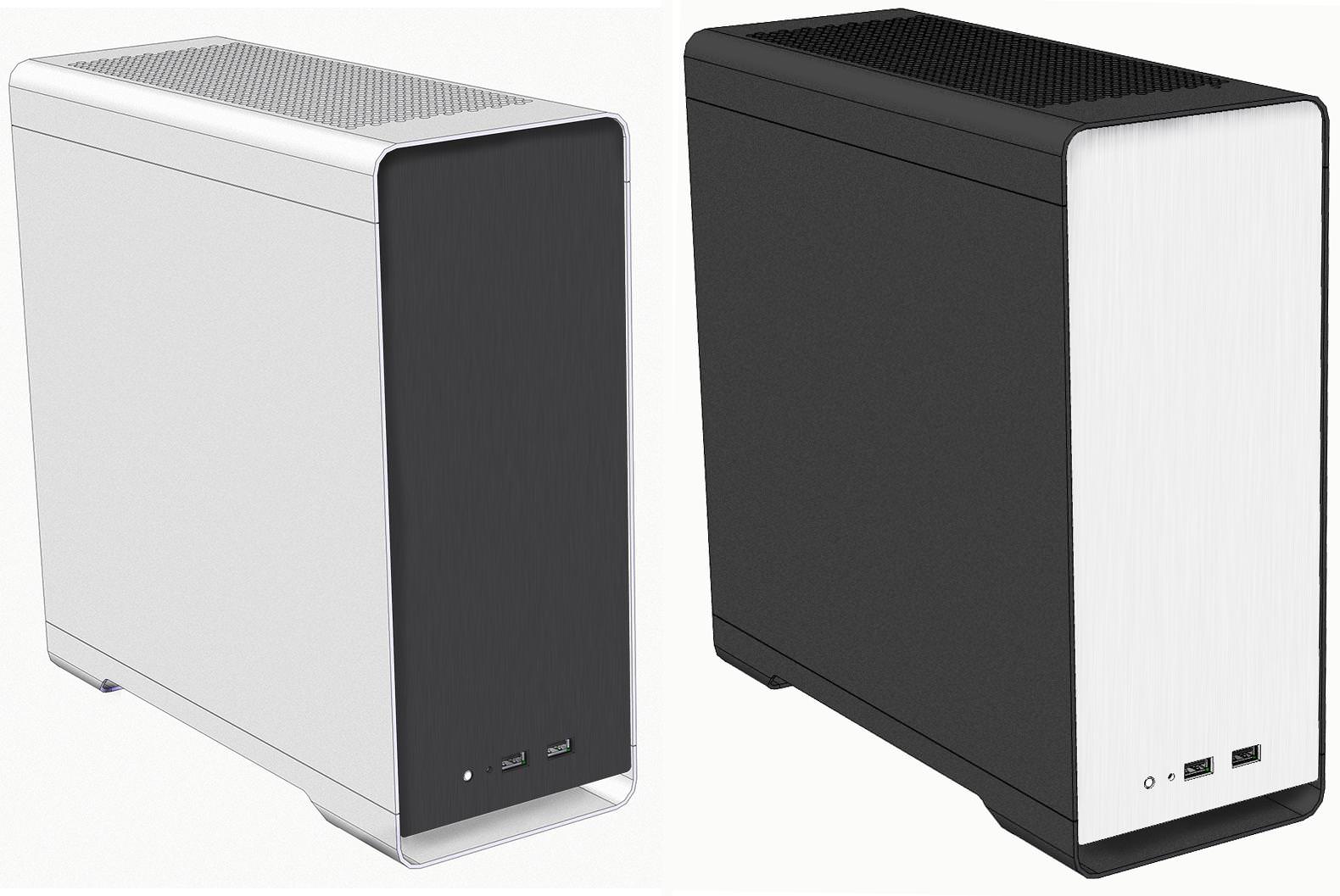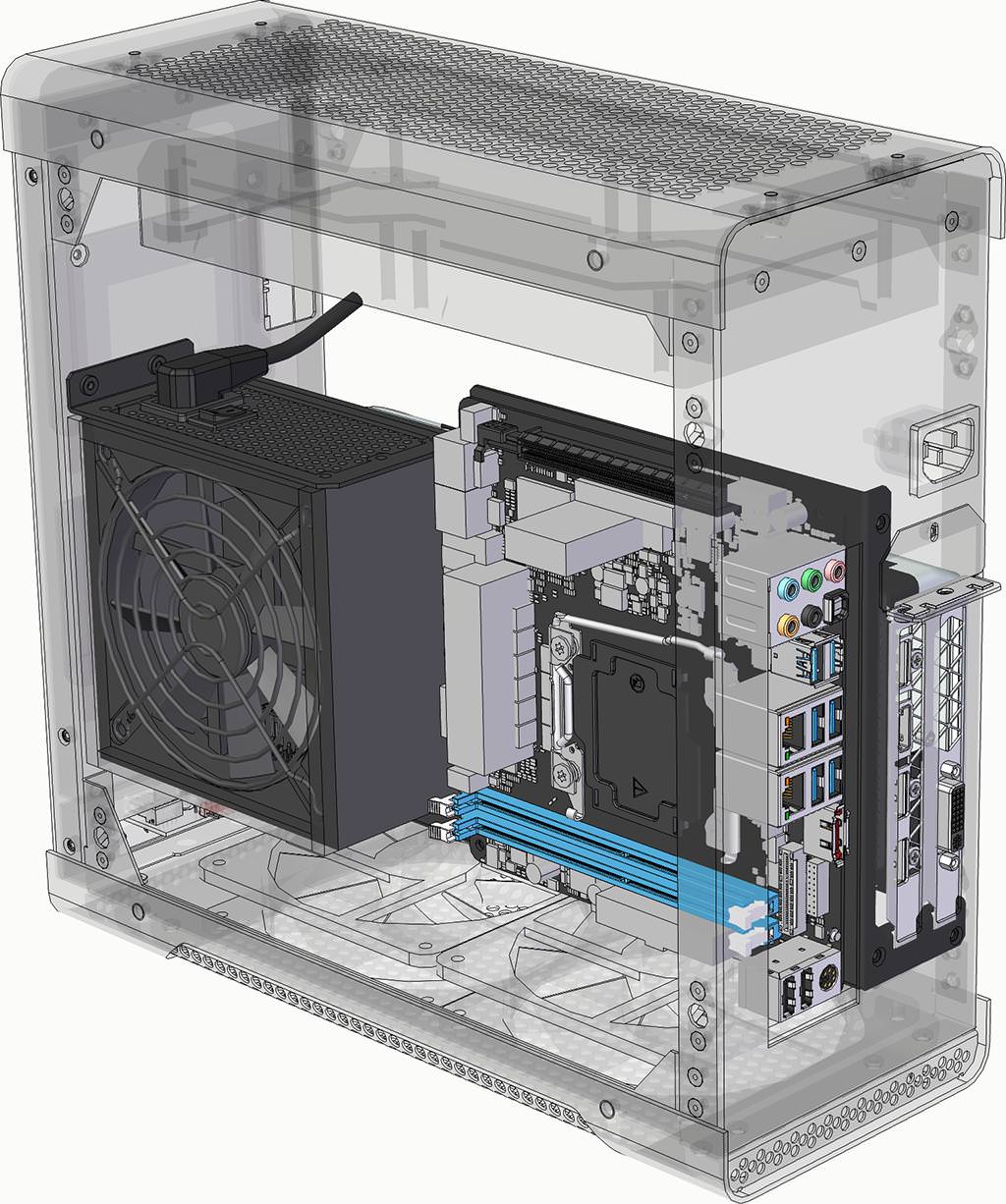 Goals of this case:
1. Look Good
Grained anodized aluminum front panel, no visible hardware.
Powder coated aluminum side panels with 5 optional colors (Black, White, Grey, Red, Beige - same as Kimera Cerberus colors)
2. Stay Cool
Tons of room for cooling, 120x240mm radiators, 120x120mm radiators, hybrid GPUs, etc.
(need to add support for external reservoir, not in current render)
3. User Build Flexibility
Sides are retained with ballstuds, tops are also ballstuds but use PEM SKC-F's to keep panel gaps aligned.
Lots of optional brackets for short GPU + 3.5" HDD, options for bulk storage up top or bottom for living room PC builds, ultra quiet low speed fan setups, etc.
3.5 Optional PCIe 2x8x Bifurcation
Bifurcation -> Splitting of 16x PCIe 3.0 into two PCIe 8x 3.0 slots.
https://hardforum.com/threads/pcie-bifurcation.1870298/page-15#post-1043330625
Ideal for SLI / Crossfire, streamer setups with GPU + 4K capture card, or GPU + PCIe NVME RAID cards like ASUS HyperX:
https://www.asus.com/Motherboard-Accessory/HYPER-M-2-X16-CARD/
Bifurcation does not affect GPU performance:
https://www.gamersnexus.net/guides/2488-pci-e-3-x8-vs-x16-performance-impact-on-gpus
Supported by all new Z370, some Z270, few Z170, Q170, (one Z97 chipset,) and both ASROCK X99 and X299 ITX boards.
I've been testing a 20cm flexible bifucated riser for ~2 years now from Amerirack on a X99EITX/ac, have not had any issues from either performance or reliability. Riser in question:
https://i.imgur.com/Pw9Of8d.png
4. Small Footprint (not the smallest by volume)
Idea is to minimize the amount of space taken up on the desk, so this case is pretty tall. Height is necessary for GPU water blocks and being able to work with thicker radiators in either push, pull, or push+pull configurations.

5. Inexpensive and in-stock
Goal is <$300 for bifurcated version, and <$200 for single PCIe 16x version.
Also, no 6 month wait lists. You buy it, you have it that week. Manufactured in the USA.
Community Input
Change I have under consideration is moving the whole inner tray up to allow more room on bottom for a second 120x240mm radiator on bottom, but it will make things up top pretty constrained or might make the chassis slightly taller.
Size is currently 14.5L at 5.25"W x 13.13"D x 12.78"H - up for change.
By no means an expert on water cooling, but I do understand I need to add ports and mounting on rear for external reservoir (and maybe DDC / D5 pump brackets).
I do have a design for a window, but its design is shared with the Kimera Cerberus so I cannot post much till all is tested.
All feedback is awesome, open to all changes and other considerations.
Last edited: