Joined

Apr 10, 2005
Messages

15,317
New main rig for general use... music, work, some game streaming to my shield... the machine i leave on pretty much all the time.
MSI z170a gaming m7 with 6600k at a very mild 4ghz for now.
EVGA 1050ti SC
Corsair vengence led ddr4 3200
Corsair h100i v2 and lots of magnetic levitation fans
Intel m.2 600p 256g OS
Crucial m.2 cx300 1050g storage
2x WD black 1TB raid1 with a 64g iRST ssd cache on front (deeper storage)
Thermaltake Fan Commander F6
Thermaltake V51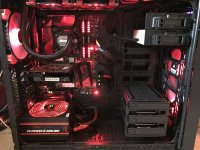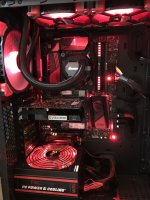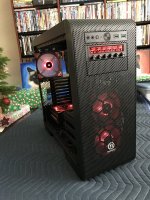 My old z68 was showing its age and I wanted to build a new rig. I'm happy how this came out. I have a lighting kit I might install but the fans and mobo leds are doing the job pretty well. I'll push that CPU overlock to 4.4ish soon. I'm after stability here more than max oc. And if I want to turn it into a more powerful gaming rig all I need is a 1070 or something (@1440p on this display).
Last edited: