First some background...
My home network is fairly complex (I'll include an equipment list below) because in addition to my house I have 2 other buildings; a workshop/storage building, and also an almost finished guest cottage (I plan to create a guest network for it soon, but have not had the time to read up on how to do that yet). I also have a large outdoor patio area.
I am *far* from a network admin, my networking knowledge is self taught and I have learned a great deal from reading on the UniFi community, this forum, and also by watching lots of Unifi related videos on YouTube. I also just read the entire Unifi 5 User Guide. I do all of my own work, from setup to making cables.
I need to upgrade from my ASUS RT-AC68U router to a USG Pro 4 since I am switching to gigabit broadband very soon. I just adopted the USG Pro 4 and after struggling for a few hours, managed to upgrade the firmware using Windows Powershell and SSH thanks to some very helpful videos. I could not get it to upgrade the FW using the controller. I am mostly clueless with SSH or Linux, so mostly I copy what others have been successful with.
I run the Unifi 5.10.26 controller from my main PC, but also have a UBNT account with Cloud access enabled. I like that Unifi is sort of "set it and forget it", I usually only start the controller when I am making changes or upgrading FW on my devices. My PC does not run 24/7.
Equipment list:
Arris SB6183 cable modem
UniFi USG Pro 4 (replacing ASUS RT-AC68U)
UniFi Switch US‑24‑250W (all of my POE devices use this switch)
HP 1810G-24 switch (for all of my non-POE devices)
4 UniFi nano-HD APs (a 5th will be installed in the guest cottage)
1 UniFi UAP-AC-Mesh-PRO Outdoor
16TB Netgear NAS/server
8TB ioSafe NAS
20 IP Cameras (security system)
Plus various other networked gear (AV equip, Ring doorbells, PCs, tablets, laptops, etc)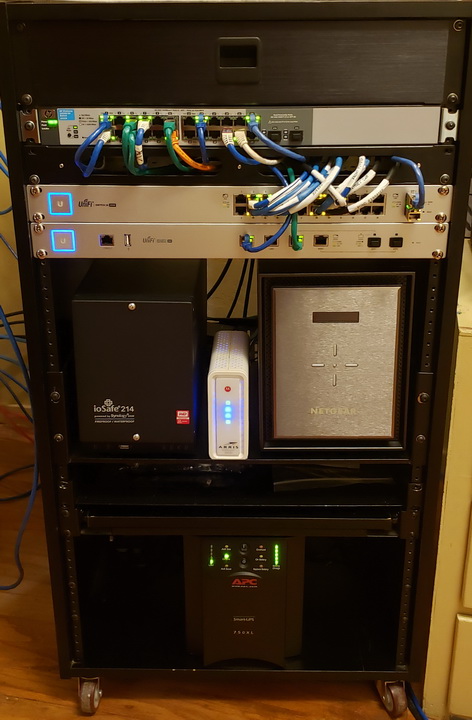 From this screenshot you can see that with the ASUS router, everything is running perfectly.

Then I swapped out the ASUS router for the new USG Pro 4 using the same IP, 192.168.1.1, and enabling DHCP on it. After hours of trying myself, and also trying to get some help on the UniFi community (not very helpful), I still cannot get the USG to adopt my existing devices. I reset them all to factory defaults and started from scratch, but still get the same results. I've rebooted, restarted, done resets, everything I can think of but still no luck. Everything in the UniFi controller settings looks OK to me.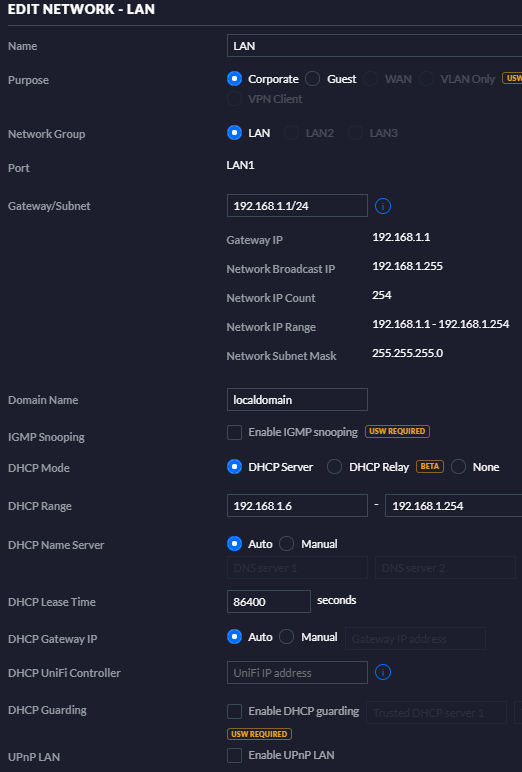 Thanks. Any advice would be greatly appreciated.
I'm getting close to returning the USG at this point, hoping to get this solved.