Meh... I wouldn't get my panties in a twist over this. This shit has been happening for 30+ years. Its just mass market appeal to western audiences where parents freak out and start a movement against girls with boobs bulging out of impractical armor.
At the end of the day, Sony is a Japanese based company, and in japan things are run totally different. Acts of fiction generally are never censored over there... its not until it comes stateside that they add in mist blurs in a shower scene and crap like that.
Watch enough anime and you will see the difference. The subtitled Japanese versions are usually never censored... its always the US dubbed versions that they censor anything and everything that could be considered "offensive".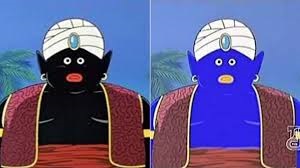 Mr. Popo from DBZ Original vs American TV version
1981 American Film "Clash of the Titans" rated PG... and its not the only scene with boobs...
The huge censorship trend really started back in the 80's, along with the "War on drugs". About the only thing that has come from either, are multi-billion dollar organizations that profit from enforcing said rules.
Just remember folks, for every blurry tit, censored swear word, or drug user/dealer going to jail, someone is making a shit load of money off it at your expense.