Joined

Jun 12, 2012
Messages

11,831
I've had a bunch of leftover parts from my last build (CPU, RAM) that I couldn't sell, so I decided I'll do a build from it.
Due to the cheap Xeon craze last year, my original ASRock X79 Extreme4 MB sold within a few days after I listed it. But now I needed another X79 MB if I had any hope of turning my leftover parts into something usable.
So I went on to look at s2011 boards, but there were none. At least none that I could buy new from a retailer, except some Supermicro server boards, that are completely useless as desktop boards and cost a fortune anyway.
So next step was to look at classifieds despite my apprehension of buying used MotherBoards, that are well out of warranty by now. But, the Xeon craze seems to be still too storng, any s2011 board is snatched up very fast, and the ones that are still up for sale are the ones by idiots who want to get rich by selling their old junk.
One person offered to sell me his entry level Gigabyte board for close to $300. LOL. I sold my Asrock for $100 a year before that. So I was not going to pay 3x that for an arguably lesser board.
That's when I started to give in to the idea that I won't be able to use my old parts after all, at least not sensibly. And I forgot the idea.
But a few weeks later while looking for something completely unrelated I bumped into this, listed at a retailer for less than $250, brand new.
A full barebone with ITX size case, X79 chipset, and even a 80+ Power Supply included. So I pulled the trigger on one almost immediately. ROTFLMAO at those idiots trying to push used MBs for 300.
So after that prelude, let's see what we have. The stuff arrived 2 days after ordering. (That's as fast as it gets here)
It comes in a nondescript white box.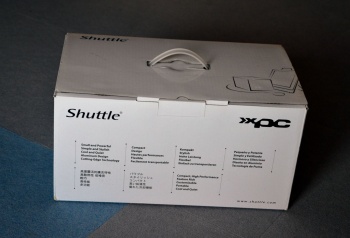 It might not be apparent in the image but the box is much larger than I expected. So I suddenly started to have second thoughts. When I ordered I didn't even look at the specifications, I had no idea of the exact size or features of this thing.
But after opening the box, my fears were alleviated. It's just wasteful packaging.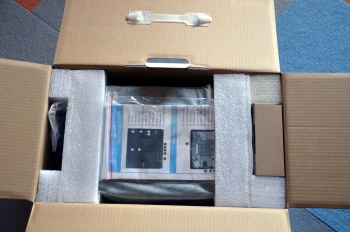 They just left a lot of space for the accessories box, and the power cable. Other manufacturers simply put those inside the case.
This is all that was in the box apart from the case.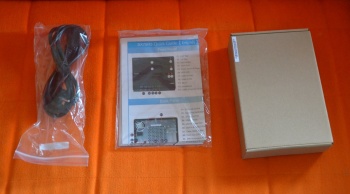 No written manual either, just a completely useless quick-start guide. Which fails to mention anything useful, like memory / CPU compatibility, in what order you need to populate the DIMM slots, or which PCIE slot is the primary, nothing. And to my surprise there is not even a downloadable manual on their site for this thing. So that's -1 for them right away.
The case is in a foam bag, nothing fancy but it protects it from scratching.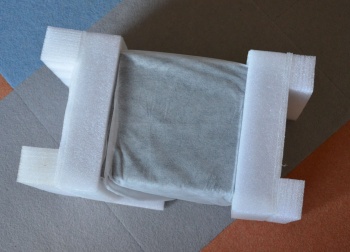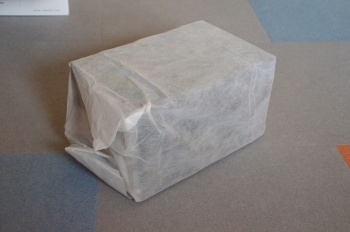 After taking it out, it has a pretty cheap feel to it. I expected more quality from a barebone system.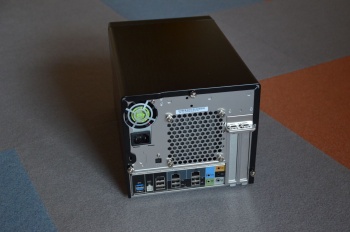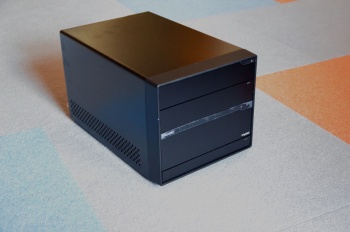 That front bezel feels very low end plasitc to me. But I noticed that this thing actually has 2 LAN connectors. That's a big plus for me. So one minus one plus we're still at -1.
Let's look inside: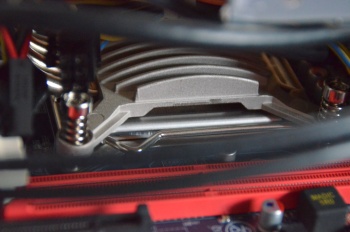 Well, that's not very neat, more like cable chaos right there. We'll have to do something about that. And that has to be largest bag of silica I've ever seen.
And here comes my second surprise of the day. This thing also comes with a cooler. That makes it even better value. So we're back up to 0.
The the cooler from behind, and the power supply.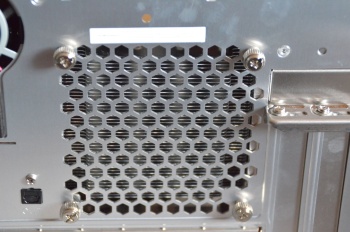 Note that the fan shroud has quick release screws, no idea why as you must use a regular screwdriver to release the CPU end of the cooler anyway.
Let's look what extra goodies we have.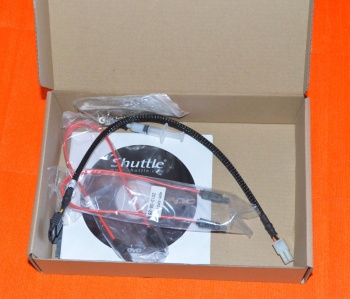 Oh. That's not much. Why such a big box? They gave two yes, two cable ties. That are less than 2 inches long each. Completely useless. This is the point where it would've been better if they didn't even bother. -1 again.
So let's get that drive bay out of the way and see under it.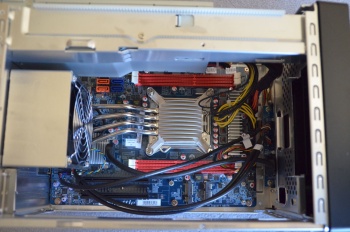 Nothing out of the ordinary. Apart from the chaos of cables. Usually when I do a build the chaos only happens when I touch it, not right out of the box.
I didn't have a VGA readily available so I decided to use an old discarded Quadro 4000 from work. These were retired years ago due to overheating problems.
Let's try to fix that. And no surprises here, after de-lidding I found old petrified gue, that probably lost all it's thermal conductivity years ago. (The picture only shows the after cleaning state)
I've tried to fit this old aftermaket cooler I've had laying around since forever.
But ultimately had to scrap it, as I couldn't make it stick. Zip ties don't fix everything apparently.
The front panel controls cable came out of the other side went all the way to this side to connect to the MB.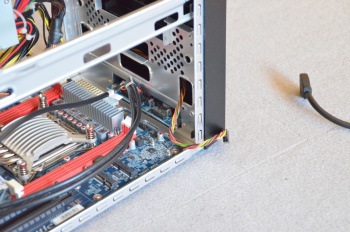 So I re-routed it inside the front panel to come out near the connector (the picture is taken after re-routing).
I was also able to route the PCIE connector and the ATX12V connector trough the front panel. That's a +1 on that.
Let's get the cooler out of the way.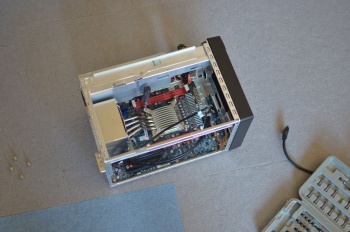 It's not apparent but the screwdriver just doesn't fit because of the upper beam and the PSU, so you can only undo that screw at an angle. Not quite worthy of a minus though, just a mention.
This is the cooler in it's whole: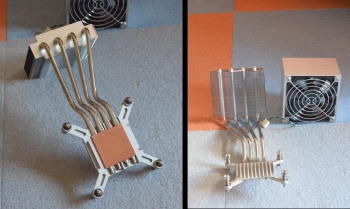 It looks quite small without the fan shroud. It only has a 90x90mm fan, for size reference. I'll give some cooling results in a later episode.
The front panel audio / USB cables aren't long enough to route them around the board, but I've did my best to tuck them away:
Installed the RAM, CPU.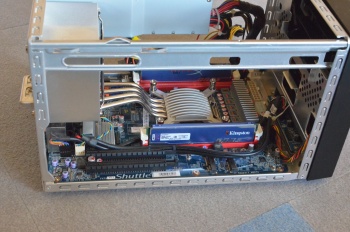 And for a Quadro what's better to use than a Xeon? E5-2670 is the way to go. But no Xeons on the supported CPU list by the manufacturer. I decided to give it a go anyway. Google didn't give any results on this, just a few people pondering if it will work with a Xeon before buying. They had the brains to look at the support list before buying unlike me.
Well actually full disclosure: I also have an I7-3820 laying around, so I expected that to work if all else fails.
As I suspected the drive bays won't go back due to the large GPU cooler. (That I ended up not using in the end)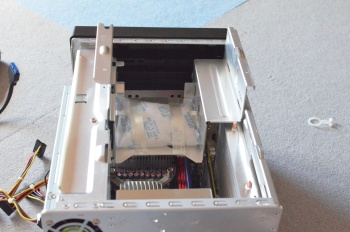 So I've had to improvise on where to fit the boot drive.
That's why it's good to keep every piece of scrap metal because who knows when you'll be able to use it?
This piece came from a case I got in 1998.
Finally back to the factory cooler for the VGA:
First try:
It boots and detects the CPU and seems to work normally. So that's a win! I forgot how we stand on the score, but who cares anyway?
I've installed Windows 7 Pro. Started to try out a few things, but unfortunately the VGA's overheating problem won't be solved by fresh TIM alone. It still idles around 85C° I have to try to find another cooler for it, or buy a new GPU. Until then this project has to be paused.
To be continued...