This all started just a couple of weeks ago. I've been extraordinarily busy at work (struggling to put out a rush of proposals before year's end) so I didn't really get a chance to investigate before today, my first full day off in two weeks.
I have used simply debrid to get links from various forums for some time, generally via uploaded.net / ul.to. Prior to it becoming undesirable, I was a 5+year subscriber to rapidshare and used it extensively.
What I do:
In Firefox, I paste the posted file addresses into Simply Debrid's link generator and then use Flashgot / Downthemall to download the links it generates. For years, when downloading multiple files, I've generally gotten close to 3.2 MB/s combined.
The Problem:
But the past couple of weeks my Flashgot / Downthemall downloads have been subject to odd slowdowns. Right now I'm downloading two files via uploaded.net, both 116 mb, and getting a combined download speed of 89.5 KB/s. You read that right:
KB
/s.
This problem exists across both browsers. I'd imagine that if I used a link in Firefox and Chrome built-in file downloader I'd get similar results, and I do: both horrible. When these problems crop up, I get double-digit download speeds in both browsers.
BUT HERE"S THE THING:
It doesn't always happen. I fell asleep watching TV last night and when I awoke this morning at 5 am, I sat down to download a film and was getting a combined 3+ MB/s. Later in the day (1pm) I tried to download another and the various file parts initially started off at the 3MB/s rate, but after 5-10 minutes, all the download rates dropped to 33 kb/s or lower.
Relevant facts:
Rebooting hasn't fixed it. Unplugging the uVerse residential gateway for 3 min, plugging it back in, then rebooting again ... multiple times ... hasn't worked. I've cleared the cache on Firefox with no difference. My PC (a non-overclocked i7 w/16gb and a good 3gb video card running Windows 7 ... see the sig) performs very well.
My speedtests are normal for me: Down: 29.21 Mb/S Up: 3.44 Mb/s, and these remain pretty steady even when the problem is occurring.
I can download things from other sources at good speeds. For instance:
Results of download testing files from

Code:
www.thinkbroadband.com/download.html
Downloading the 200mb file directly via Chrome, I'm getting steady 1.35 MB/s
Downloading the 200mb file directly via Firefox, I'm getting steady 1.5 MB/s
Downloading the 200mb file via Flashgot / Downthemall in Firefox, I'm getting a peak of 2.35 MB/s
Here's the stuff that was installed/updated over the past few months: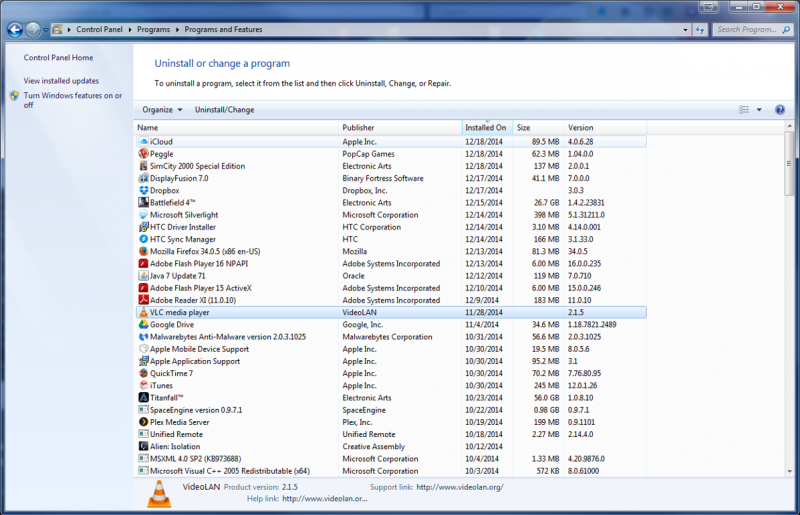 Here's my recent Windows Update history: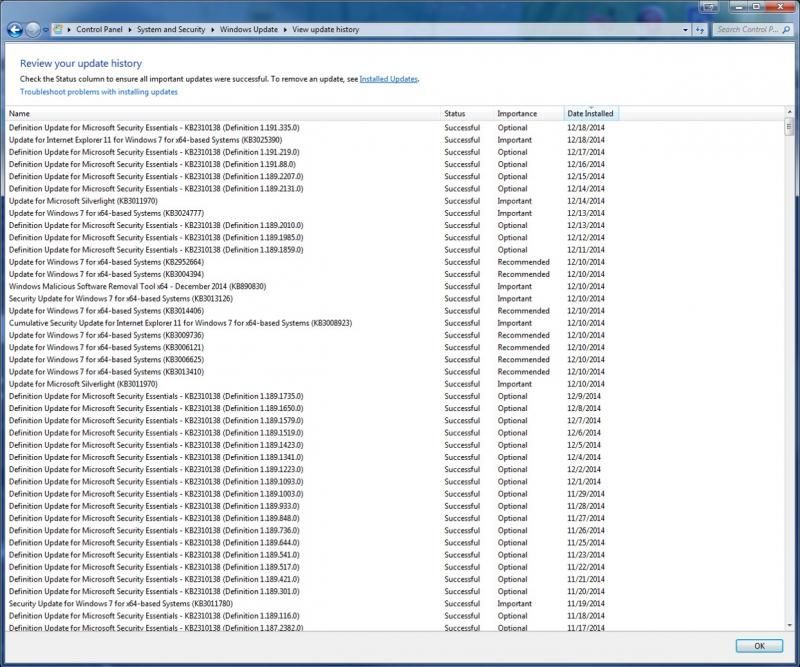 Please advise with helpful advice. I'm not in the mood -- nor do I have the time -- to reinstall Windows because A. I already have two different computers to reinstall/refurbish before the end of the year (I don't want a third), and B. I don't believe it's necessary, since the computer is running very well otherwise.
Last edited: