There was a concern about a possible hardware issue with Mesh Shaders with the 7900 XT/XTX due to rather poor results in 3DMark Mesh Shader feature test. With driver 23.1.1 with Mesh Shader on, it was only 11.9% faster then with it off. With 23.1.2, look at the difference between the two: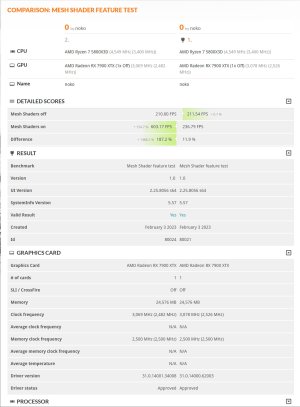 ​
AMD did not indicate this was updated or fixed in most recent notes dealing with 23.1.2
https://www.amd.com/en/support/kb/release-notes/rn-rad-win-23-1-2-kb
Also note the GPU speed on the XFX Merc 310 7900 XTX, this is default clock settings.