Intro
I've be very intrigued by the Alienware Alpha and the ASUS ROG GR8, systems that are marketed as console replacements. However after doing research on them one thing became evident that made me cry.
The graphics card in them aren't as good as the can be in that size. Don't get me wrong we should all be happy they are trying to make a Console replacement, but they only slightly improve on graphics with the Alienware Alpha listing "GTX Graphics" or better known as GTX 860M and the ASUS ROG GR8 has a GTX750Ti.
The Goals
I have 5 goals that I wish to accomplish with this build
1) Under 3 Liters in volume
2) 4K Gaming
3) Watercooled CPU and GPU
4) Clean design
5) Quiet when gaming
The Specs
CPU
- Intel Core i7-4790
GPU
- Palit GeForce GTX 970 4GB
Motherboard
- Asus Q87T
RAM
- 2x8GB SODIMM DDR3 1600MHz
Storage
- SanDisk X110 128GB (might upgrade it to 256GB)
WiFi
- Intel Dual Band Wireless-AC 7260 Plus Bluetooth
PSU
- HD-PLEX 250W DC-DC board and 350W External power brick
The Hurdles
In order to get under 3 Liters AND fit a complete watercooling loop in it I'm doing a lot of custom designing for it, here is the shortlist:
CPU Waterblock
Full cover GPU Waterblock
PCIe 4x to 16x Riser PCB
Custom 2x80mm Radiator
Reservoir
Case
The Progress
I have already made a lot of progress which you can find right here
Case
This design is close to ready, once I have all the internal parts completly laid out I will be ordering the case, I would like to hear your opinions on the aesthetic of this case.
Version 1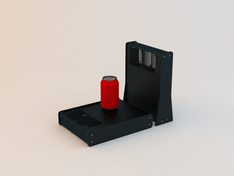 Version 2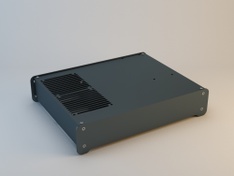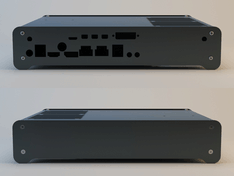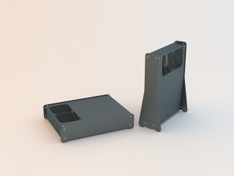 PCIe Riser PCB
I made my initial design as seen and ordered it. Almost finished and ready for testing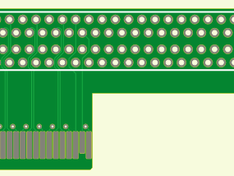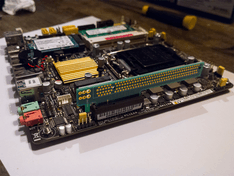 Radiator
A supplier of the company I work at made me this custom radiator. You can see a 120mm Fan and a 280mm radiator as a size comparison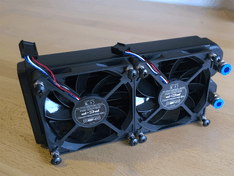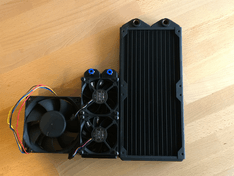 CPU Waterblock
I finished the design form my CPU Waterblock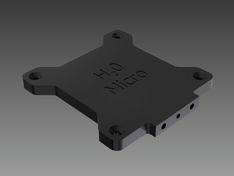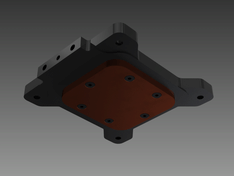 GPU Waterblock
No real progress to show yet, I've been doing some designing based of web images but until I've gotten my own GTX970 I won't have a final design to show
Power Supply
So I'm going with a Thin M-ITX motherboard together with a HD-PLEX 250W DC-DC board and an external 350W Power brick. The way it is going to be setup is like follows:
Thin M-ITX motherboards generate their own voltage onboard, just like any notebook motherboard. I have a DC Jack on the back I/O that supplier 20V and the motherboard turns it in 12V, 5V, 3.3V, you name it.
However, Thin M-ITX motherboard are not designed to run with discrete graphics cards, the motherboard only has a physical PCIe 3.0 4x slot and those are limited to only supply 25W instead of the 75W a PCIe 16x slot can deliver, also there are no PCIe 6pin or 8pin connectors present.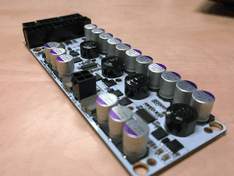 This is where the HD-Plex 250W DC-DC board comes in. It is meant for small systems to have an external brick but still have the 24pin, CPU 8Pin, GPU 8Pin and some sata connectivity. I'll only be using the GPU 8Pin and the board 12V rail to supply the GPU with power.
The PCIe raiser disconnects the 12V that normally comes from the PCIe slot itself in order to allow the HD-Plex board to supply all the needed 12V power to the GPU.
I still have a ways to go but I'm making good progress.
Last edited: