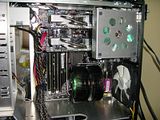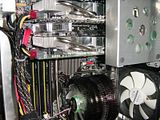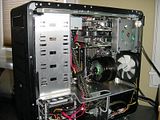 Just wanted to post my results with the P5N32-SLI SE Deluxe and E6600: (upgraded from FX-55 Clawhammer, A8N-SLI, 7900GTX 512 SLI)
Setup:
Lian Li V1000B w/window
E6600 OEM Week 25 w/Zalman 9500AM2
2GB Corsair XMS DDR2 800
P5N32-SLI SE Deluxe BIOS 0305
eVGA 7900GTX 512 SLI
(2) 74gb Raptor RAID0
NEC DVD/RW 3540A
Enermax Liberty 620W PSU
NEC 20WMGX2 20" LCD Widescreen
Klipsch 5.1
Nexus Silent 120mm fans (2)
Antec 120mm tri-speed LED fan
Scythe Kama Bay cooler
I completed upgrading my system a few weeks ago and have had very positive results even with the limited overclocking potential of this MB and sorting through a POST issue.
Pro's
1. I was able to use existing RAID0 Windows XP32bit OS, updated to newest drivers from P5N32-SLI SE CD with no issues.
2. Mild Overclock E6600 Week 25 stable to 1200/800 2.7Ghz (this was all I expected)
3. Was able to mount my Zalman 9500AM2 using the Socket 775 mount kit from my old Zalman CNPS9500LED
4. speedfan can control CPU fan and Chasis 1 fan speeds, however temps read approximately 10C lower than core temp - 38C Idle vs 48C idle.
5. Games and benchmarks are noticeably faster
3DMark 06 - 9602
3DMark05 - 14535
Issues:
1. System would not cold or warm boot after brief use. I spent many hours troubleshooting this one....the system would power up and the HDD indicator would come on and flash a few times like it just kept resetting. After leaving it sit for several minutes, it would eventually boot up. Tried removing CDRW/DVD, USB devices, Neon light inverter, changed PSU's etc, single video card, updated to BETA 03 05 Bios, etc.
It occurred to me that I never had any issues when I first tested out the system build on my desk before putting it into the case. So now I suspected the problem may very well be heat related since the MB is inverted and the NB / SB were extremely hot to the touch (speedfan shows 49C system temp). After installing one of the included heatpipe fans dirtectly above the Southhbridge (double sided tape to my lower 7900GTX 512 cooler - see pics) the system reboots fine every time, even after extended gaming sessions.My system temps are about 10C lower with this setup according to speedfan.
2. Temps reported by Asus Probe and speedfan are 10C lower than CORE TEMP
3. MB slot Layout is not as optimal as A8N-SLI