Just Plain Mean
Staff member
Joined

May 18, 1997
Messages

54,903
After doing this review business for about two decades, you can probably imagine how many emails I get a day from marketing folks that want us to review its product. Many times I am "flippant," to put it nicely, in my reply if I actually take time to type one. Lately, I have seen an onslaught of "gaming furniture" requests. Well, I got one the other day from
Vertagear
, and it was for a very expensive and somewhat badass looking gaming chair from
its Triigger Series
. This thing is $900! Most of the time these guys are just fishing for free links here on HardOCP. So I replied with basically, "Sure! Send it on over for review."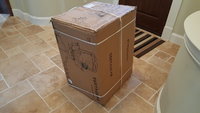 Well alrighty. Looks like I have committed to doing a gaming chair review.
Now on another note, this experience made me recall feeling a good bit dickish one morning and getting into a bit of an email converstaion with another marketer telling him, "Sorry, but we do not review chairs." Seems like I owe Scott Richards at
Arozzi
an apology.
His desk
matches my chair. Yes, my chair that I now review. What the hell is wrong with me?