Acer XB270HU, essentially an upgraded ROG Swift with an IPS panel.

Highlights:
-27" 2560x1440 IPS
-144 Hz
-G-Sync
-ULMB Strobing backlight Mode
-4ms GtG
-Zero PWM

Since the debut of G-SYNC our partners have released many TN models, with resolutions ranging from 1920x1080 to 3840x2160 (4K), and features that further improve your experience. Today, G-SYNC enters a new era with the unveiling of the world's first 144Hz IPS G-SYNC monitor at The International Consumer Electronics Show in Las Vegas. Engineered by Acer, the 2560x1440 XB270HU is the world's first 144Hz IPS gaming monitor, the world's first IPS G-SYNC gaming monitor, the first IPS gaming monitor to also support NVIDIA Ultra Low Motion Blur (ULMB) technology, and one of the world's first IPS monitors with a response time of only 4ms G-to-G.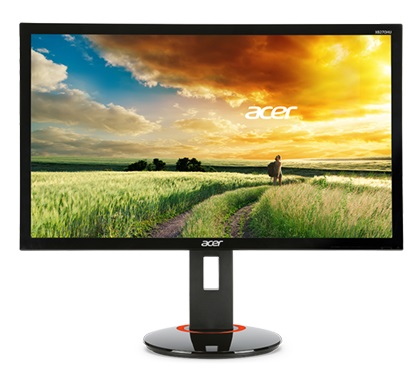 Why the fuss about IPS G-SYNC at 144Hz? For many enthusiasts it's the monitor Holy Grail, combining IPS's wide viewing angles, bright displays, and highly accurate colors with G-SYNC's lighting fast, super smooth gaming technology, which fixes IPS's traditionally poor gaming performance. Together, IPS and G-SYNC make your games look and play better than ever before.
In addition to its G-SYNC and IPS technology, the Acer XB270HU is a fully featured monitor, offering just about every extra you could hope for. Starting from the top, the screen can be height adjusted, titled, rotated into Portrait, and VESA wall mounted. On the side there's the required DisplayPort 1.2 output for G-SYNC, plus HDMI and DVI outputs for game consoles and other devices, as well as audio out and two USB 3.0 ports for accessories or storage.
-Acer XB270HU is the world's first NVIDIA® G-SYNC™ enabled gaming monitor with an IPS display that offers consistent, clear images from 178-degree wide viewing angles.The screen will feature Acer's EyeProtect technology including Blue Light Filter and Flicker less backlight.
The Acer XB270HU monitor will be available globally and begin shipping in April 2015.
________________________________________________________________________________
Reviews:
TFTCentral:
http://www.tftcentral.co.uk/reviews/acer_xb270hu.htm
SWEClockers:
https://translate.google.com/transl...erad-gamingskarm-i-144-hz-med-nvidia-g-sync/1
Last edited: