Joined

Jun 19, 2009
Messages

12,073
So while we're bombing goat herders now, that may not be the case in the next 5, 10, maybe 20 years.
Agreed. The rest of the world is actively developing advanced aircraft. They may be a generation or two behind us, but why let them catch up? Now, debating if we should maintain a modern military or not is an entirely different debate. Currently the general consensus is to have a world class military.
A single multi-role plane will never fill every niche. You get one plane that's supposed to do everything but can't do any one thing especially well. It will never be as effective as the A-10 for tank busting, never be as effective as the F-22 for air superiority... you get these eggheads in the Pentagon that want everything to be ultra-precise, yet when it proves to not work you go back to the old strategies. That's how it went in Afghanistan. Expensive precision munitions didn't cut it, so they took to high-altitude carpet bombing with B-52's. Ground tactics had the same problem. In Fallujah in Iraq, the Marines were using 2 M-249 gunners per squad instead of the typical one, and were using M-16A4's on full auto for close-in fighting. There's documented cases of Army soldiers toting captured AK-47's around in both sandboxes because the sand was causing havoc with the M-4 and they were overheating. Snipers? They took care of those by blowing up the building the sniper was on with an Abrams. Scorched earth worked yet again. Precision munitions have their place, and technology can give the upper hand, don't get me wrong, but when it comes down to it the older, cheaper, simpler stuff is sometimes better for certain jobs. Personally I'd rather not spend half a million to drop a laser-guided munition on a squad of jihadis in a pickup truck armed with nothing but AK-47's and RPG's when a 20mm cannon burst could do the job.

Honestly I hope all the critics and my own criticisms are wrong about this plane since it's going to be responsible for defending the country, but I'll not be convinced until its battle-tested.
Plenty of multi roles that perform well. The F-16 & F-15E is excellent proof of that. The Eurofighter preforms well, yet look at the advanced munitions it carries for air to ground. It can carry more ammunition to kill a larger number of tanks than the A-10 can, while still being able to defend itself.
And the A-10 is dated. Just about every plane carries the AGM-65 now, and it is dated compared to the Brimestone. I'd rather take 12 of these + HARMs if I had to go up against a semi modern military:
It had its day, but it really isn't a great tank killer anymore. Poor survivability, poor night performance (no radar) and is essentially a sitting duck against modern short range air defenses.
BTW, the M16A4 isn't full auto and neither is the M4. The Army only recently swapped to the M4A1 for standard issue. It won't really over heat any quicker than your typical rifle. Compared to most of the other rifles out there it is essentially the best, which is why most of the modern special forces choose it (UK, Canada, Australia, France, ect.).
And when it comes to unguided VS guided it seems that guided is favored. Have you seen the newest AC-130s? They are using guided munitions in place of the many cannons.
The USAF's version: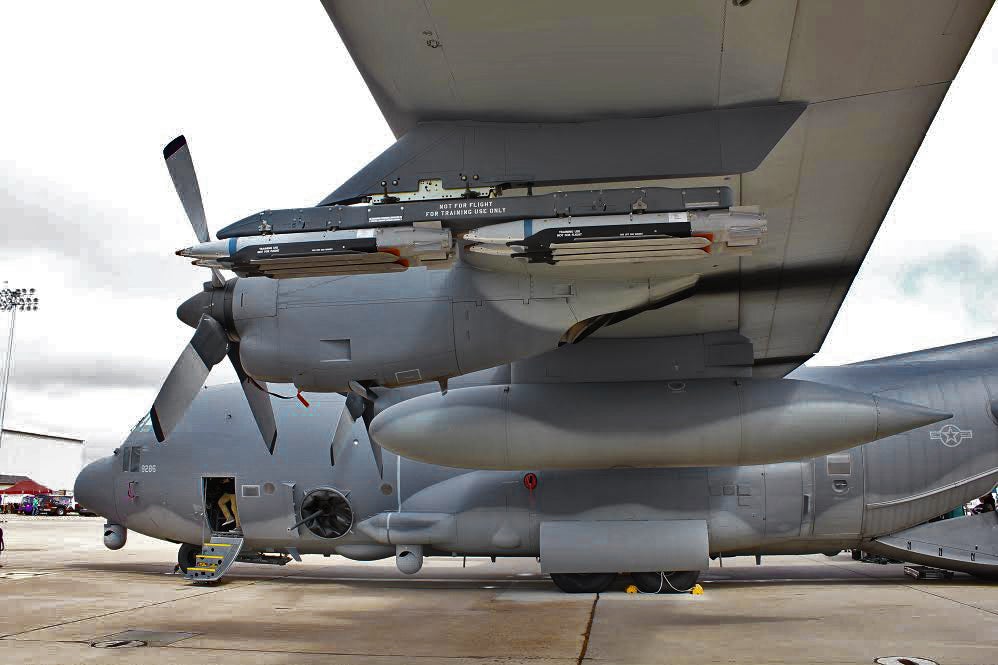 The USMC's:
The "old is better" argument seems to be out of nostalgia more than anything. After having read how AKs perform over long periods (they fall apart far quicker than the M4/16) you come to realize that there is a reason people move on to newer technology.