This is my Antec NSK 3480 build. My old PC was a super silent rig using an overclocked Pentium M in a low profile Superflower case. I was very happy with my old setup except that with the Wrath of the Lich King expansion raising the hardware bar, my system wasn't really cutting it, even with the graphics settings turned all the way down. So an upgrade was definitely required.
I really wanted to stay with my original case, but it severely limited my video card choices due to the height and length restrictions. There was also the problem of the 350W micro-atx power supply possibly not being beefy enough for a modern CPU and video card.
In the end, I made the painful decision to start from scratch and build a whole new system from the ground up with the following goals in mind:
1) as silent as possible
2) small and compact
3) energy efficient
4) powerful enough to run WotLK with most or all of the settings maxed
5) under $1000 (not including LCD, keyboard, and mouse which were recycled from my old computer)
I ended up meeting all of my goals and clocked in at about $800 total.
Component List
:
Antec NSK3480 Micro ATX case
Asus P5E-VM HDMI Motherboard
Intel Core 2 Duo E7300 BX80571E7300
Corsair 2x2GB DDR2-800 PC2-6400 Memory TWIN2X4096-6400C5
Palit nVidia GeForce 9800GT 512MB DDR3 PCI-E NE/9800TXT352
Arctic Cooling Accelero S1 Rev.2 VGA cooler
Arctic Cooling Turbo Module
Samsung SH-S223F SATA 22x DVD Burner
WD Caviar GP 500GB SATA Hard Drive HD-WD5000AACS
Scythe SFLEX 120mm Fan SFF21D 800RPM (case rear exhaust fan)
Thermalright HR-01 Plus CPU Cooler
Arctic Cooling 120mm Fan AF12025 PWM 400-1500RPM (CPU fan)
Athena Power 12" P4-12V (4Pin) connector Extension Cable AD09
OMAR-2092 1 1/8" x 1/16" x 1 1/2" x 1 7/8" x 3/8" rubber grommets
http://cableorganizer.com/grommet/
Modding details
:
To cut the holes, I went with a method detailed in a few other mods on this site. I used a 1 1/2" bi-metal hole saw mounted in my drill and used WD-40 as "cutting oil". The biggest problem with this method is that the drill "walks" around and makes the hole larger than you originally intended. I drilled a small pilot hole first to make sure it was centered, but during the drilling process, the guide bit in the center of the drill widened the center hole and resulted in the holes being less exact than I would have liked. Someone suggested drilling a 1/4" center hole, then replacing the drill bit in the hole saw with a 1/4" rod of some sort so that it doesn't cut into the sides of the hole. Regardless, I am not really pleased with how the holes turned out and the next time, I'm going to use my trusty sheet metal nibbler to cut the holes and a dremel or file to finish them smooth. Sure, it takes a lot longer, but it's far more precise and actually a lot less messy.
After searching for trim for the holes and not really liking anything I saw, I had a flash of inspiration and decided to search for rubber grommets. The ones I found worked beautifully and my only complaint is that they're a little thicker than I would have liked. The thickness makes it a little harder to get the wires to lie flat on the back side of the tray but it still worked out well.
When I decided to use the grommets, I knew that the clearance by the power supply was very tight so I deliberately cut the hole close and planned to trim the edge of the grommet to fit. If I went farther toward the front of the case, the grommet would have intruded on the optical drive space and I would have had to hack an ugly chunk out of the edge of the grommet to make it fit. By putting the cut edge against the power supply, it's a lot cleaner.
I decided to go with the Samsung DVD burner because from what I've read, it's one of the shortest depth drives on the market. Also, there's supposedly some sort of utility that you can use to limit the drive spin speed when playing back discs to make it quieter. I haven't really spent any time looking into that because I rarely use the drive anyway except to install software.
Due to the size of my video card cooler and its fans, there was no way I could use the bottom drive mount location. You can't see it in the pictures, but I think I could use the floppy bay if I wanted to. However, I decided to go with the upper mounting location because I wanted to have the air flow from the power supply to help keep it cool. I considered using a suspension technique on my hard drive, but it really wasn't necessary. The standard mounting location has rubber isolation mounts, and the 5400RPM "green" Western Digital drive I picked (mainly for power usage concerns) turned out to be amazingly quiet.
By far, the loudest thing in the whole case is the power supply fan, and even that is near silent by most people's standards.
I went with a PWM fan on the CPU. This gave me some issues at first because my motherboard behaves strangely if the fans are under 600RPM. With the default settings, it tries to run the CPU fan at around 500RPM. The default settings also try to run the rear case fan at a lower speed at idle temperatures. Unfortunately, the fan I picked runs at a stock 800RPM and it too is ramped down to under 600RPM by the motherboard. The main issue is that when the fans are running very slow and you're overclocking the CPU, the BIOS refuses to boot most of the time, presumably to protect the CPU from damage or something.
There are three fan headers: CPU_FAN, CHA_FAN, PWR_FAN. The BIOS offers three fan profile "modes" for the CPU_FAN header only: Silent Mode, Optimal Mode, and Performance Mode. There is a setting for the CHA_FAN that I think is supposed to control it based on some percentage of the CPU fan, but it's really confusing. There doesn't appear to be any controls for the PWR_FAN header. I have my Accelero plugged into the PWR_FAN header, though I have considered swapping the rear fan plug with the accelero plug and letting the motherboard control the GPU fan too.
I found that when I set the CPU fan to "Performance Mode" and turn off fan control on the rear case fan, I get the following fan speeds at idle:
CPU - 965 RPM
Rear fan - 810 RPM
GPU fan - 1875 RPM
This is extremely quiet at idle, more of an air "whoosh" than anything, and if I put the system under full load long enough to ramp up the CPU fan, I start hear the CPU fan once it hits about 1200 RPM. This is fine with me because the only time I would ever be under full load is while I'm playing a game and the noise from the game would thoroughly eclipse any fan noise.
Regarding the CPU, the default speed is 2.66 GHz (266 x 10). I'm overclocking it to 3.6 GHz (9 x 400) using 1.38v core. It's rock stable in everyday use, but one of the cores will always get a rounding error after about a half hour or so of Prime95 torture test. I'm not sure if I want to risk pushing more voltage though it, but people claim that wolfdales can take up to 1.45v or so. I'm also considering clocking it down a little to 3.4 GHz (8.5 x 400).
The Accelero cooler is amazingly quiet. I think it's due to the frameless design of the fans. I had a little trouble with wire clearance around the fans in my dry-run assembly but once I zip-tied everything down, there's no danger of anything getting in them.
If you have any questions about something you see here, let me know. If you want additional pictures of something specific, or just a better picture of something already shown, just say the word and I'll try to get them posted.
Pictures
:
CLICK ON ANY PICTURE FOR A LARGER VIEW
Size comparison of my new Antec NSK3480 to my old Superflower TTGI TT-101...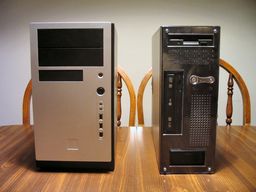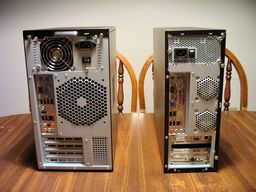 Let the modding begin...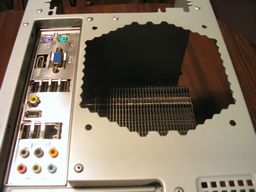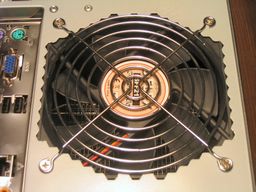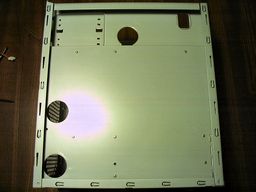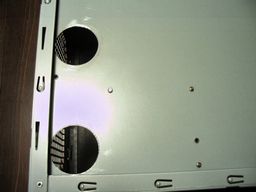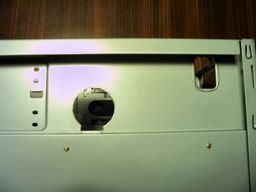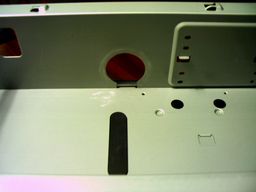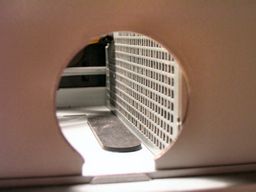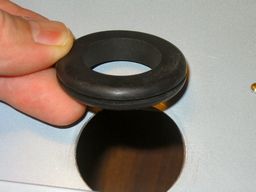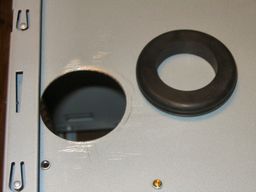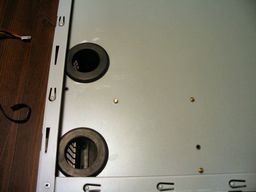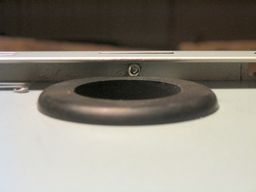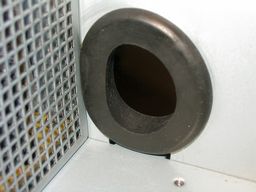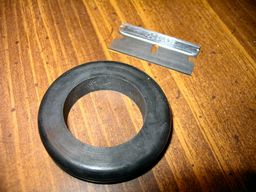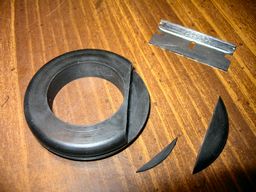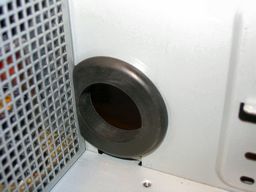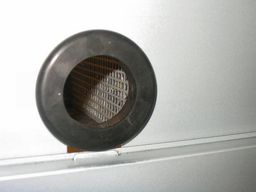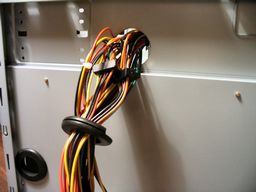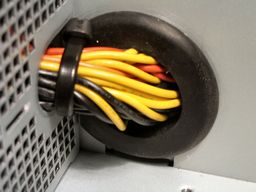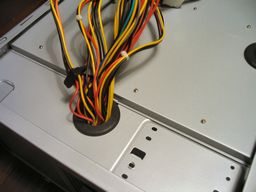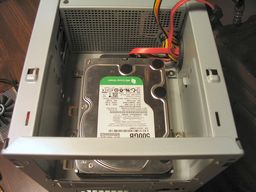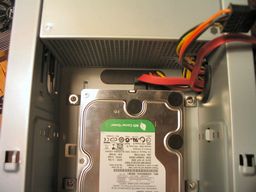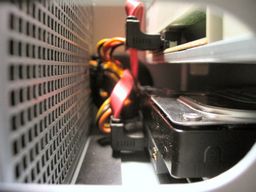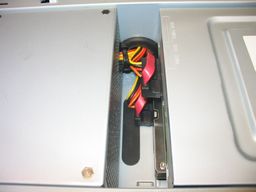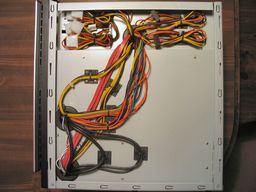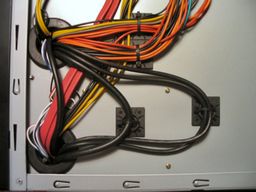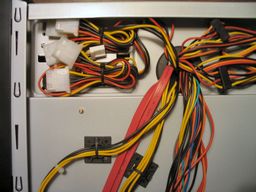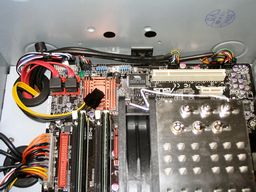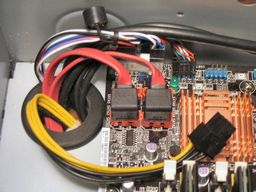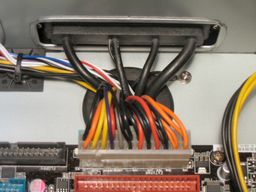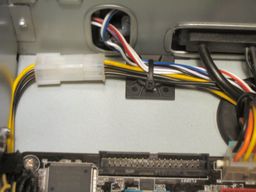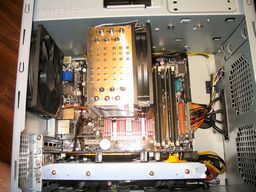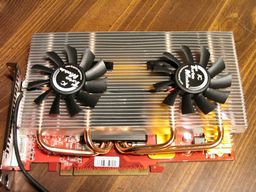 SPCR Forum thread...
http://www.silentpcreview.com/forums/viewtopic.php?p=441488
Last edited: