Joined

Jan 28, 2014
Messages

38,879
Credit to
SOAREVERSOR
. Konami today announce the upcoming release of a classic mini console version of the PC-Engine, known as the TurboGrafx-16 in the United States. An official announcement and reveal will be made at E3 later today. The full lineup of games and release date will be revealed in the future.
https://www.konami.com/games/eu/en/topics/15123/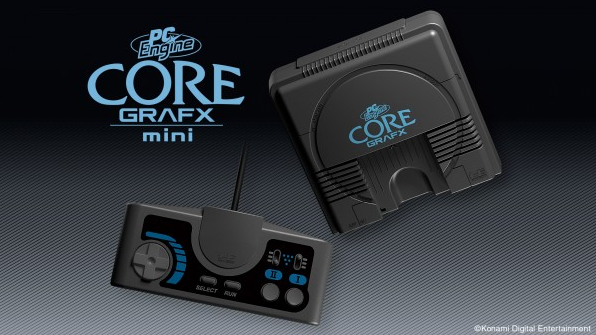 Konami Digital Entertainment, B.V. today announced PC Engine Core Grafx mini, a compact version of the classic 1980's console. The console will feature a range of classic retro games with part of the line-up announced today at the 2019 Electronic Entertainment Expo (E3) in Los Angeles.

Now even smaller compared to the original, the console will fit in the palm of your hand and feature a full-sized controller.

The announced catalogue of titles pre-loaded on the PC Engine Core Grafx mini include:
R-TYPE
NEW ADVENTURE ISLAND
NINJA SPIRIT
Ys BOOK I & II
DUNGEON EXPLORER
ALIEN CRUSH
With more to be announced soon…
PC Engine Core Grafx mini will be released in select European countries. Two additional variants will be released in North America and Japan, named TurboGrafx-16 mini and PC Engine mini respectively.

More details including full game line-up, pricing and availablility will be announced at a later date.

The original consoles were well-known for introducing several historical firsts, including the first console with a CD-ROM add-on and the first console to offer multi-tap support for up to five players. More than that however, the consoles became a collector's favourite thanks to their quality game line-up; many of which will be included in this re-release.

EDIT: Wanted to give a shout out to
Damar
, as well. Apparently he posted this at 8:00 this morning in the Console section, but I missed it.
Last edited: