Joined

Oct 4, 2010
Messages

1,036
So. I have been recently desiring to purchase my first mechanical keyboard. However, I am a poor college student, and as I was browsing for a cheap mech board, I came across the i-rocks 6260 gaming keyboard, claiming to have the same feel as a mechanical keyboard, yet still being a rubber dome board, using "POM rubber dome plunger style" switches. At 20 bucks, I had to give it a shot.
Now, a little bit of my personal keyboard history. I am not terribly experienced as far as mechanical keyboards go. I have used blue switches on the razer BWU, and liked it, and I have used a couple of the old IBM and Dell keyboards that used mechanical switches, but I havent used very many mechanical boards. I have had many apple keyboards, scissor switch and not, and my most recent keyboard was a Logitech G510 gaming keyboard ( I loved it. )
That being said: Here is a picture of this boards unique switch, followed by my review.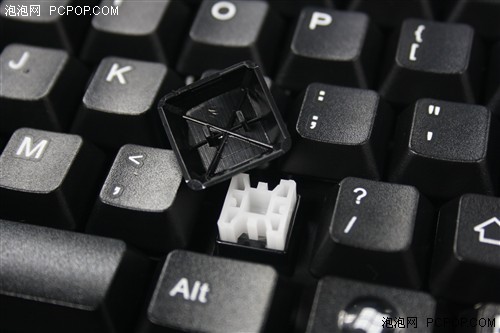 The packaging this board came in was nice, but very standard. Nice solid cardboard box, packed away in the newegg packaging, which is generally very nice. The board was also wrapped in some plastic covering, protecting it nicely.
When I first got it, I was actually surprised, it has some decent weight to it. The board itself is pretty solid feeling. Makes my G510 feel cheap. The board weights 740 grams, and it's dimensions are 440x136x26mm. Small and solid. I like it so far.
The keyboard itself has 4 modes. General, which is just as it says, general. But it also has 3 "gaming" modes, which are really nothing special, except they do disable the windows key, which I am grateful for, but the other feature simply just turns up the key repeat rate. Not really sure how that will help in any games...haha.
It's your standard layout, but with a large enter key, and small backspace. I don't mind so much, but this may be a deal breaker for some. As far as typing goes. Well, WOW. Of the few mechanical keyboards I have typed on, this does have an incredible mechanical feel. For those who aren't so obsessed that they could guess which switch the keyboard is using just by feel, it would certainly be difficult to tell that this is a dome board. The sound is obviously a bit quieter, but that's ok with me. I'm not one for super clickly boards.
Lets just say this board has convinced that my next board will certainly be a mechanical board. It's an absolute dream to type on. But, it may be a while before I feel the need to buy a new board, I'm loving this so far!
Here are a few pics.
Last edited: