For all you storage fanatics out there. This may be something for you, all for the low price of $2,800.
https://arstechnica.com/gadgets/202...-that-holds-up-to-21-pcie-4-0-ssds-168tb/amp/
The X21's product page says the AIC works in a standard PCIe 4.0 x16 slot. Images show 10 slots and a heatsink inside a pair of printed circuit boards (PCBs).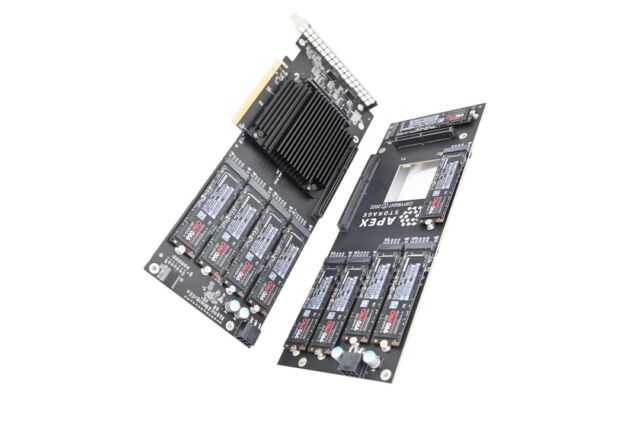 There are also 11 slots on the PCB's exterior. The card is reportedly full-height and full-length and supports QLC, TLC, MLC, and Intel Optane drives. In terms of operating systems, there's support for Windows 10, 11, and Server, plus Linux.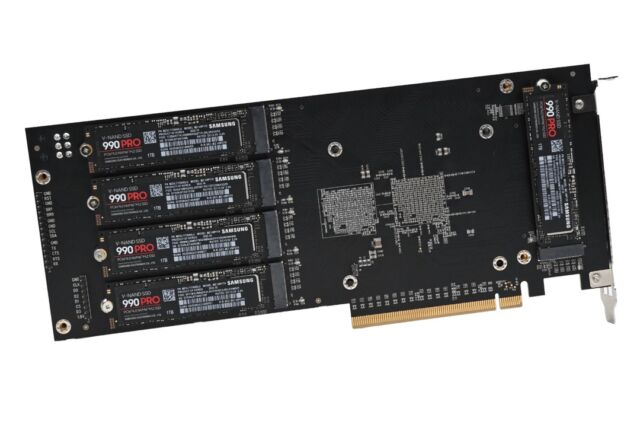 "The card is PCIe fanout, so RAID support would be provided via software or third-party hardware solution, like Graid," Hill told Ars Technica.
Apex Storage is also looking forward to the AIC being able to support up to 336TB should 16TB M.2 2280 SSDs come to market.
Speaking of forward-looking, this component isn't technically future-proofed, since it doesn't support PCIe 5.0 (it's backward-compatible with PCIe 3.0). But while the X21 doesn't target budget-prioritizing users who would opt for HDDs, using
PCIe 5.0 SSDs
would be even more prohibitively expensive. The AIC's cooling requirements would also increase. As it stands, the X21 requires 400 LFM (linear feet per minute) airflow.
In terms of performance, Apex Storage is claiming sequential read and write speeds of up to 30.5 and 26.5GBps, respectively, while a multi-card setup claims 107GBps and 70GBps, respectively. Apex Storage's website also points to 7.5 million IOPS random reads and 6.2 million IOPS random writes with one card, with those figures expanding to 20 million and 10 million, respectively, in a multi-card configuration.