Well, I got in over my head with frivolous spending and my gf is started to get mad at me. I'm seeing which one of my recent big purchases sells first and keeping the other one, so we shall see. Ok, onto the goods!
Xidax XM-10 (can be seen here:
http://www.xidax.com/products/laptops/XM-10
)
i7 4810mq, 3.8ghz turbo
GTX 980m WITH 8GB VRAM
2x4gb 1600 ram
256gb ssd
750gb 7200rpm hdd
17.3" 1080p matte screen
The laptop has 4 ram slots so it's easily expandable to 16gb if you like. It has a 4 zone programmable back-lit keyboard, great sound with a built in subwoofer, and many other goodies. I've had a few gaming laptops but never anything like this. Maxwell is an absolute game changer when it comes to mobile gaming.
The 980m @1080p literally performs equally with my desktop 970 @1440p. I play Far Cry 4 on both with the same settings (nVidia preset, but with SMAA instead of TXAA which I find too blury) and get an extremely playable 30-60fps depending on the scene.
This thing is an absolute monster and it kills me to even list it, but something's gotta give.
Price:
SOLD
As configured on the Xidax website this laptop costs $2350 before tax and shipping. I am the original owner and have had it barely a month. It is functionally and cosmetically flawless.
For my asking price I will even include a Case Logic backpack perfect for towing this thing around, found here:
http://www.amazon.com/Case-Logic-RBP-117-17-3-Inch-Backpack/dp/B0055YB5IC/ref=sr_1_6?ie=UTF8&qid=1418482244&sr=8-6&keywords=laptop+case+case+logic
I will update the post later with a couple bench results and pictures. Thanks for looking!
The beast dwarfing my gf's 13" pro retina.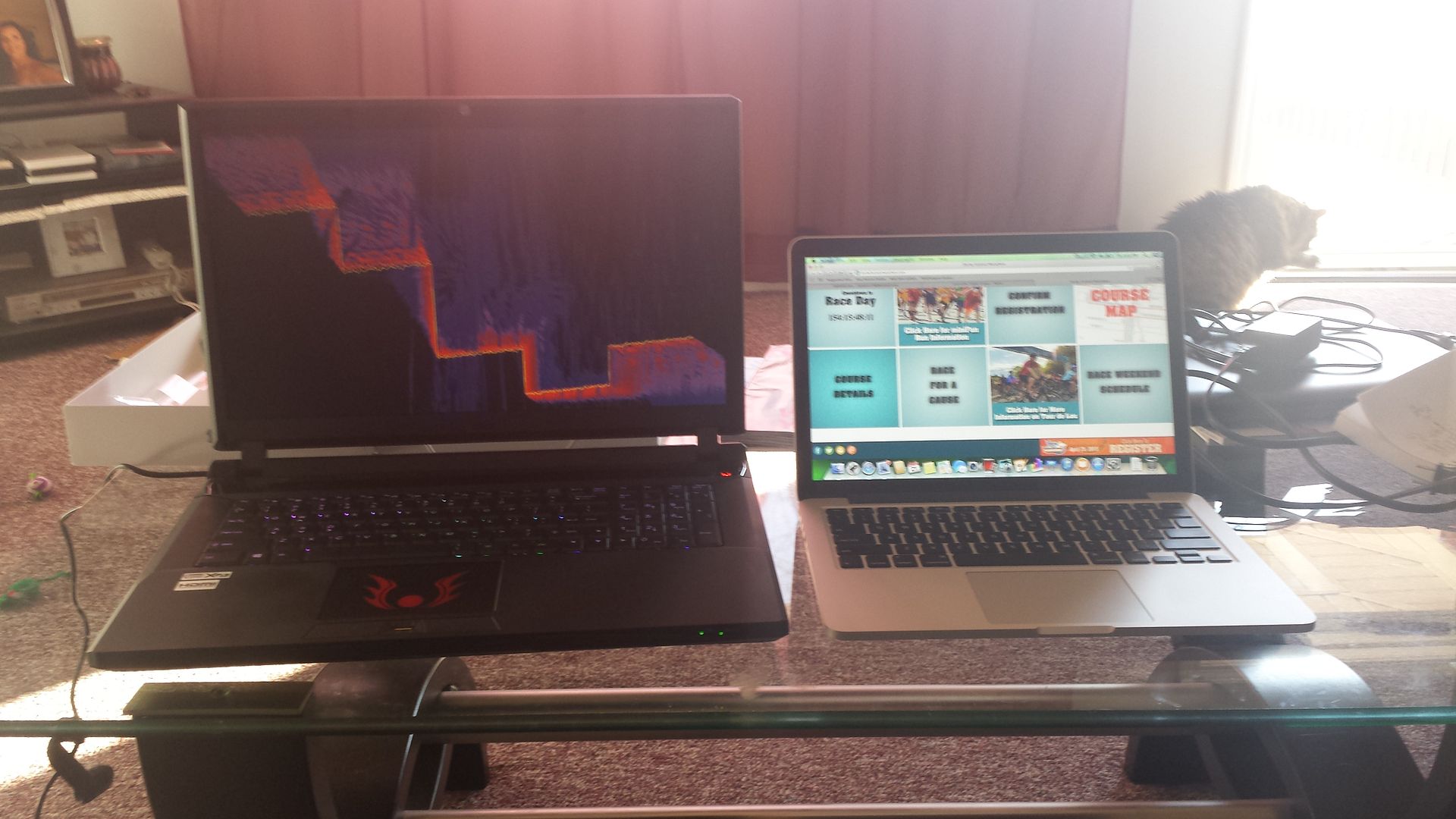 Last edited: