Joined

Aug 1, 2005
Messages

4,569
SOLD: Items sold to noxqzs
I'd like to sell both of these as a package deal so I can get the sale done and over with. Now some information and disclaimers in this sale based on the title:
CPU: Intel 7700K @ 5 GHz.
This thing runs 5 GHz 100% stable at only
1.28v load (1.30v in bios)
using my Asus Maximus IX and ram at 3000 MHz. I've tested this in numerous games and applications and it has never once crashed. I ran numerous stress tests (including Intel Burn Test and video editing in Sony Vegas) and I had to cut the Intel Burn test off prematurely because it was overwhelming my closed loop cooling. However, in daily use, even with the H110 the temps never go above the 60s mark.
Some pics I took yesterday of the tests + my bios settings: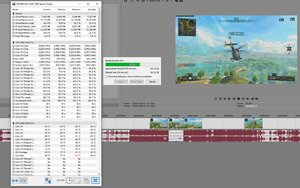 Bios settings:
https://imgur.com/a/iUYenrt
DISCLAIMER: I DO NOT GUARANTEE YOU WILL GET THE SAME RESULTS. THIS IS ALL DEPENDENT ON YOUR SYSTEM, ABILITIES AND CONFIGURATION. Take this as something that is possible but in no way am I promising you will achieve the same result. Don't come crying to me afterward and asking for tech support to achieve 5 Ghz, I don't have the time or inclination for that!

I also reserve the right not to sell to you or change my mind.

Motherboard:
ASUS Maximus IX Hero. Not much to say other than it's in great shape, will come with the IO shield and original box. If someone buys both the CPU & Mobo together, I'll keep the CPU in the socket.
Price:
Combo: $330 + you pay shipping/insurance.
CPU: $245 + you pay shipping/insurance.
Mobo alone: $120 + you pay shipping/insurance.
Shipping & Sales Terms:
I have the original box for the Maximus IX and I might have the original CPU box but I'd have to go look. If I can't find the CPU box, I'll package it appropriately and send it.

I WILL SEND PICTURES OF THE MOBO PINS PRIOR TO SHIPPING so there's no arguments about it not being intact before it was shipped. If it breaks in transit, you agree to wait on a USPS claim and work with me by providing evidence they require. If you break it, no refunds, sorry I'm not Amazon.

The CPU is also provided as is with no warranty or returns provided. I test everything before selling anything so I know they work. If it fails during shipping, you agree to the same USPS claim standards as outlined above.
Shipping fees:
You pay for shipping + insurance. To know the price, send me your zip code via PM and I'll give a rough estimate using USPS.
Payments:
Google Pay (preferred) or PayPal.
Feedback:
Heatware 55-0-0
Last edited: