Hi all,
I'm looking to sell my Dell XPS 15 9550, with the following specs:
Intel Core i7-6700HQ Processor 2.6GHz
Microsoft Windows 10 Home 64-bit
16GB DDR4-2133 RAM
1TB Samsung PM951 NVMe PCI Express SSD
NVIDIA GeForce GTX 960M 2GB GDDR5
3-in-1 Card Reader
Dell Wireless 1830 3x3 802.11ac
Bluetooth 4.1
Thunderbolt 3/USB-C
84 wHr 6-cell battery
15.6" 4K Ultra HD InfinityEdge Touch Display
Also including the Dell Dock WD15 w/ 180W adapter, which provides a single connection to the USB-C port:
Supports 2 FHD displays
Two USB 2.0 ports
Three USB 3.0 ports
Speaker output (rear)
Combo audio (front)
Gigabit Ethernet
Kensington Lock Slot
180W AC adapter with 7.4mm barrel
I've been using this as a simple dock and after a few firmware updates/etc. it's now working very smoothly (initially it had a lot of issues with USB connections dropping out).
Warranty Details:
4 Years PremiumCare, Complete Care Accidental Damage Protection, Onsite Service After Remote Diagnostic
Good through December 1, 2019
I got the 4 year warranty because I wanted to be prepared for any issues, given that people have reported various issues with the XPS 15 9550.
So far I've only used the warranty once, to have them fix the spacebar issue (this is a somewhat common issue where the XPS 15 9550 spacebar sometimes does a double space or extra space where you didn't want one). The warranty has given me a lot of piece of mind, and the onsite service meant they came to me to do the repair.
It's been a fine laptop, but I'm realizing I want to go back to a desktop or at least get a beefier laptop with a 1070 in it). I had originally been hoping to use a Thunderbolt 3 eGPU dock, but it seems really questionable whether or when that will be a real option with this laptop.
Laptop is in very good condition - only thing really is the sort of typical oily bits around the touchpad. I've been keeping it protected in a laptop bag and using a Razer keyboard cover/screen protector as well.
This is about the most complete XPS 15 9550 setup you can get (other than that it only has 16GB of RAM, while the newest configuration of this laptop with the 1TB SSD has 32GB of RAM instead), especially with the WD15 dock and the 4 year warranty.
$1800 shipped within the US. If you're in the DC/VA/MD area, could also arrange for local sale.
My heatware is Zadillo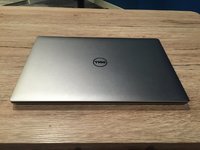 Last edited: