Joined

Jul 30, 2008
Messages

354
Update
05/31/18. Bottom of OP.
https://twitter.com/BethesdaStudios
https://www.twitch.tv/bethesda
https://www.youtube.com/channel/UCvZHe-SP3xC7DdOk4Ri8QBw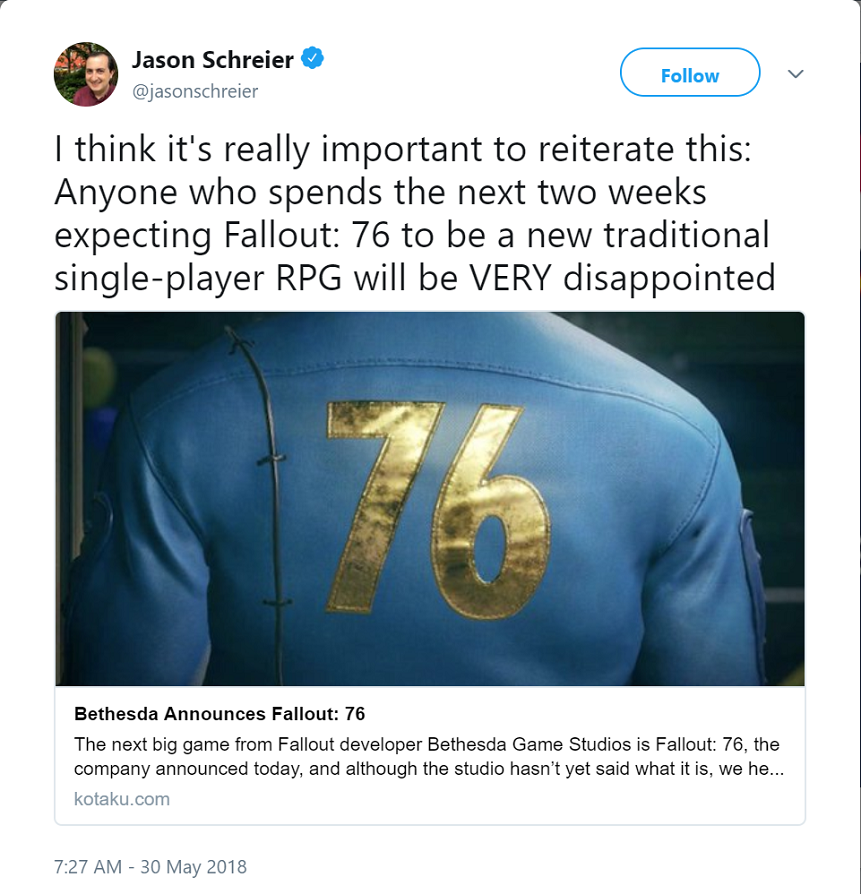 https://www.reddit.com/r/Games/comments/8n93ff/anyone_who_spends_the_next_two_weeks_expecting
Jason Schreier
Today 10:00am Filed to: FALLOUT

The next big game from Fallout developer Bethesda Game Studios is Fallout: 76, the company announced today, and although the studio hasn't yet said what it is, we hear it's an online game of some sort.

From what we've heard, this game is under development at both Bethesda Game Studios' main office in Maryland and at the Austin office formerly known as Battlecry Studios. That Austin office, which started in 2012, was making a hero shooter called Battlecry before Bethesda canceled it.
We'll see more of the game at Bethesda's E3 press conference on June 10.
Quote source =
https://kotaku.com/bethesda-announces-fallout-76-1826417383
Kotaku reported that Fallout 76 will be "an online game of some sort." Polygon has also heard the game will feature multiplayer.

A press release sent out by Bethesda said Fallout 76 is in development at Bethesda Game Studios on PlayStation 4, Windows PC and Xbox One. We expect to learn more during this year's E3 in Los Angeles. Bethesda has its own press conference, called BE3, scheduled for Sunday, June 10, at 6:30 p.m. PT. It's the publisher's fourth dedicated E3 event.
Read the rest @
https://www.polygon.com/2018/5/30/17408674/fallout-76-trailer-pc-ps4-xbox-one
Sources: Fallout 76 Is An Online Survival RPG[/size=4]
Jason Schreier
Today 1:47pm Filed to: FALLOUT

When Bethesda announced Fallout 76 with a teaser trailer this morning, promising more information at E3, it was easy to assume that the new game would be a traditional single-player role-playing game. But Fallout 76 is in fact an online survival RPG that's heavily inspired by games like DayZ and Rust, according to three people familiar with the project.

Those people, speaking anonymously so as not to damage their careers, confirmed that Fallout 76 is an experimental new entry in the longrunning post-apocalyptic series. When Bethesda first teased the game on Tuesday morning, fans and pundits speculated that it might be a Fallout 3 remaster or a New Vegas-style spinoff in a new location, but as Kotaku reported that afternoon, it is in fact something completely new and completely different. The teaser might lead Fallout fans to believe that this is a traditional entry in the series, but according to our sources, that's not the case.

Originally prototyped as a multiplayer version of Fallout 4 with the goal of envisioning what an online Fallout game might look like, Fallout 76 has evolved quite a bit over the past few years, those sources said. It will have quests and a story, like any other game from Bethesda Game Studios, a developer known for meaty RPGs like Skyrim. It will also feature base-building—just like 2015's Fallout 4—and other survival-based and multiplayer mechanics, according to those sources. One source cautioned that the gameplay is rapidly changing, like it does in many online "service" games, but that's the core outline.
The game is named after the series' Vault 76, which has been mentioned in both Fallout 3 and Fallout 4. According to Fallout lore, Vault 76 was meant to open just 20 years after the nuclear war, allowing for a far less civilized setting than previous games. Fallouts 3 and 4, which are full of cities and settlements, both take place over 200 years after the war, after much of the population has had time to reconstruct human civilization. Fallout 76 will feel very different. As the narrator of the trailer says: "When the fighting is stopped, and the fallout has settled, you must rebuild."
Read the rest @ https://kotaku.com/sources-fallout-...lflow&utm_campaign=Socialflow_Kotaku_Facebook
Dennis Mejillones -
https://twitter.com/Vsions
Dennis Mejillones -
https://www.instagram.com/vsions1/
Matt Frary -
Last edited: