Joined

Feb 26, 2005
Messages

2,755
So.... I saw someone selling a 7J13 AMD Epyc on ebay and couldn't resist. It seems to be basically a an Epyc 7763 chip built for OEMs. 64 cores, base clock of 2.45GHz, boosts to 3.52GHz, based on Milan (Zen 3). NKD hooked me up with a new GPU earlier so I decided to make a "workstation" for fun. Not sure if I'll keep it like this permanently or switch it out for something more sensible, but for now I'm playing around with benchmarks and such.
The build didn't start off great. The used 1600W T2 I bought was a little rougher than described. And then it wouldn't fit in my mid-tower Lian-Li case so I had to make a trip to Microcenter for a new case.
After that things proceeded pretty smoothly, if tediously. I picked up another Lian-li, the Mesh 2 this time, and while I like the design, it's pretty annoying to remove the drive bays and some of the other stuff. Here's how it looks with the PSU and motherboard installed. The cooler is massive, roughly the size of a NH-D15 but one giant chunk of metal. The only ECC memory I had lying around was a mixture of 2400MHz and 2666MHz (CL20 I think) so I'll have to put some 3200MHz in at some point. Right now that's a pretty big step down from the 3600MHz cl16 stuff I had in my desktop before.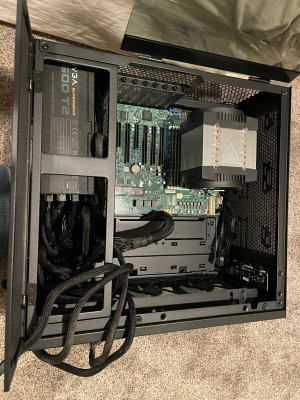 After that I had to move the fans on the radiator and install the GPU. This leaves me with 1 case fan, 2 radiator fans, and the CPU fan. Not awesome, but there's not room for much more. I suppose I could possibly fit two on the top of the case, and maybe some extras on the back behind the CPU cooler and in front of the radiator, but that seems redundant. I also had to use extenders for the CPU power plugs (ugly yellow cables). A 12-pin GPU cable would've saved a lot of clutter here as well, but those new PSUs are expensive.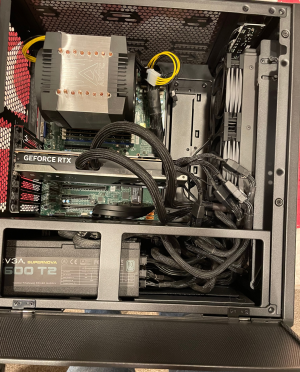 After everything was put back together it had to go under my desk for testing. I was worried about fan noise but so far it's basically silent, even when gaming or running cinebench for 10 minutes straight. Windows 10 pro had to reboot once to recognize it, and boot times are horrendous (almost like zen 4), but other than that not too many complications. Still playing around with BIOS settings but I think I'm just making performance worse. My 3DMark GPU score went from 35.8k to 15k, and the CPU score was basically unchanged from my previous 5800X3D. However, I'm not sure how well this translates to games since in-game performance doesn't seem to be nearly as bad as I expected.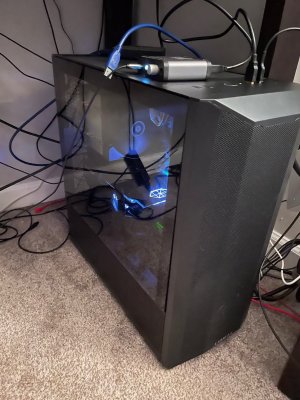 Some rough figures (1440P):
A Plague Tale: Innocence is running at between 120-230FPS with everything maxed except vsync. 2-3ms frametimes. Very smooth experience.
Witcher 3 Raytracing is running at 50-60 FPS with TAAU on (I turned off vsync, bloom, depth of field). Could be smoother. Feels similar to the 5800X3D performance.
Pathfinder: WOTR is running 50-60 FPS but sometimes I'm getting stutters.
Dota2 (the only one I logged before/after stats for using a standard benchmark): Pretty terrible, avg FPS went from 375 to 166. 1% lows went from 140FPS to 77FPS. About a ~50% reduction across the board.
Cinebench without any tweaks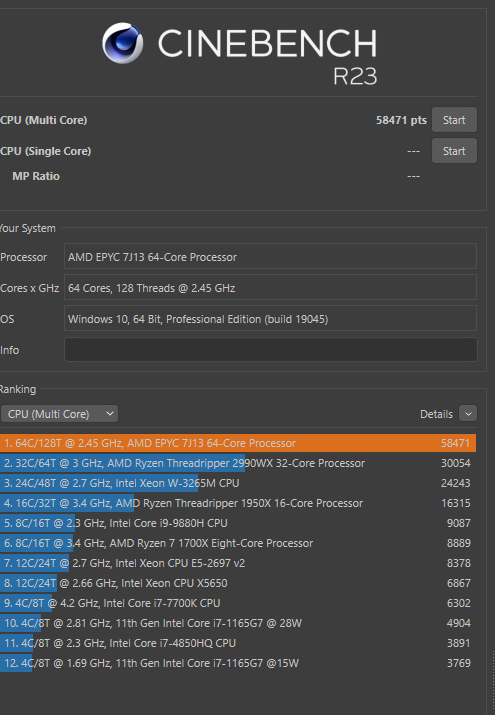 Last edited: