Hi guys, I am very new to the idea of rack mount storage. I have been using a ~5 year old 2 bay Netgear ReadyNAS Duo box to backup my wife's photo business data and some misc data we have. But recently I ran out of space on the 2tb limited capabilities of the Netgear and it was annoying having to buy old 2TB hard drives that were compatible with it. I also have about 6 external USB Hard Drives to store a 12GB collection of Blu-ray movies that feed a WD Live media box.
So I began the search for something else. Started reading and decided to go big with a 16+ drive storage solution. I bought a bunch of Hitachi Ultrastars SAS 7K3000 drives in 2TB and 3TB sizes. I also bought a HP Z800 ($225) as a server for the SE3016. Quickly I realized I was building a power hungry monstrosity.
I already purchased a SE3016 to house all the drives before I remembered my neighbor had an enterprise electronics recycling business.
I got his list of electronics and immediately focused in on a Dell MD1200 (since it was by far one of the newer storage devices on his list) and a Dell R720 (with a 2013 build date, and PERC H710P ).
$400 to my door for the R720 and MD1200!
I'm pretty sure he is doing me a favor with these prices.
While I realize there are a million options and typically at today's normal pricing of a MD1200 and R720, it would be stupid for me to use these as a home data storage and movie server but at $400 total, am I going to be good with what I bought?
The config for the R720: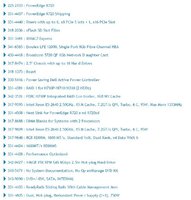 Here is the MD1200 Configuration page: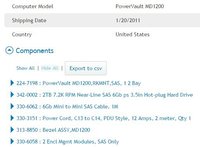 I know my question is very vague but I will be learning as I go, just checking to make sure 6 months from now I don't realize I made a poor decision and need to start over.
Help please, be gentle...
Last edited: