Joined

Dec 19, 2005
Messages

10,674
Hallucinated AI content
"The AI policy update comes just weeks after
CNET
's editorial staff
announced
they had formed a union with the Writers Guild of America, East — and guardrails around the use of AI systems was among concerns. Workers cited a "lack of transparency and accountability from management" with regard to the use of AI tools, as well as concerns around editorial independence at the outlet. The policy was crafted internally, and the union was not involved in discussions. (
Disclosure: The Verge's editorial team is also unionized with the Writers Guild of America, East.)
In February,
The Verge
reported
that
CNET
journalists were at times pressured to change their work to appease advertisers, and some staff members were asked to work on ads for Red Ventures clients, causing frustration and prompting staff to try to push back.
In a tweet, the CNET Media Workers Union said it would negotiate key issues like testing and reevaluating the tool and the ability to pull bylines before the tool is deployed.
CNET
is just one of several high-profile news outlets that have announced the use of generative AI models for stories. In February,
BuzzFeed
began
publishing quizzes
that used an AI software to generate answers, eventually publishing
dozens of travel guides
using AI tools. In April,
Insider
said
it was experimenting with using ChatGPT to generate SEO headlines, do interview prep, and create outlines, as well as adding AI-generated text to stories."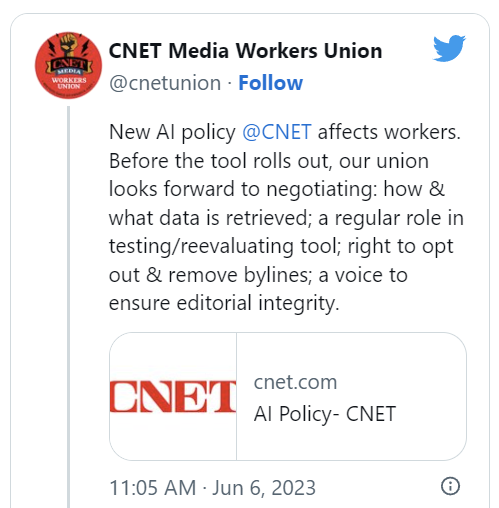 Source:
https://www.theverge.com/2023/6/6/23750761/cnet-ai-generated-stories-policy-update