AT got to spend some time with intels new core. While there are some nice gains in specific tests, overall progress is limited because while IPC improves, clock speed regresses almost an equal amount:
https://www.anandtech.com/show/14664/testing-intel-ice-lake-10nm/4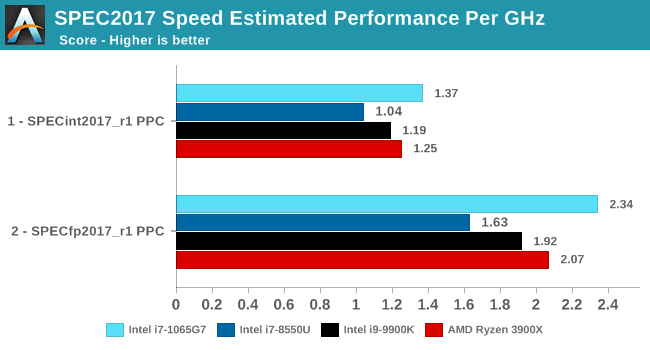 A quick calculation of 1.47/1.42 means that even Intel is only predicting an absolute gain of ~3.5% for Ice Lake over current generation systems.

The reason why the difference is so small is because of IPC and frequency. Intel is touting a median IPC advantage on the new Sunny Cove cores of +18% against Skylake. That isn't something we were able to test in the short time we had with the system, but +18% should provide a healthy bump – we actually see a number of key microarchitectural improvements bubble up through in our SPEC testing.

But at the same time, the frequency has decreased – our Whiskey Lake Huawei Matebook system was +500 MHz on the base frequency (+38%), and +700 MHz on the turbo frequency (+18%). If it were not for the vast increase in memory speed, moving from LPDDR3-2133 to LPDDR4X-3733, one might have predicted that the Core i7-1065G7 Ice Lake processor and the Core i7-8565U Whisky Lake processor would have performed equally.