Anandtech pulls together the Ice Lake info form Intels Computex presentation. I know some of this was presented in pieces elsewhere, but this pulls it together.
It also the most important CPU news for Intel going forward. This Intels new core, and new IGPU. It may also be Intels only real "good news" for consumers in the next year.
https://www.anandtech.com/show/14436/intel-10th-gen-10nm-ice-lake-cpus
At Intel's Keynote presentation here at Computex, the company finally lifted the lid on its first widely available new CPU design on its 10nm process, called Ice Lake. The official marketing name for these processors will be 'Intel 10th Generation Core', and will feature up to four CPU cores with Intel's new Sunny Cove architecture, new Gen11 graphics supplying up to 1TF of graphics/compute performance, and built in support for Wi-Fi 6 and Thunderbolt 3.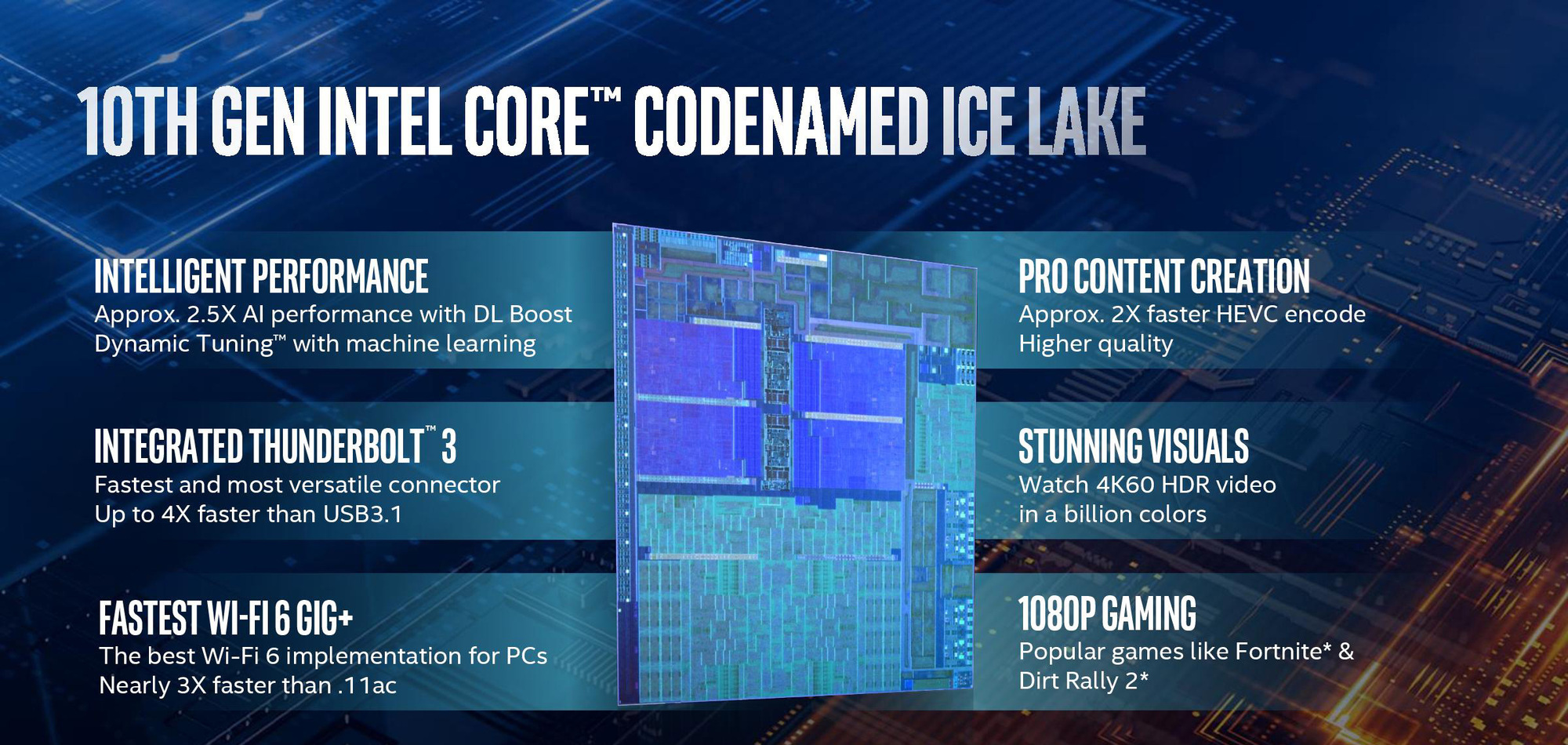 Highlights include:
10 nm process
:
Intel's long delayed process finally comes to the mass market. Starting in mobile where power benefits are most needed, and lower clock speeds are not detrimental.
IPC improvement:
This is already being discussed
here
. Though largely with skepticism. Given the work noted, this seems like a reasonable increase given the changes:
For Ice Lake, the doubling of the L2 cache, the increase in execution ports, and the dispatch capabilities of the front end of the core all provide big improvements. Intel also states that the pre-fetchers are improved, which also helps with that 18% IPC increase.
New Generation IGPU:
A big jump in gaming performance getting to about parity with AMD mobile parts, apparently without needing an extra L4 cache chip. Faster and Higher quality HEVC encoder.
I/O enhancements
:
Integrated Thunderbolt 3. Wifi 6. LPDDR4X 3733 support.
On paper this looks like one of Intels biggest jumps forward in MANY years, and a tough to beat mobile platform, at least until AMD 7nm APUs show up.
Hopefully reviews can find a way to lock clock speeds on a laptop to see what Sunny Cove cores bring to the table.