Joined

Dec 19, 2005
Messages

9,848
Thought all this information was already out? Hmm
"AMD's Ryzen 7 7800X3D has plenty of promise, and we're sure that it will be this generation's
Ryzen 7 5800X3D
— the overwhelming choice for gamers that are solely interested in gaming.
The 12-core and 16-core Ryzen 7000X3D bring 3D V-Cache tech to AMD's multi-compute-chiplet processors for the first time (
deep dive here
), but they require special handling via AMD's drivers to ensure the highest performance, while the Ryzen 7 7800X3D has a single chiplet and will operate more like a traditional CPU. AMD's special driver sauce does a great job of delivering exceptional gaming performance for multi-chiplet designs without user intervention, but the 7800X3D will have a simpler plug-and-play implementation.
AMD was also uncharacteristically silent about the 12-core Ryzen 9 7900X3D, but for different reasons. AMD shared zero official benchmarks for the 7900X3D and didn't sample it to the press. We can see why; in our
Ryzen 9 7900X3D review
, we saw that the price-to-performance ratio was less than inspiring. If you're buying on the high end, there's no reason not to plunk down the comparatively small extra amount to get the flagship
Ryzen 9 7950X3D
.
In contrast, it appears that the Ryzen 7 7800X3D will be the complete opposite; this chip could severely cannibalize the sales of AMD's own higher-end models. We'll see soon enough, the Ryzen 7 7800X3D comes to market on April 6, 2023, and you can be sure that we'll have our review published in the same time frame."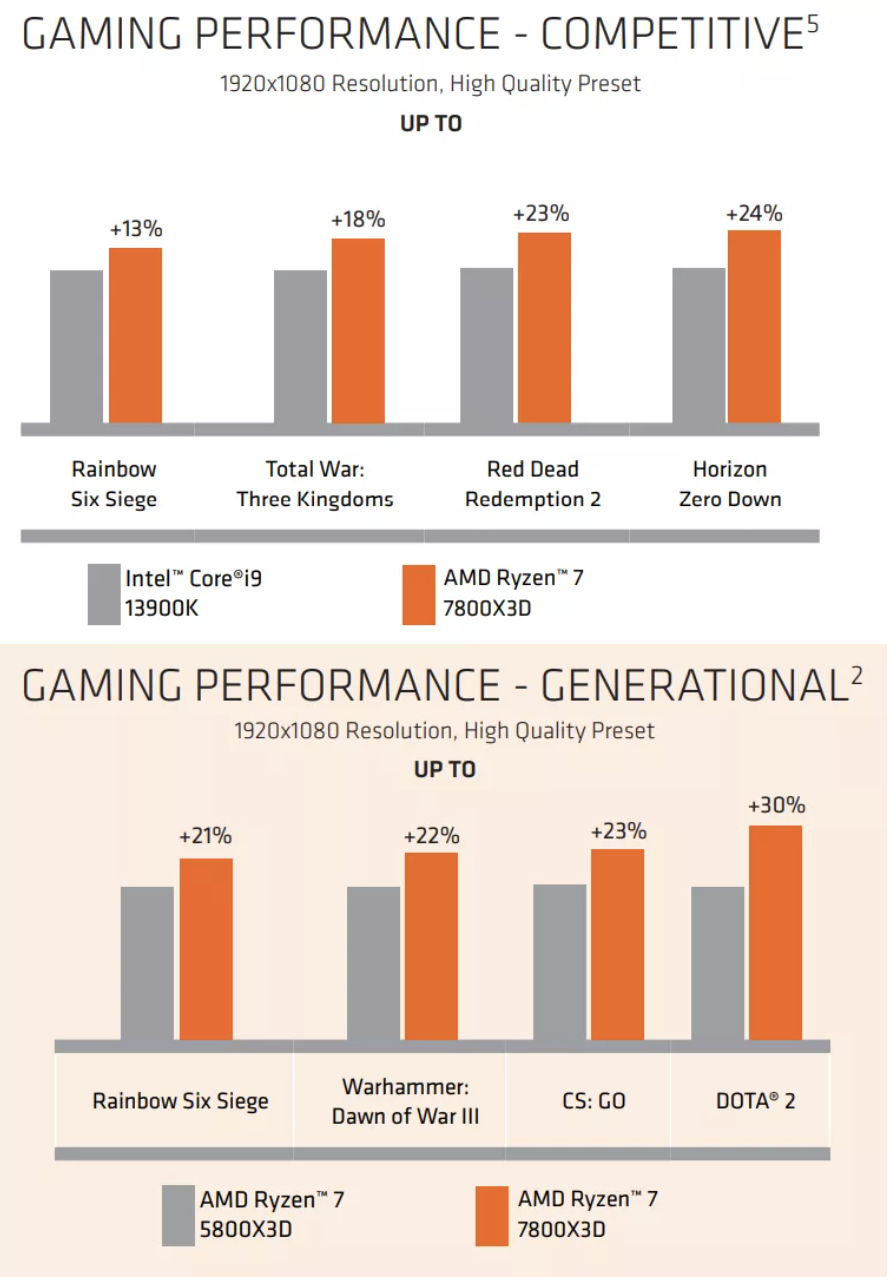 Source:
https://www.tomshardware.com/news/a...-i9-13900k-gaming-benchmarks-wins-by-up-to-24