Ok, so everybody knows nVidia didn't have the best drivers in Vista, especially in the TV-out department. Well, in Vista, XP and kubuntu, I never could get TV-out to work. At all. I've searched google, searched nad posted at the nvidia forums, still don't have a solution. My TV is a piece of crap, its a 25" analog TV with composite input (no s-video), but I still enjoy watching movies and such on it. I have tried an s-video to composite converter to no avail, different composite cables, and this
this
adapter. With that adapter, I can get a signal to the TV. But its completely messed up. I can't really describe it, so here is a video of it:
http://smg.photobucket.com/albums/v285/pan...nt=P1020869.flv
The Cpanel detects the TV... Kind of..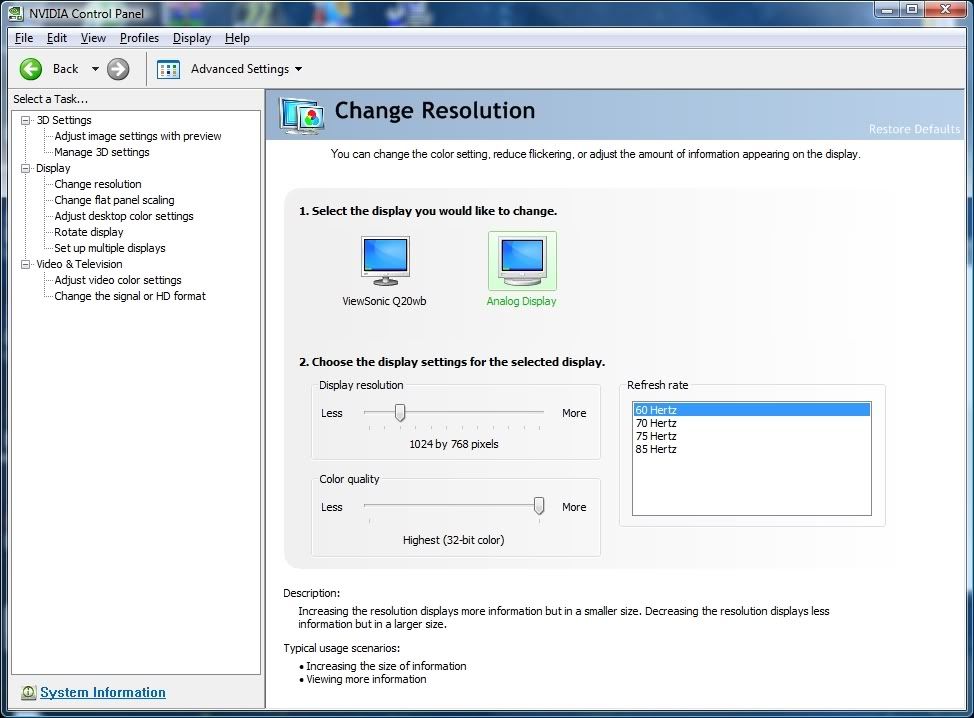 That's also without forcing TV detection. I've also tried hooking it up to my VCR, which also doesn't have s-video.
No Dice. Changing the resolution just changes the distortion, it doesn't help. Tried different drivers as well, from 158.XX to the latest 163.44. Nothing.
Now, the cable and the adapter work on my old 9600XT, so I know they are good. Any ideas as to what may be causing my TV out woes?
Intel Core 2 Duo E6420 Conroe 2.13GHz
GIGABYTE GA-965P-DS3 (rev. 1.3)
EVGA GeForce 8800GTS 320MB
CORSAIR XMS2 2GB (2 x 1GB) DDR2-800
OCZ GameXStream 600W PSU
Maxtor 300GB 7200RPM SATA150 16MB cache HDD
Sony NEC Optiarc 18X DVD±R DVD
Creative Sound Blaster X-Fi XtremeMusic 7.1
ZyXel m-202 802.11g adapter
Antec Nine Hundred
Creative 5.1 speaekers
Viewsonic Optiquest q20wb 20" LCD
Samsung Syncmaster 997mb
Any help would be greatly appreciated