Alright, I got the barebones kit in today. I figured I would make a thread because I know a few others are considering it.
kit:
http://www.ebay.com/itm/14066593412...NX:IT&_trksid=p3984.m1497.l2649#ht_3360wt_907
I took a video comparing the noise level of a 4p 212+ rig and this thing. I'm not sure how well you can perceive the volume from the video, but it was worth a try as I don't have a way to measure the db.
http://www.youtube.com/watch?v=JFwdlhxfbfc&feature=youtu.be
edit: small correction, the last video didn't have the fans on high. Here is a second video...
http://www.youtube.com/watch?v=DPdT5sf34JU&feature=youtu.be
Everything was included that we expected, and the package is still sealed from from SM.
Once I get the client up and running, I'll get you some load temps.
Now that the system has been running for awhile, I can update you with temps. It seems the back left cpu (cpu1) seems to run about 10 c hotter. Possibly due to poor airflow. When folding, temps sit at about 40-42 with the fans at a notch slightly above medium. For a point of reference, the 212+ in the same rig (while in the case) sit at 29 - 32. So, if you can handle the extra size, the 212+ run much cooler and quieter.
Here are a few pics of the cooling: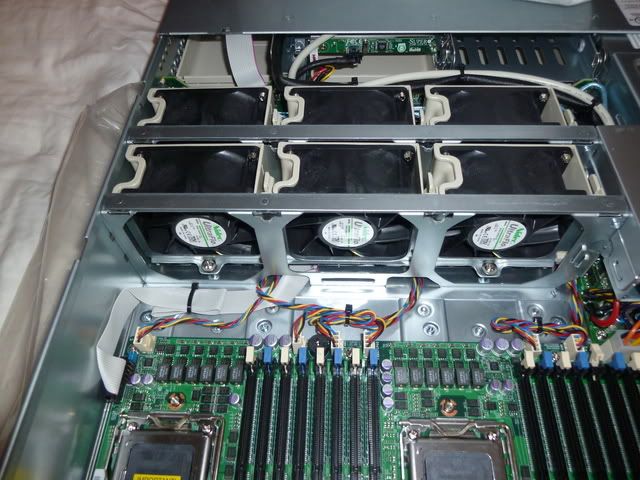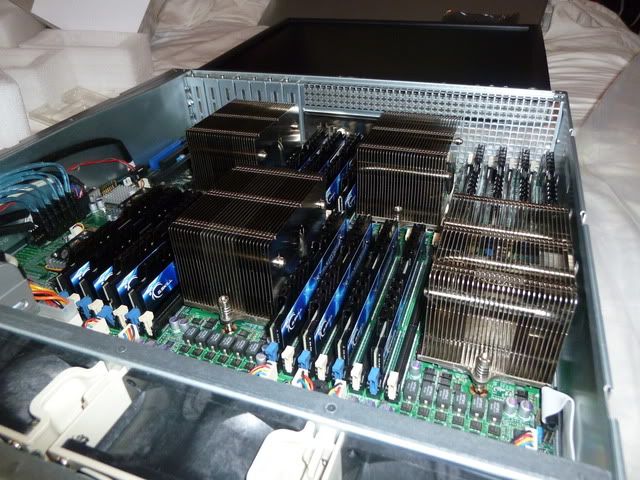 Last edited: