Ahhh, the good ol' "I only have 3.5 gigs showing" threads. Well mine is a tad bit unique.
What cpu-z shows: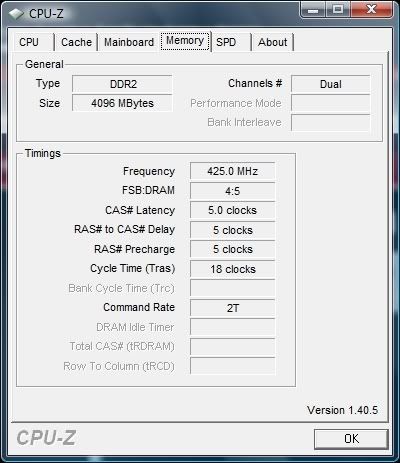 What system properties shows (cut up to not show license info):

What is shown on the memory tab in task manager: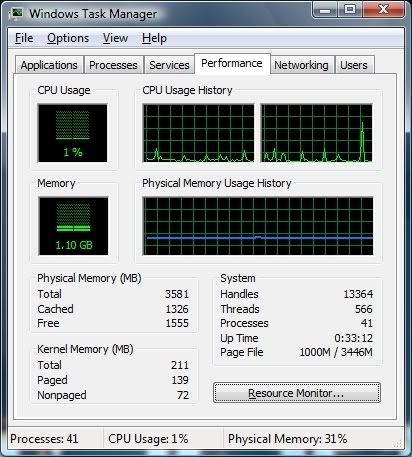 I just noticed this a few days ago. As you can see, my problem is that only 3581MB of memory is showing, as if I was running a 32-bit OS. But I'm running vista 64-bit. Google will of course turn that the reason I can't address all 4 gigs is that I'm using a 32-bit OS :\ I checked the BIOS to see if anything there looked like it could be limiting it as well as to try running stock clocks, and I noticed something called HTEP ( I think
). It had 2 options, 32-bit and 64-bit. I selected 64-bit but that hasn't helped. So, any other ideas as to why my 64-bit OS is behaving like a 32-bit one?
---

Intel Core 2 Duo E6420 Conroe @ 2.72GHz
Cooler Master GeminII
GIGABYTE GA-965P-DS3 (rev. 1.3)
EVGA GeForce 8800GTS 320MB @ 726/962
CORSAIR XMS2 4GB (4 x 1GB) DDR2-800
OCZ GameXStream 600W PSU
Maxtor 300GB 7200RPM SATA150 16MB cache HDD
Seagate 500GB 7200ROM SATA300 16mb cache HDD
Sony NEC Optiarc 18X DVD±R DVD
Creative Sound Blaster X-Fi XtremeMusic 7.1
ZyXel m-202 802.11g adapter
Antec Nine Hundred
Creative 5.1 speakers
Viewsonic Optiquest q20wb 20" LCD