Joined

Oct 29, 2000
Messages

37,351
Revision 2.1
Revision History:
1.0 07/22/2015 - Initial Revision
1.1 07/23/2015 - Corrected several embarrassing typos
2.0 07/27/2015 - Changed color mode recommendation from YCBrCr mode to RGB Full, Added Cyph's window resizing issue fix, Added 4:4:4 Chroma test image,clarified One Connect Box, other misc, minor corrections/clarifications.
2.1 07/28/2015 - Minor Typos. Moved Revision History to top of document.
So you bought a new fancy 2015 model 4K Samsung TV to use as a monitor and want to know how to set it up? Well, I'm here to lend a hand. First let me point out, that I in no way came up with all of this myself. It has been a team effort with different people figuring out different things and posting them in the mammoth 200+ page
New Samsung 4k for everyone
thread. As with all these threads, over time things get difficult to find when they are a hundred or so pages back, so here is a quick guide to get you going.
I will mention the term Chroma, 4:4:4 and 4:2:2 a bit. Their exact definitions are not really important to this writeup, but if you are curious, you can read up on the topic
here
.
Assumptions/Disclaimers:
This guide was written based on my JS9000 model. All of these models (JU6500, JU6700, JU7100, JU7500, JS7000 JS8500, JS9000) are very similar, but there are slight differences. This guide should still be mostly applicable for all of them.

This guide assumes you have the TV assembled already, have powered it on for the first time, and gone through the initial setup (setting date, time, network settings, etc.) but have not yet gotten to picture modes, color configurations, and other things which really make these TV's shine as monitors.

This guide assumes you have a HDMI 2.0 capable video card. These TV's are only equipped with HDMI ports, and this means that if you want the full 3840x2160 resolution at 60hz, and full 4:4:4 Chroma, HDMI 2.0 is the only interface that is going to work. At the time I am writing this, this means a GeForce GTX 9xx series card. While these ports will likely be available on all kinds of GPU's and computers in the future, right now GeForce GTX 9xx cards are the only game in town.

TV picture settings are VERY subjective. There may be recommendations in this guide you disagree with. That doesn't mean either of us are wrong, it just means we prefer things one way or another. Wherever possible I intend to identify which of the recommendations are particularly subjective ones, and which are fairly objective.
Before Connecting to Your Computer:
On the JS9000 and other higher end models the inputs are all in an external "One Connect" box, which connects to the back of your TV using a proprietary cable. The different ports on the box are labeled for different purposes. Some models do not have a one connect box, but rather connect straight to the back of the TV. Some have only one HDMI 2.0 port, in which case you'll need to use that port. On the JS9000 all the ports are HDMI 2.0 ports. They are labeled for different purposes, but for PC use with a video card that has an HDMI 2.0 port, any one of them should work. In this guide, I will be using HDMI1 as the computer interface.
While many of the early articles about HDMI 2.0 claimed you could use all your existing HDMI cables, this has sadly proven not to be the case. In order for this to work properly, you will need a good 18 Gbps HDMI cable, otherwise you might experience random dropouts, failure to connect at at high chroma (and thus poor image quality), or no signal at all. Keep the cables no longer than you need them, preferably 10ft or shorter. Even with cables rated for 18Gbps, many have reported that longer cables cause all sorts of problems.
So, now that we have the screen physically set up, there are a few settings that make sense to do before connecting it to your computer for the first time. Nothing will have been harmed if these steps are done later, but now is a good convenient time to do them.
Updating to the Latest Firmware -- Objective, but Debated
Samsung has made many improvements to the firmware in these TV's in a very short period of time, and they affect the exact type of things that we as PC users of these TV's care about, namely image quality and input lag. I say this is debated above, as some of the early firmware updates on lower end models with 4 core processors (the JS9000 has an 8 core CPU) actually had negative impacts on input lag. On my JS9000 - however - I have found that every update I have received has improved input lag in PC mode without worsening quality, and improved quality in Game mode without sacrificing input lag. While some users of lower end 4 core models still use older firmware revisions as a precaution, posters in the thread who have installed more recent firmware suggest that anything 1207 or later on lower end models are a safe upgrade without bad input lag. The latest firmware at the time I am writing this is 1217.
So there is a judgment call here, you can choose to keep the existing firmware for fear that updates will increase input lag, but on the JS9000 I wouldn't . Every firmware has been a clear improvement. On the lower end models, I still probably wouldn't based on what I have heard in the thread about 1207 and on, but it is worth keeping in mind.
Time to get started. Turn on the TV and press the MENU/123 button on your remote. You should see the screen below: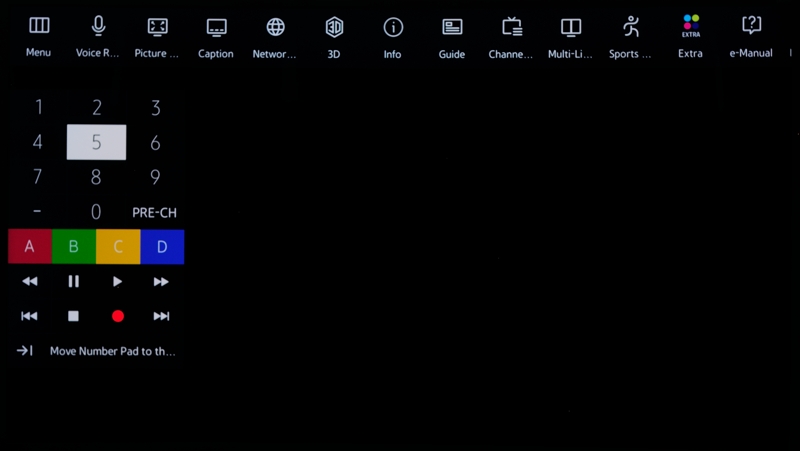 Using the arrow buttons on the remote (or the fancy WII-like accelerometer controls if equipped/desired) to navigate to the top left where it says "Menu".
You should now see the menu below: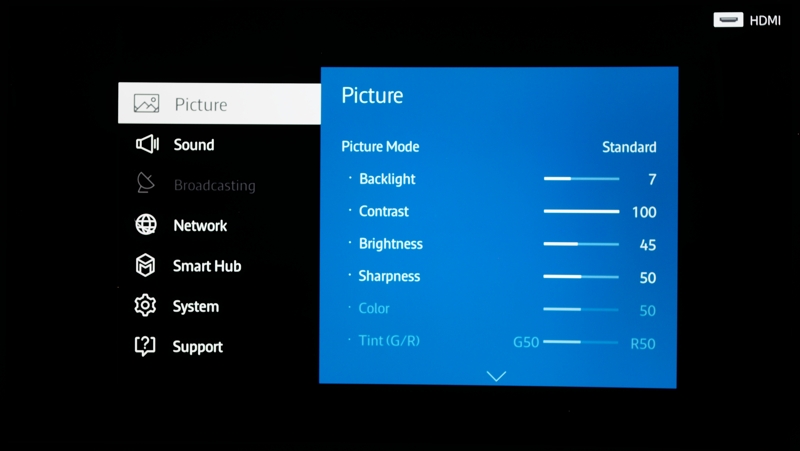 Navigate down the list and select the "Support" menu.
Once there, select the "Software Update" option.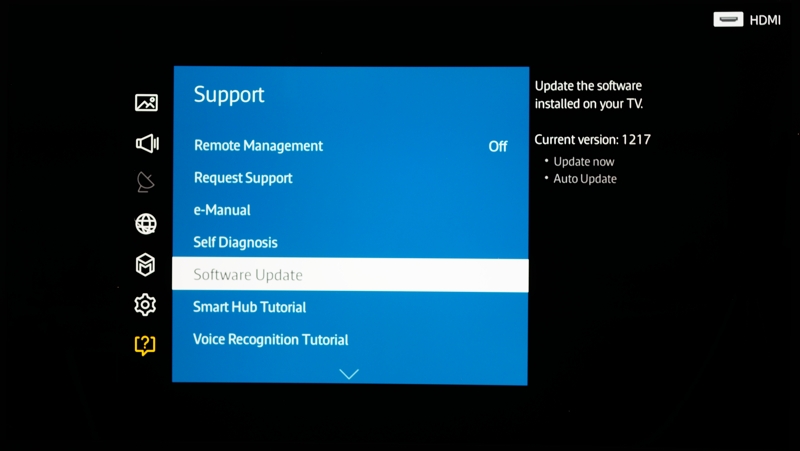 Now select the "Update Now" option. It goes without saying, but you'll need a network connection (wired or WiFi) for this, set up in the first time setup screen.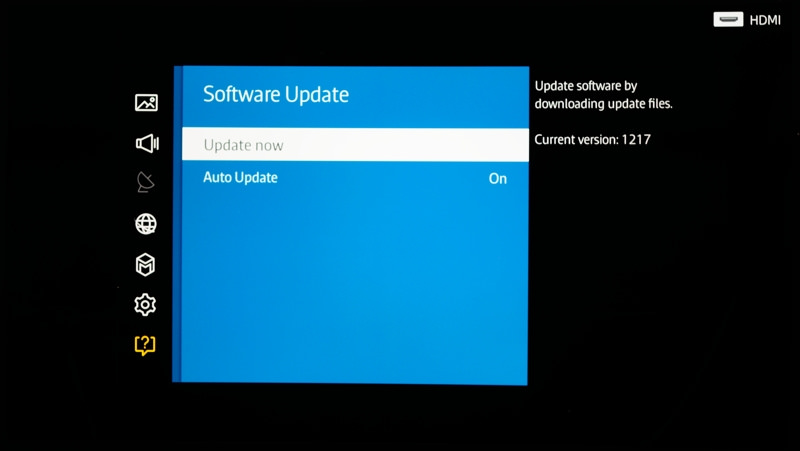 The update will be downloaded, unpacked and installed, and the TV will reboot.
Updating the Remote Firmware
While we are updating firmware, why not do the remote as well? I have honestly not noticed any difference at all from this, but why not be current?
Go to the menu again, as above, but this time choose the "System" menu.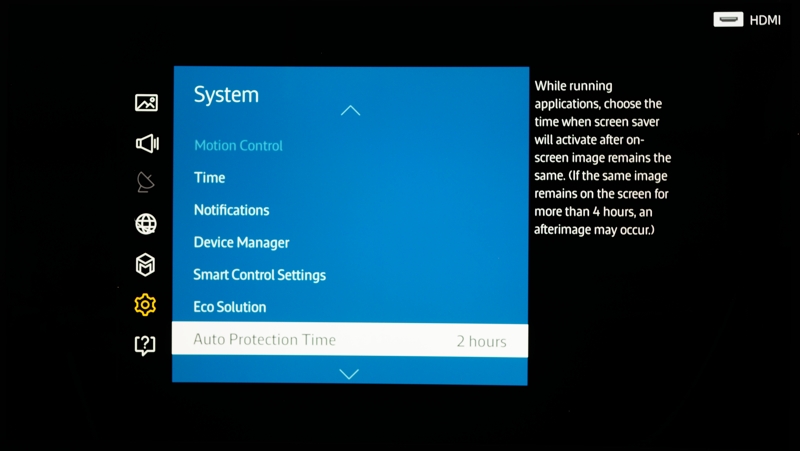 Now navigate to "Smart Control Settings"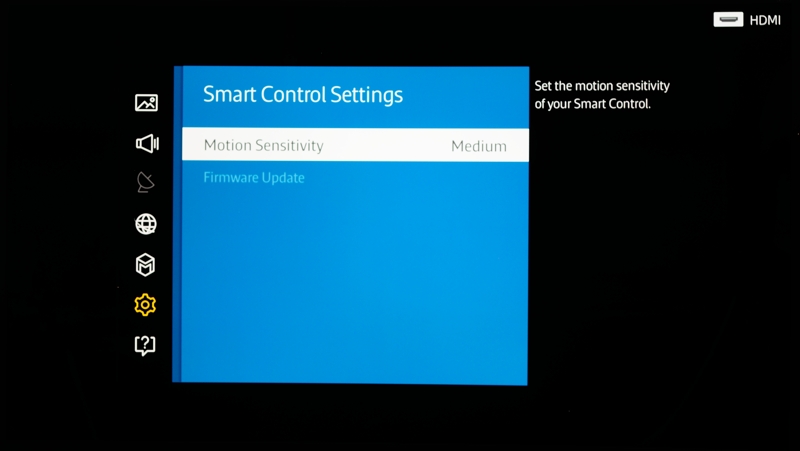 Select firmware update. This will also require a network connection, and should be quick.
Enabling UHD mode -- Objective
This one is important! In order for your TV to receive the full color signals from your computer, at 50/60hz refresh rates, you need to enable this option. (It makes no sense to me why this wouldn't just be on by default, but I didn't design the thing)
Navigate to the menu again, like we did above, but this time select the "Picture" menu, and then scroll down to the second page, and select the "picture options" menu.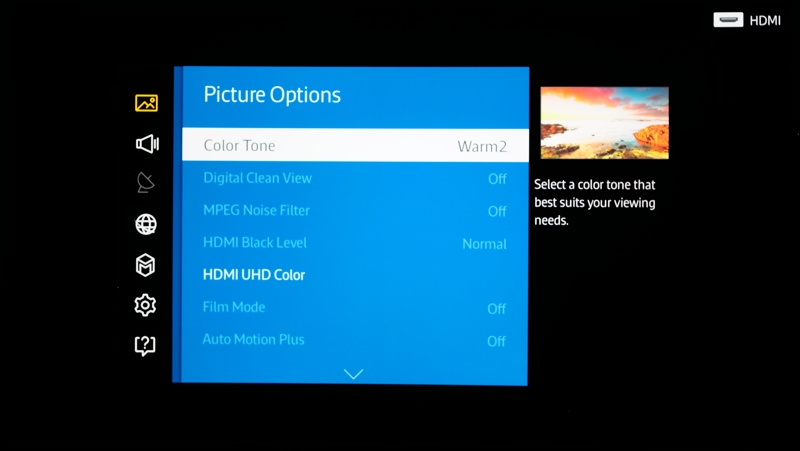 Select the "HDMI UHD Color" menu.
You will be greeted by the options below: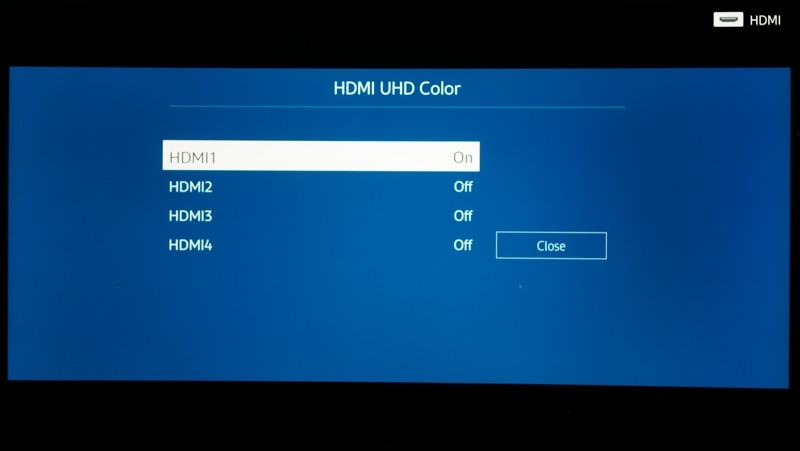 Select the HDMI port you are using for your computer (I am using HDMI1), and change the setting to ON. This will restart your TV.
Disabling stuff we don't need/want -- Semi-Subjective
So this one is a little subjective, but here is the theory. Anything that performs image processing on the computer output before it hits your screen is going to take time, and this will directly translate to input lag, and we don't like input lag, so any unnecessary image processing needs to go off.
Furthermore, these TV's have CPU's in them that perform the functions set in the menus. Lower end models have 4 core CPU's, while the higher end ones like the JS9000 have 8 core CPU's. If the CPU is busy doing other stuff it might just slow down the processing of your image, and we have more of the dreaded input lag.
So, lets start with the Picture menu (you should know how to get here by now)
If you scroll down to the second page, the things we are interested in start popping up: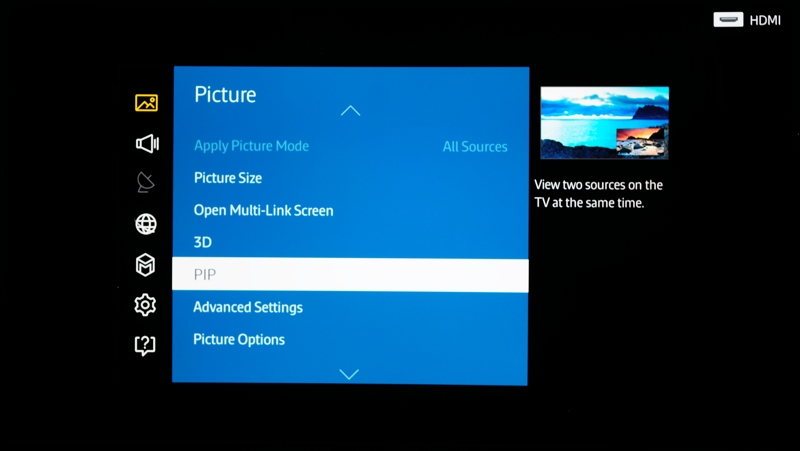 Lets start with 3D. I believe this is disabled by default, but lets just make sure it's set to "off"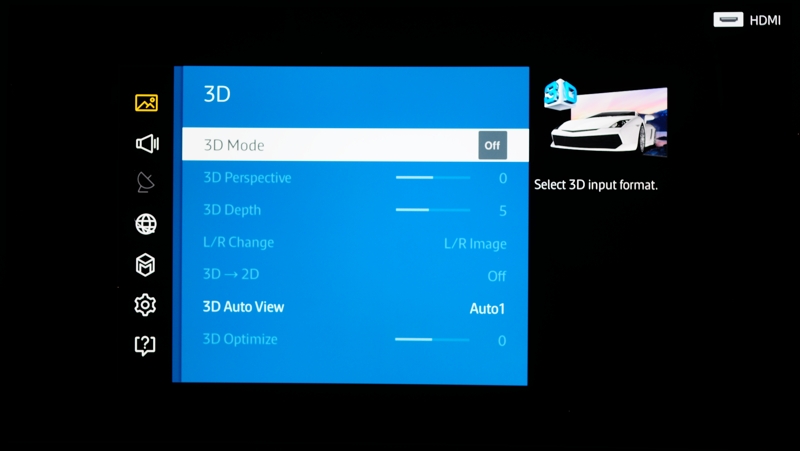 Back to the main menu again, and it is time to navigate to the "Smart Hub" menu. This one is important.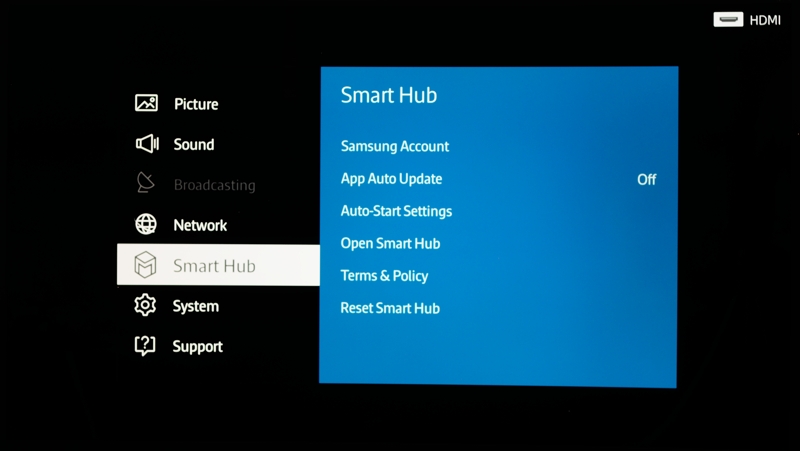 Smart hub is what Samsung calls its smart TV entertainment apps platform. Make sure app auto update is off, so it doesn't start messing with you in the middle of doing something, and also disable Auto-Start. Don't worry, you can still launch it by pressing the colorful "Smart hub" button on your remote, even when auto-start is disabled, it just takes a tiny bit longer. At least this way it doesn't load every time you turn the screen on, pop up in your face, and hang out in the background doing stuff, and slowing the screen down.
Now let's go back to the main menu, and navigate down to the "System" menu.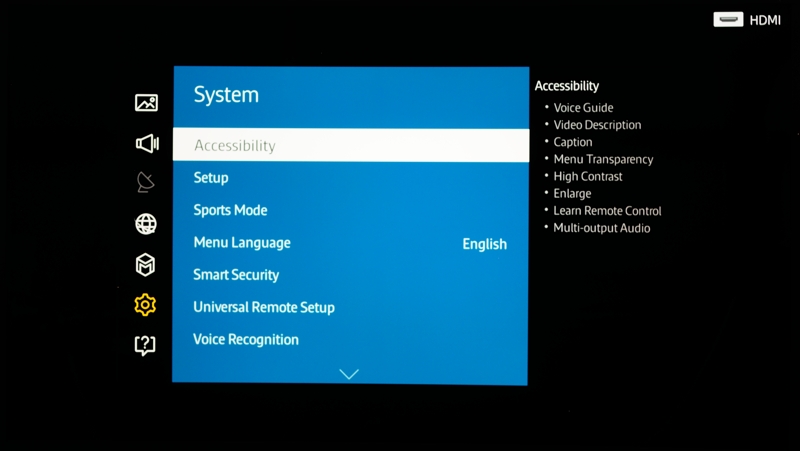 Scroll down until you see "ECO Solution" and select this menu.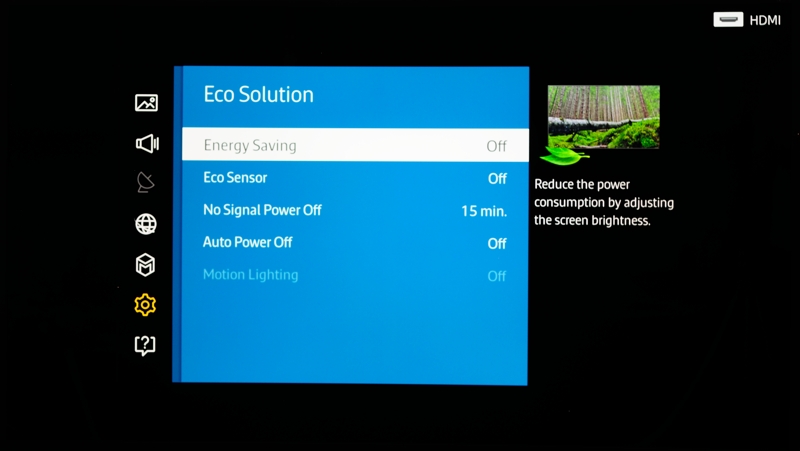 Here I have disabled everything except "No signal power off". Firstly the ECO auto sensor is highly annoying when it randomly changes brightness on you, especially when you have multiple monitors, and now the brightness is suddenly very different between your screens. It also might just use some CPU cycles, so I'd rather have it off.
Lets return to the system menu, and now move down to the "General" menu.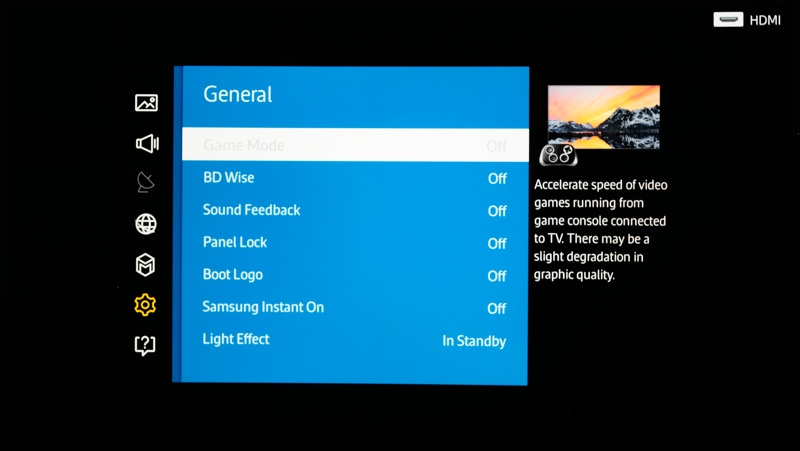 We'll come back to "Game Mode" later, lets just turn everything here off for now. Samsung Instant On SOUNDS good, but in reality it can be a problem and is better off. The light effect is subjective, but I prefer to not have a LED shining in my face when I am looking at the screen, so I have it set to only come on when the TV is in standby mode.
Configuring Windows:
We want to make sure we set this up before we set up any picture settings on the TV, as the TV tries to be smart, and can tell when we've changed things, and will identify the changed output settings as a different device, and use a different picture mode profile. If we change the picture mode settings first, we will lose them all, and have to do them again.
Now is as good a time as any to make sure you have fairly recent Nvidia drivers. Once installed, pull up your Nvidia settings and go to the "Change Resolution" tab.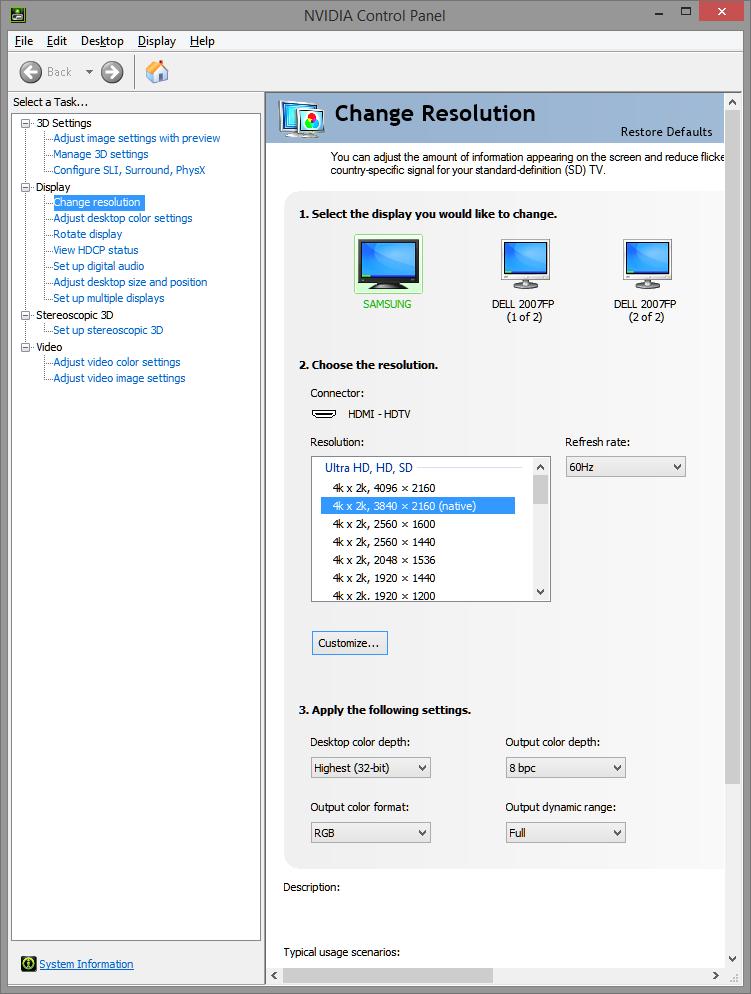 You'll want to choose 3840x2160 as your resolution, and 60hz as your refresh rate. (These might already be selected.) Next we want to make sure that our output color is correct.
In the "Output Color Format" drop-down, select "RGB", and in the Output Dynamic Range dropdown select full. (Previously YCbCR444 was recommended due to a TV firmware bug preventing RGB mode from working properly, but this has since been fixed. Once setting RGB and Full in windows we will need to make sure that we have also set the correct "Full" level in the TV, or the colors will be compressed. I will cover this below in the "Setting up PC mode" section.
Once the settings are applied, we can move on to our picture settings, and not worry about having to redo anything.
Setting up PC mode:
Press the "source" button on your remote, and you will see the following screen.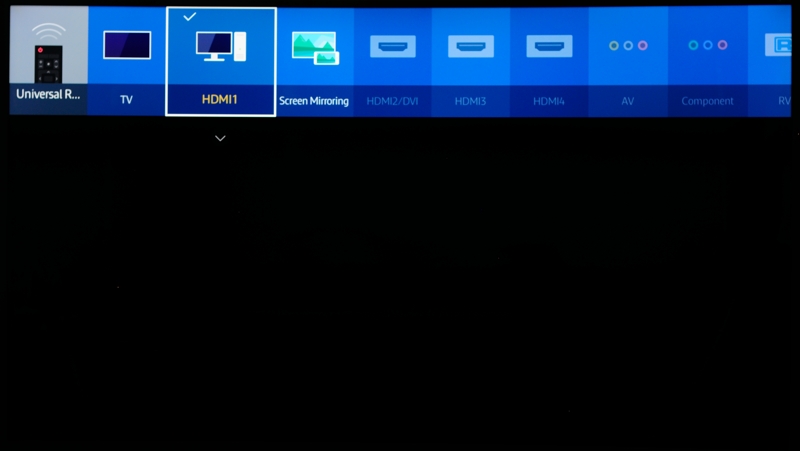 Navigate over and select your input (in our example HDMI1) and click the select button.
Push the down button on the remote (or long press the select button) to reveal the semi hidden input options menu.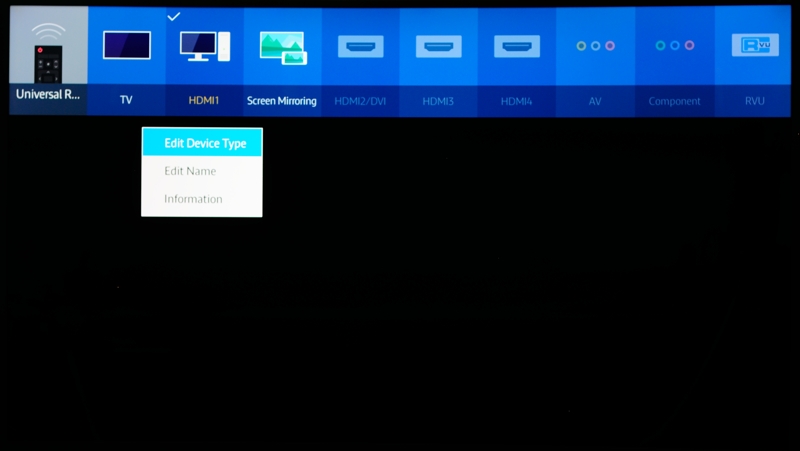 Select "Edit Device Type"
Choose PC, and select OK.
You are now in PC mode. We have one more last setting before you can finally see the colors and quality of this screen in their full glory. Since we are using RGB mode and FULL colors, we need to make sure that we have the corresponding full mode on the TV side. Navigate to the picture settings menu (you should know how to get here by now)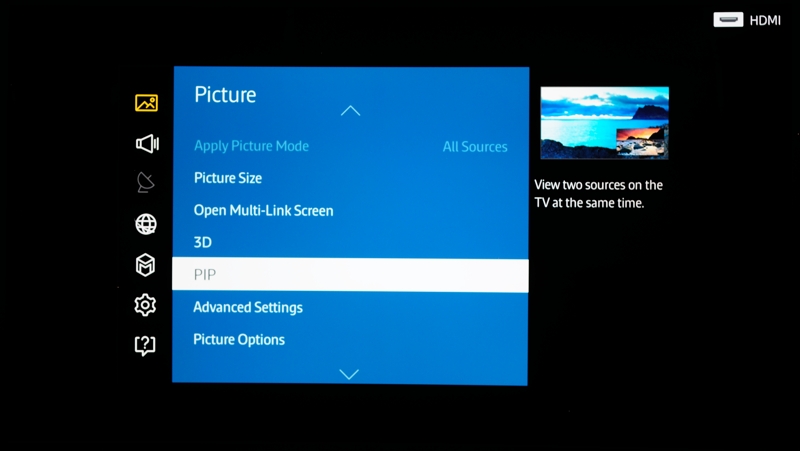 Scroll down to the second page, and select "Picture Options".
Here we need to make sure that HDMI Black Level is set to "Normal". (Ignore the fact that menu option is greyed out in my screenshot above, it shouldn't be in yours)
If you want to make any preference adjustments, we can go back to the picture menu and make them there.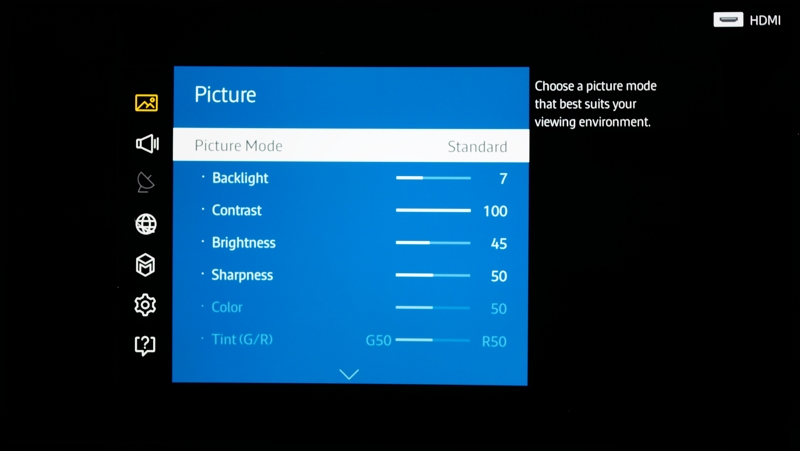 By default there are two separate picture modes in PC mode, "Standard" and "Entertain". I don't know what's so entertaining about the "Entertain" mode, it just kind of scorches my eyeballs, so I leave mine in Standard. This is where we start getting into very subjective territory though.
As for contrast, brightness and sharpness, I feel all of these hit it pretty well with their default settings. If anything is too dark or too bright for you, make adjustments to the backlight, before touching the brightness setting, as changing brightness from its default values can compress the color space. I found the default backlight (I think it was 12?) much too bright for my tastes and my office, so I turned it down to 7. At this setting it matches my Dell 2007FP side monitors pretty well in brightness.
If you have any side monitors, you have probably noticed by now, that compared to the Samsung TV, they seem kind of yellow.This is due to an effect called "white balance". Our eyes adjust to the white balance of the light around us automatically all the time, and it ranges from warm to cool. While there technically is no such thing as a correct white level, CCFL backlights like in traditional LCD monitors are probably closer to normal light. The LED backlights like in this Samsung TV tend to skew a little blue/green. TV purists hate this, and tend to stick to their plasmas, but most peoples eyes adjust very quickly, especially with a large screen up close like this, and suddenly everything else looks yellow, including that supposedly highly color accurate IPS panel sitting right next to your TV. If you are just using one screen, I suggest leaving it as it is. If you want the whites to better match the other screens you have hanging around we can make a white balance adjustment.
Scroll down in the Picture menu to "Picture Options"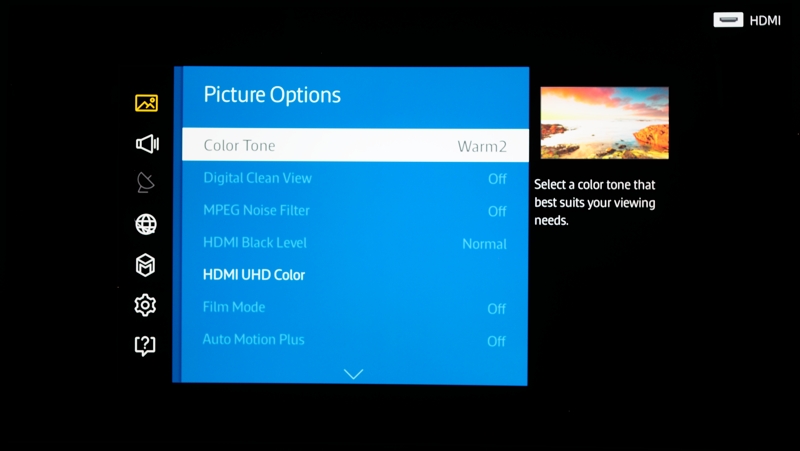 Here you'll find a "Color Tone" menu. Options are "Cool", "Standard", "Warm1" and "Warm2"
I found even the warmest setting (Warm2) to be cooler than my IPS side monitors, but at least now they are pretty close.
I should note that this is the simple way to try to control white balance. If you know what you are doing, there is an advanced White Balance menu under "Menu -> Picture -> Advanced Settings" which allows further white balance tweaking, but it is beyond the scope of this writeup (and quite frankly, beyond the scope of my full understanding)
Next we are going to set up Game mode, but first a note, the TV will remember picture mode settings individually for the different input modes (PC, Game, etc) which is great, because you can tweak them separately, and simply switching between the modes will remember how you last had them set up, so feel free to tweak the picture mode here, without any concern for how it will impact game mode.
Setting up Game mode:
The PC mode looks gorgeous, but it has some ~46ms of input lag, which wile OK for desktop use, and some types of games (I'm not bothered in Civ 5, for instance) would be kind of bad in a fast paced first person shooter. Once we have properly set up game mode, we should be able to get that input lag down to ~24ms, which quite frankly, is better than any non-CRT monitor I've ever owned.
Again, lets press the "source" button on your remote.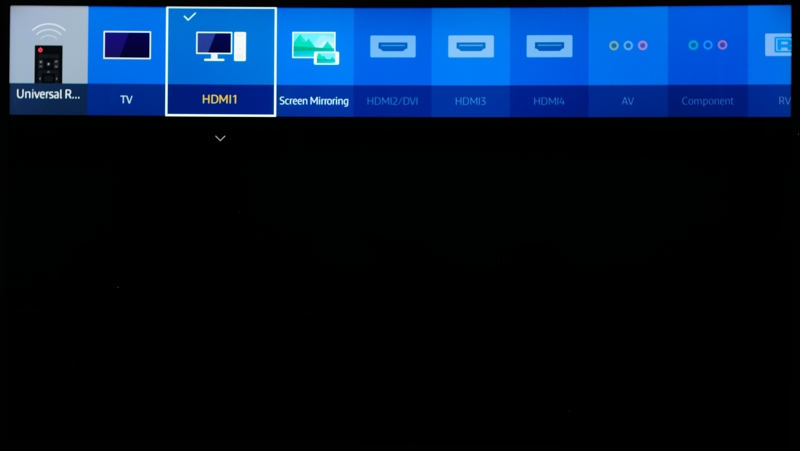 Navigate over and select your input (in our example HDMI1) and push the down button on the remote (or long press the select button) to reveal the semi hidden input options menu again.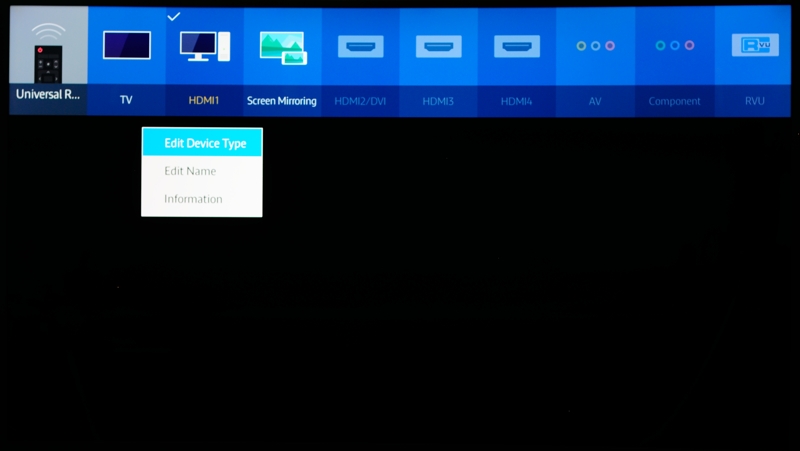 Select "Edit Device Type"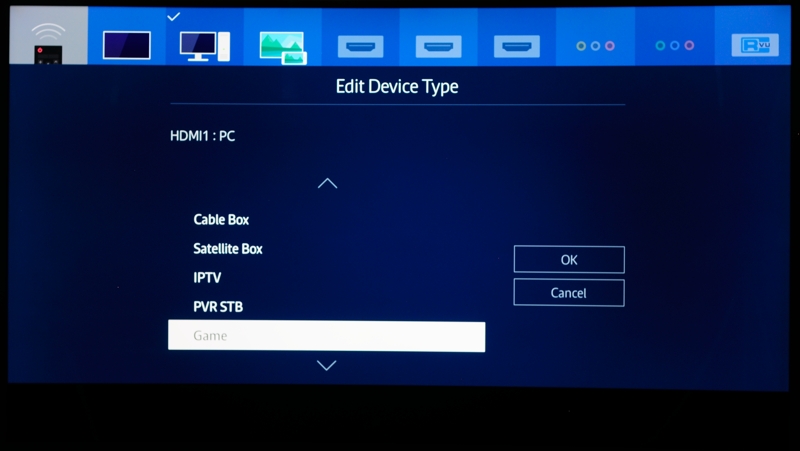 This time we are selecting "Game".
This is where you gasp and say, "Oh my god this looks horrible, is my gaming really going to look this bad!?" The Answer, No. Game mode DOES reduce the color level a little bit down to 4:2:2 (I think) which is enough that if you are staring at certain colors of text on certain backgrounds it might look bad, but in any game I have tried thus far, I can't tell the difference in image quality. I CAN however tell the huge difference in input lag, which is much much better. The reason it looks terrible right now is because the default settings are really bad for some reason.
First things first. Simply setting the input to "Game" does not fully enable game mode. As of right now, you still will have kind of high input lag. We need to enable it in the settings menu too. Lets navigate to the System settings menu. (You know how to get here by now)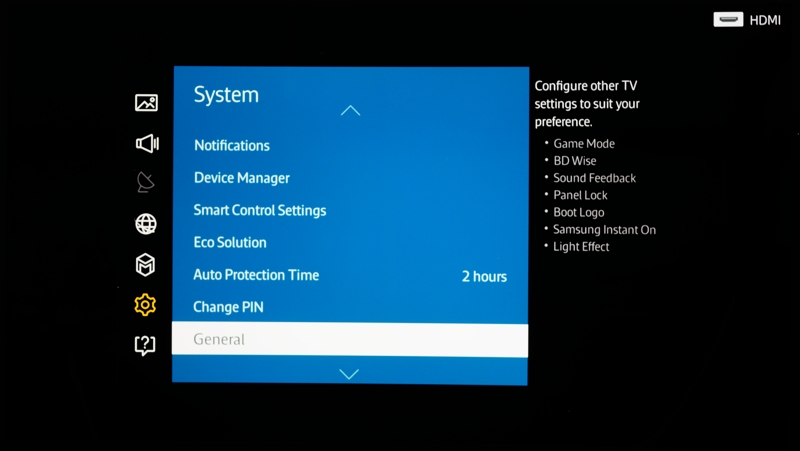 Scroll down to the second page, and select "General".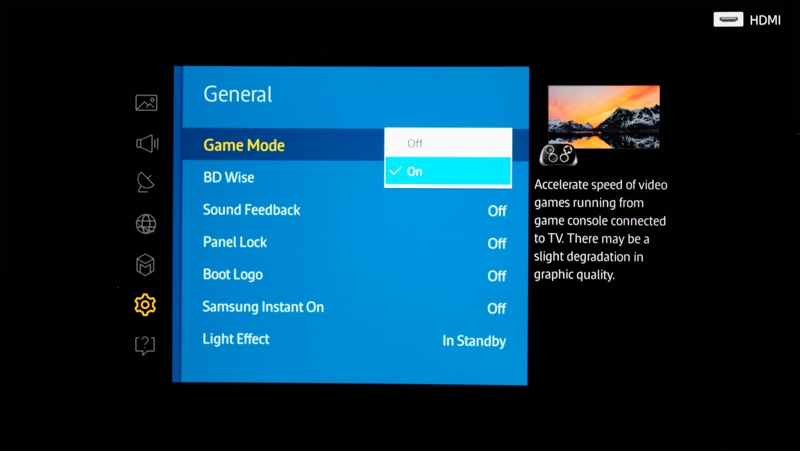 Here, select "Game Mode" and enable it. Make sure everything else is still off.
Now we need to go fix that horrible looking picture.
Go back to the Picture menu. At first glance, nothing will look different except that the Picture Mode up top says "Game" and is grayed out, but here's the trick: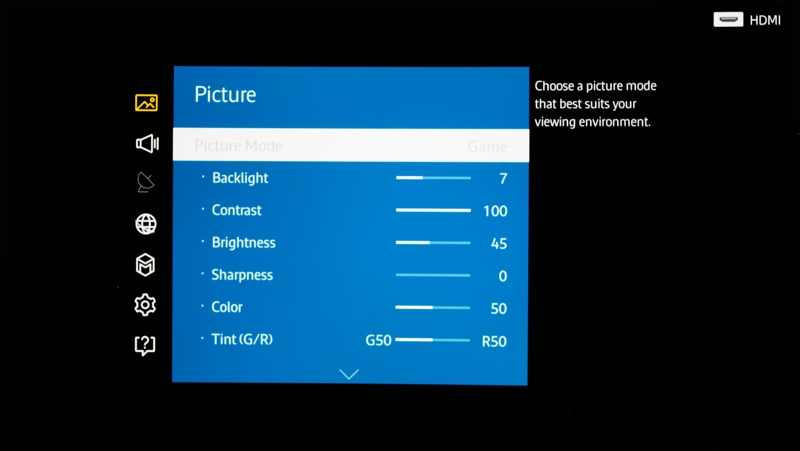 For whatever reason, maybe intentional, maybe a bug, the sharpness setting is different in game mode than it is in PC mode. You will find that it is still set to 50, just like in PC mode, but it's not the same 50. This 50 is really (REALLY) high. So the solution is simple. Turn that sharpness setting all the way down to 0, and you will find that Game Mode actually looks pretty good now. On the desktop, especially with a lot of text you can tell the difference between this and PC mode, but it's difficult as the difference isn't huge. In games, you can't tell the difference at all. At least I can't.
And don't worry about the picture mode settings being different, as we mentioned before the TV will remember them for each input mode.
Switching between Game Mode and PC Mode:
Some people are not very lag sensitive, and they say they just stick in PC mode all the time, even in games. Others are not very Chroma Subsampling sensitive, and they say they stay in Game Mode all the time. Personally, I can tell the difference in both, so I switch the modes all the time. Luckily, all the settings we changed are one time deals. The TV remembers them when you switch modes, so going forward we only have to change the input, and everything else is remembered.
Just to repeat, this is how we do it from now on:
Press the "source" button on your remote, and you will see the source screen.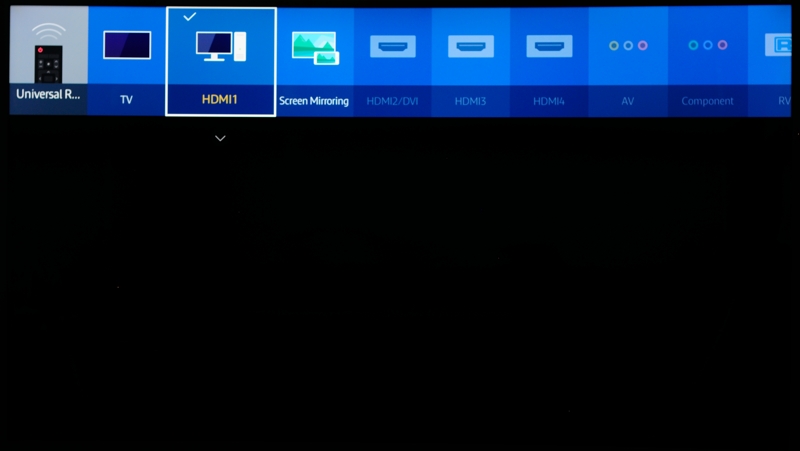 Navigate over and select your input (in our example HDMI1) and push the down button on the remote (or long press the select button) to reveal the semi hidden input options menu.
Select "Edit Device Type"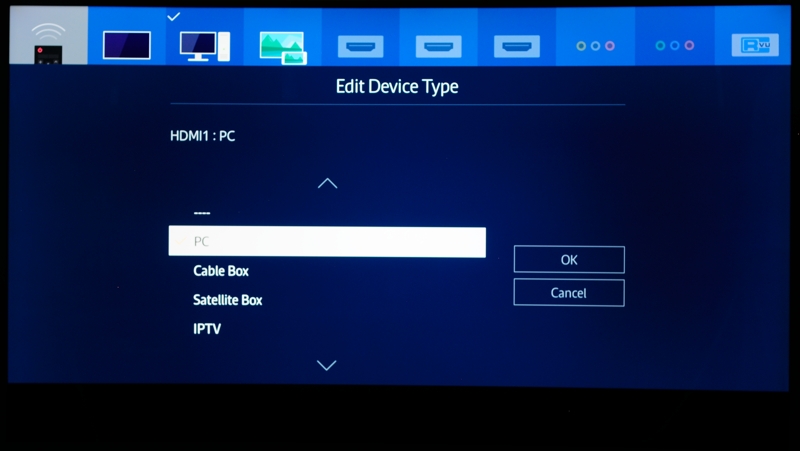 Choose PC, or Game and choose OK.
That's all there is to it. Everything else is remembered.
If you ever notice that everything else is NOT remembered, you probably did something silly, like changed the input, changed the output mode in the Nvidia control panel, plugged in a different PC, etc, etc. The TV is too smart for it's own good, and recognizes these things as new devices, and starts new profiles for them, so you need to go back and change the settings under "Setting up PC Mode" and "Setting up Game Mode" again.
Final thoughts and some issues/fixes
Window Resizing Fix:
If you use certain connections to your TV, and notice that your windows resize when you switch inputs, this is apparently a bug in Windows, which Cyph posted a solution to over in the aforementioned mammoth thread. His solution is as follows:
Not a firmware issue but a Windows one:

https://support.microsoft.com/en-us/kb/2625567/

To fix. In Regedit, go to HKEY_LOCAL_MACHINE\SYSTEM\CurrentControlSet\COntrol\Graphics Drivers\Configuration

Find the entries that starts with SIMULATED and your monitor string. If you don't know which one, change all of them. Go to the first subfolder 00, and find the keys: PrimSurfSize.cx and change to hex "f00," and PrimSurfSize.cy hex value "870." That should change the default monitor size to 3840 x 2160 which will no longer resize and move your windows to the upper left corner.
Verifying that you are actually in 4:4:4 Chroma mode.
The TV will never actually tell you in any menu which Chroma mode it is currently displaying in. If you are uncertain if your results are 4:4:4 Chroma (in PC mode, Game mode only uses 4:2:2 Chroma) the only way to check is using a test image and looking for artifacts.
This image
is the preferred test image, as lower chroma shows up most noticeably in colored text. Display this image at 1:1 pixel size on your TV and look to make sure the fonts are clean and crisp. With lower chroma modes you will either see what looks like slight dithering effects, or in the worst case something that is completely illegible (usually in the red text with blue background and blue text with red background)
Now go enjoy, I know I will!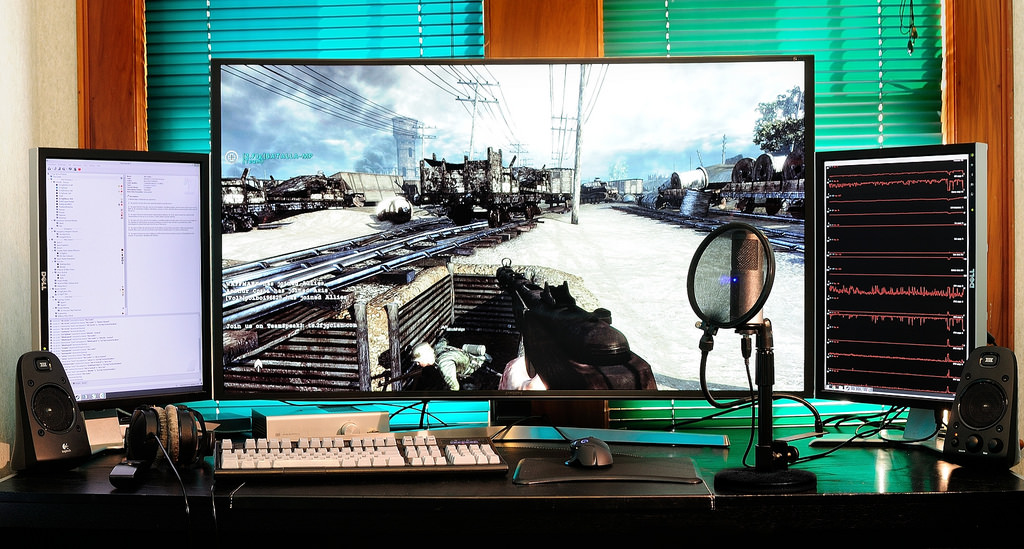 If you think I got anything wrong, or missed anything, please feel free to comment.
Last edited: